Ten out of Scotland's 32 local authorities do not have staff assigned to reduce the number of empty homes, according to new research.
The Scottish Empty Homes Partnership (SEHP) is urging these councils to employ dedicated empty homes officers to help put vacant private properties back into use.
More than 37,000 homes in Scotland were left vacant for six months or longer in 2017, official statistics showed.
The Scottish Government figures revealed 19 of the country's 32 local authorities reported a higher number of long-term empty dwellings than in 2016.
These numbers do not include second homes or properties with unoccupied exemptions for council tax.
In the six months from April to the end of September last year, there were 17,797 homeless applications in Scotland, the most recent figures.
Shaheena Din, SEHP national manager, said: "The evidence is clear – where a local authority employs an empty homes officer the results are outstanding.
"Some local authorities can bring hundreds of empty homes back into use while others hardly any.
"We urge all local authorities who currently don't employ an empty homes officer to do so.
"We can help get the ball rolling to demonstrate the benefits.
"It's a win-win situation – empty homes are no longer a blight on their community that attract anti-social behaviour and a home is provided which has an economic benefit to the entire community, as well as council tax revenues to the council."
Over the past decade the number of homes considered long-term vacant in Scotland has risen sharply by more than 80%, from 20,328 in 2007 to 37,135 in 2017.
Last year was the eighth in the last decade where the overall figure has increased rather than fallen.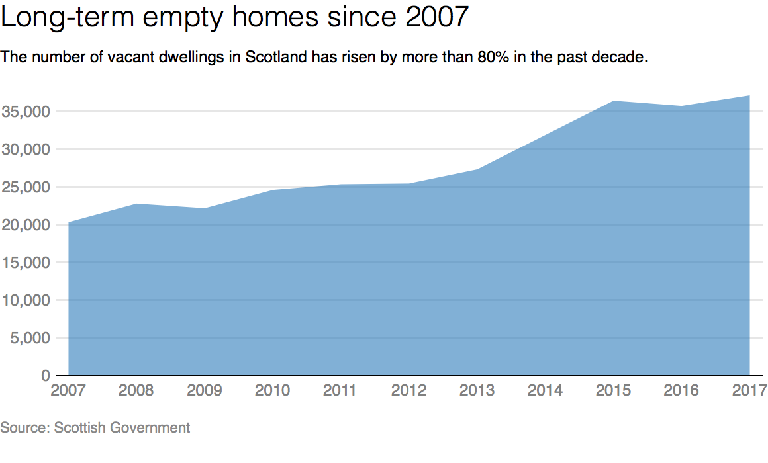 Typical reasons why properties might be left empty for six months or more include necessary repairs being stalled for financial or other reasons and locations being seen as rundown or undesirable.
In some cases, homeowners hold on to properties without using them in the hope of selling them off later at a higher price, in a phenomenon known as buy to leave.
Looking to combat the rise of empty homes, the SEHP was formed in 2010 by the Scottish Government and charity Shelter Scotland.
It has helped bring more than 2800 empty properties back into use in the past eight years and recently had its funding and workforce doubled.
This year, Western Isles and Aberdeen councils have taken up partial funding packages from the SEHP, which will allow them to test the benefits of having a dedicated empty homes officer.
Housing minister Kevin Stewart said: "Long-term empty homes can be a blight on communities and are a wasted resource at a time when we need more homes – bringing them back into use is a cost-effective way to increase supply, and support community regeneration.
"I hope to see every area capitalising on those opportunities, to realise our ambitions of an empty homes service in each local authority and to bring back as many long-term empty homes as we can."