Most of you will remember February 2018, because that's when the Beast from the East landed in Scotland.
While it didn't last too long, it brought record snowfall to parts of central Scotland. It was a period of very little sleep for me and pure adrenaline, but I loved every minute of it, and even had a bit of time to build an igloo in my garden.
Since then, I think many people have hoped that the beast would return one day. These bursts of extreme cold usually come from an easterly air flow originating in deepest Russia, where temperatures normally fall below -30C in the winter.
In some winters, pressure can build over Scandinavia, what we refer to as a 'Scandi High', and this reaches into the deep Russian cold and throws some our way. Although to be honest, like Scandinavia, it's milder weather and storms that have made the winter headlines in recent years.
But today we look another beast in the mouth as it roars from the Norwegian coast. Like the 2018 beast, we will see monster snowfalls once again, although this time in the north and north-east. We could be looking at a very severe and possibly dangerous situation developing over the next 48 hours, with as much as 50cm of snow in some higher spots.
While that's a huge amount, it's worse than that, because we've not included the snow already on the ground. Forget the ruler, the metre stick will be more useful with some higher locations seeing probably not far off a metre of snow by the weekend.
And to make matters worse, strong winds will drive the snow into deep drifts. There may well be some records broken in the coming days.
The coldest air is currently across Finland and southern Norway and Sweden, where afternoon temperatures will stay below -5C in most areas. But the icy tongue of the beast will extend west towards Shetland this afternoon and then move south across the whole of Scotland by the end of the weekend.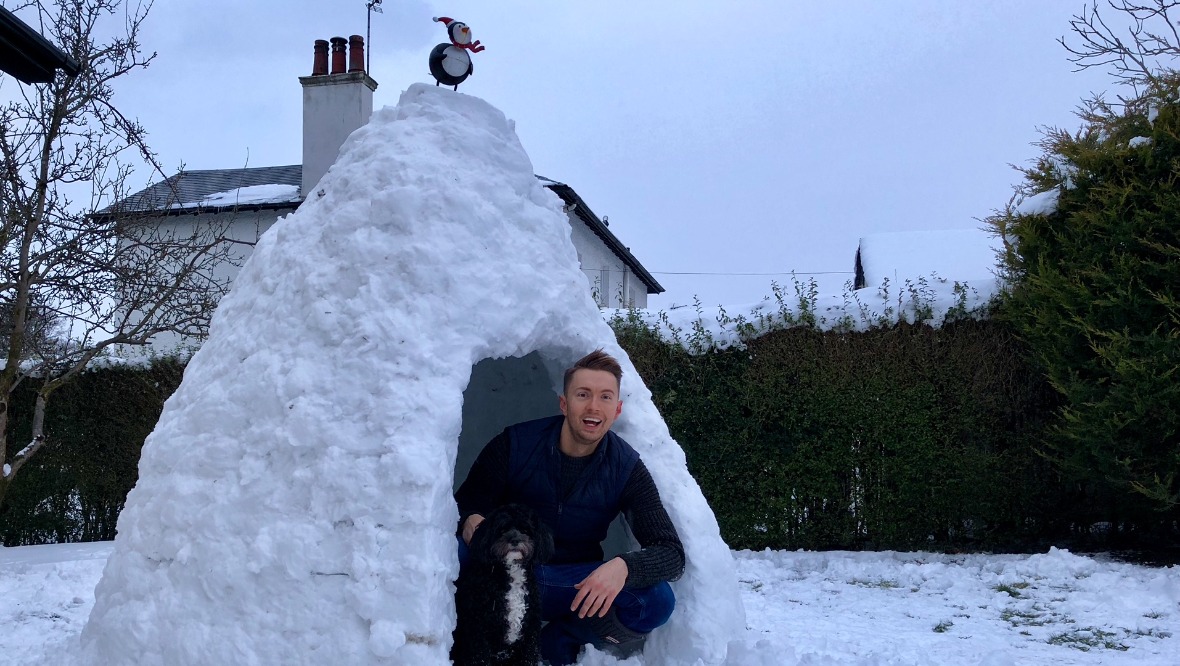 Now, for us it won't be as cold as it is in Scandinavia because of a slight 'warming' of the air as it travels across the North Sea, but still, for us Scots it'll be cold enough. Now forget thermometers in the next week, they don't take the wind into account, and that's what will make it feel even more severe. Despite daytime temperatures around 1-3C in the next week, once you get out in the wind it'll feel more like -5C.
But will any temperature records be broken from this spell? Good question.
The perfect recipe for extreme lows is lying snow, clear skies and no wind. Over the next few days I reckon the winds will be too strong and therefore prevent any major lows, but as winds drop into next week we could start to see some lower numbers come in. I wouldn't be surprised if somewhere in the west Highlands dropped to around -15C if the winds fall light enough and skies clear. This would be the lowest temperature recorded in Scotland since the severe cold of 2010 – remember that winter?!
The lowest temperature recorded in February is -27.2C, which was back in 1985. This is also the lowest temperature ever recorded in Scotland, but don't worry, that's a safe record and we're not going there.
How long the beast will hang around is debatable at this stage. We keep an eye on various models, which are basically different possible outcomes, so therefore we look for any common theme to give us guidance. At the moment there is a suggestion that the deepest cold will come in the middle of next week, with a slight rise later in the week. There's also a risk that when all this 'breaks down' and warmer air spreads back in, we could get another big dump of snow as the beast bids farewell.
One thing I've come to learn over the years is that these situations can sometimes last longer than we expect, turn more severe than we thought, and sometimes just whimper away to nothing of note, so my best advice is to stay up to date with all the latest and I'll try and keep you right.
Stay safe out there.