Having covered endless stories of festivals being cancelled and theatres, pubs and clubs remaining shut, it was difficult to imagine how Capers in Cannich would go ahead.
But Scotland's first festival since lockdown was lifted is well under way and I was lucky enough to enjoy the first day of fun.
Let's talk location: this is a festival set in the most stunning Highland scenery, surrounded by nothing but hills and trees. It's approximately 40 minutes drive from Inverness, so quite a journey but it's more than worth it. I wasn't alone in thinking that, with a number of festival goers I spoke to having travelled from England to enjoy the weekend.
As you arrive on site, you're greeted by alpacas. What a welcome party! Capers in Cannich is very much a family festival and children (and big kids) can go alpaca trekking during the day. Excellent start.
The site is set up for 200 people and a sea of colourful bell tents line the field. They're not only pretty, they also look quite homely with comfy mattresses, your own little garden area and plug sockets – essential if you have a fringe like mine!
Food and drink are ordered via a designated app and brought to your location, so you can avoid the usual nightmare festival queues.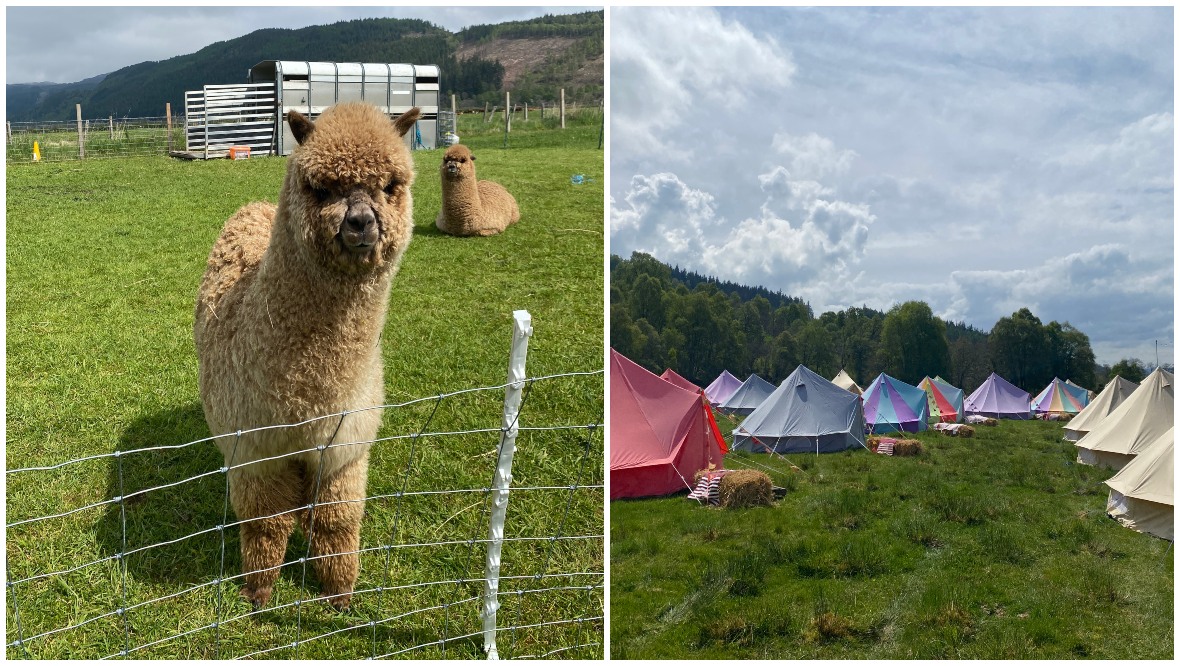 Hay bales are laid out in front of the stage so you can watch the bands while remaining in the safety of your bubble.
And talking of bands, it was so lovely to hear live music again and see people singing along.
The musicians looked like they were enjoying the moment just as much as the audience, with headliners Colonel Mustard and the Dijon 5 explaining it was their first time in a year and a half performing for a crowd. They promised quite the show for their return and did not disappoint.
The downsides? Well, obviously this is much smaller than the festivals we are used to and the lack of crowds makes for a much quieter environment.
If you like your festivals sweaty and messy, then maybe this isn't for you but as it's going to be a while before we can enjoy those glory days again, this is certainly a step in the right direction.
Personally, I loved it. The music, the people and the picturesque location made for a perfect reintroduction of something so many of us have been missing for so long.
I've had a taste of that festival feel and now I want more. I've got everything crossed that Summer Sessions, Edinburgh Festivals, TRNSMT and Playground Festival will go ahead later this year.
*I'd like to note my giddy live on STV News was genuine! It really was good to be back.