You couldn't log into the live stream of Andy Murray's US Open first round match against Yoshihito Nishioka without clicking past a disclaimer.
"Live video programming might contain mature themes.", it cautioned. No kidding.
The next four hours and 38 minutes brought drama, physical and mental struggle, despair, frustration, determination and triumph. Just the latest chapter of Andy Murray versus probability.
The Scot's victory at Flushing Meadows in 2012, his first Grand Slam triumph, is unforgettable but seems a lifetime away from his current situation.
His last major event was in January 2019 in Australia when a first round defeat to Roberto Bautista Agut was a detail in the bigger picture of Murray's admission that his long-troublesome hip complaint required risky surgery and that his career was likely reaching its end.
Every point played since then has been seen with that operation in mind.
Resurfaced hips at the top end of elite sport are about as common as Scottish Grand Slam winners.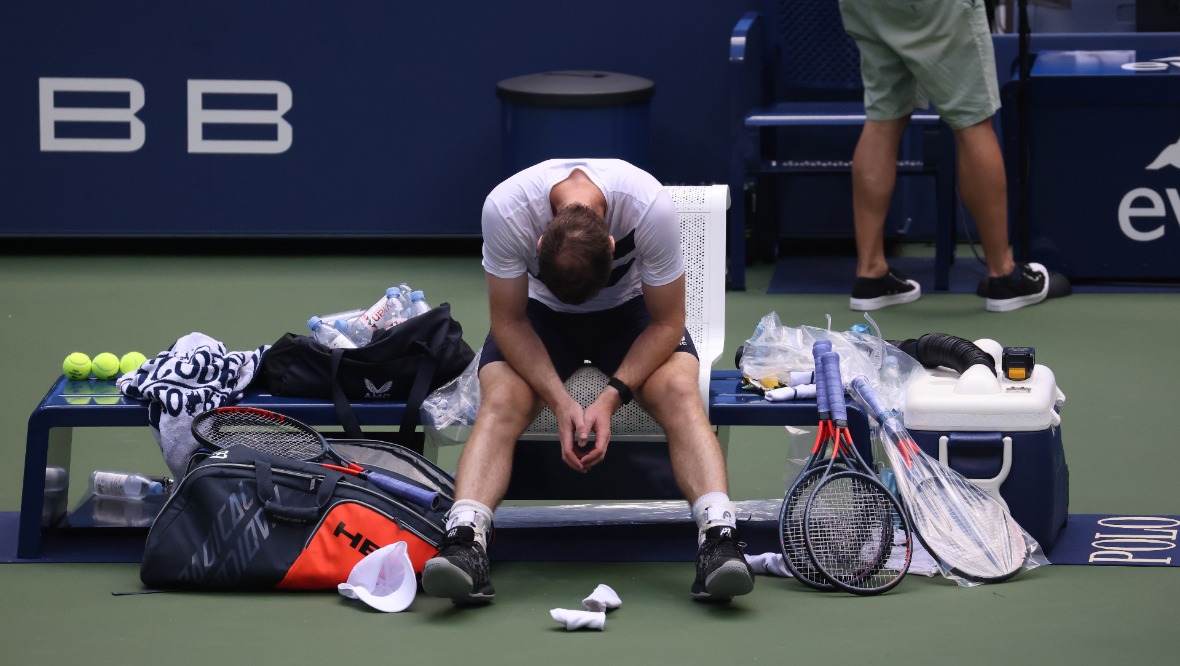 Wins over Frances Tiafoe and Alexander Zverev in the Western & Southern Open brought praise but the very fact they did showed that things had changed for the former world number one.
This stage of Murray's story is to be about revised expectations, anyone reasonable would conclude, not tilts at glory.
Former British number one Tim Henman, who knows more than most about pressure and expectation, said "if he could win one or two rounds, that would be an amazing achievement".
Jim Courier, a four-time Slam winner, said it was "a win" for Murray just to be playing at a major again.
Murray's triple digit world ranking was stacked up against Nishioka's placing of 48th and the odds were clear from that alone when they took to the court at a near-empty Arthur Ashe Stadium.
From the off, Nishioka was the more energetic, the aggressor, the shot maker and for Murray probably the irritating reminder that in sport experienced talent is always eclipsed by ambitious youth eventually.
As the 24-year-old busied himself with earning a two-set lead, Murray looked flat footed, tired and like he was coming to terms with the ball coming back a lot more often than it used to.
'I trust my competitive instinct. I think that's a big strength of mine.'

Andy Murray
Even luck seemed determined to put the Scot on the next flight home, as a broken string disrupted things not once but twice at crucial points. And inevitably, with a serve that was far from his best and his movement looking limited and ponderous compared to Nishioka, Murray found himself looking at match point from the wrong end.
"At the end sport is about finding a way to win even when you aren't playing your best," he had said after beating Zverev the previous week. The next moment handed him the opportunity to prove that, though the road back was far from straightforward.
Nishioka hit long and Murray held, then took the lead in the tie-break and he found his voice, roaring encouragement to himself where earlier he had been muttering and cursing, player and critic simultaneously.
By the fourth set tie-break it was Nishioka who was looking to the skies and muttering. Murray took that one as well, the embodiment of defiance after having looked down and out.
The test wasn't over and, in the fifth, Nishioka broke again and just as any viewer was pondering the effect of defeat for Murray after such a rally he was level again, after a lob that reminded everyone that he still has soaring talent as well as guts and sweat.
From there, the 33-year-old saw it out, progress to the second round seeming a secondary achievement against seeing off the threat of age or the long-term effects of injury.
After a post-match interview where he complained about sore toes and declared his intent to find the nearest ice bath, Murray hirpled along the edge of the court in search of rest. He'll enjoy a little before he pits himself against 20-year-old Felix Auger Aliassime in the next round and puts it all on the line again.
The lingering effects of a five-set trial will likely make themselves known in that match and Murray may not defy the predictions of "a round or two" this time out. But even in one match he's shown the intense competitive nature that's marked his career and we should enjoy every reminder of that while he still graces the court.
Last week, before his defeat to Milos Raonic, Murray laid bare the mentality that took him to the top, sustained him through the lows and has sustained him through the road back.
"I always believe, even when outwardly it seems like I might be flagging or being negative or whatever," he said.
"I trust my competitive instinct. I think that's a big strength of mine.
"I haven't lost that yet. I think once that goes, that's probably when it's time to, you know, for me to call it a day.
"But I still have that desire and fight to try and win matches and compete and get the most out of myself."