Extreme weather played a part in the train crash which claimed three lives, the transport secretary has said.
The derailment in Aberdeenshire happened after a night of heavy flooding and landslips in the area.
Michael Matheson was in Stonehaven on Thursday and praised the response of emergency services.
Train driver Brett McCullough, 45, conductor Donald Dinnie and a passenger died when the Aberdeen to Glasgow service came off the tracks on Wednesday.
Matheson said: "I think it would be reasonable to presume, without unduly speculating, that weather had an impact in this particular incident."
Adverse weather was increasingly having an impact on routes, the transport secretary said, adding that a Rail Accident Investigation Branch (RAIB) probe would reveal whether more mitigation works were needed.
He said: "We've already experienced significant disruption to the Scottish rail network as a result of these localised, intense weather events.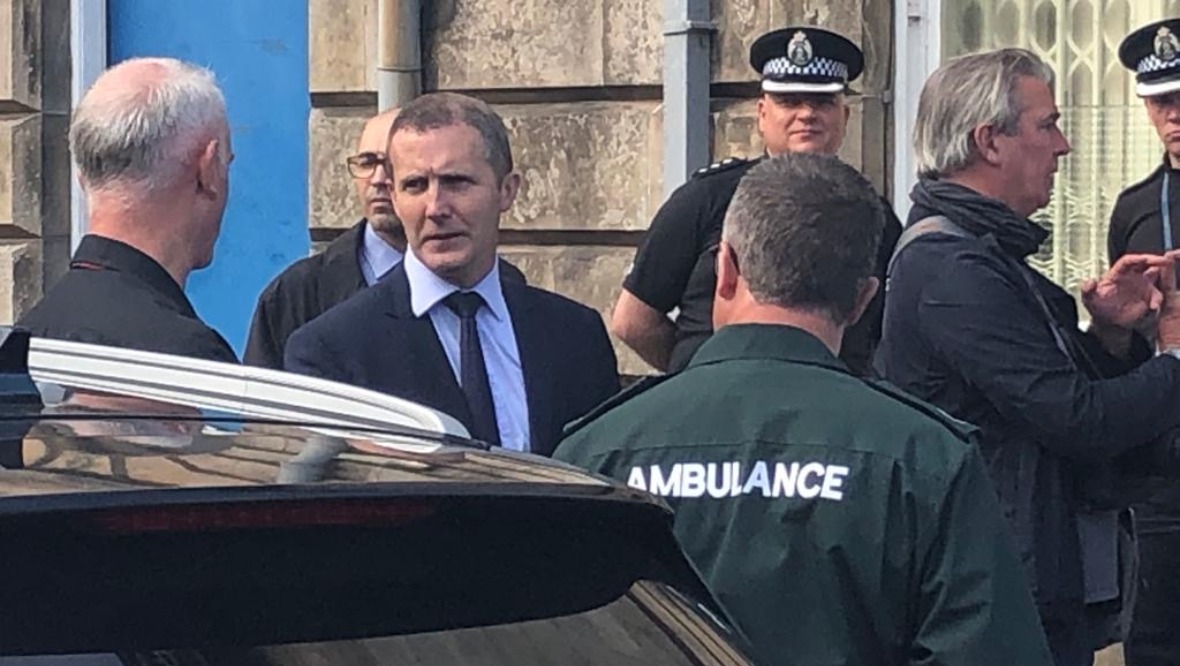 "They (Network Rail) are well aware of our views about the need to make sure that we are taking forward the right types of mitigations that help to manage a challenge of these types of localised, intense weather events.
"I think one of the things we will see what comes from the investigation is whether the pace of that type of mitigation work needs to be stepped up, that's not just a challenge across Scotland, it's across the whole of the UK.
Matheson's counterpart in the UK Government, Grant Shapps, also travelled to Stonehaven on Thursday.
Another visitor to the scene was Network Rail boss Andrew Haines, who cut short a family holiday in Italy.
He said: "My heart goes out to everyone affected by this tragedy, especially the friends and families of the three people who died and those that are injured.
"Questions are inevitably being asked as to how this could happen and I am determined that we understand the circumstances that led to this devastating event.
"It's too early to draw conclusions but it is critical that we investigate thoroughly and with care, and work closely with rail safety authorities to make sure this can't happen again."
Although the cause is not yet known, Mr Haines pledged immediate action over the derailment.
Measures include the inspection of higher-risk trackside slopes, which will be carried out by both in-house engineers and specialist contractors and will be supplemented by helicopter surveys.
Network Rail has also mobilised its extreme weather action teams and is in dialogue with meteorologists to understand how it can strengthen real time information for flash flooding caused by unpredictable extreme weather to inform train operations.
Engineers are also reviewing the existing programme for remote monitoring of high-risk sites to test whether this can go faster or further.
Mr Haines added: "Our climate is changing and it is increasingly challenging the performance and reliability of the railway, but incidents like yesterday's devastating accident are incredibly rare, and our railway remains the safest major railway in Europe.
"Our network was designed for a temperate climate, and it's challenged when we get extremes such as storms and floods.
"We're seeing this more and more and although we can address them on the ground with precautionary measures, we are acutely aware we need a long-term resolution, and we had already secured additional funding and resources to help achieve this.
"Yesterday was a tragedy, a truly horrific event, and my thoughts remain with everyone affected."
Later on Thursday, NHS Grampian confirmed that four patients had been discharged from hospital.
A spokesperson from the health board said: "Following yesterday's major incident, four patients have been discharged from Aberdeen Royal Infirmary.
"Two remain in hospital, both are in stable condition."