Doctors are warning parents to be vigilant after a surge in cases of a respiratory virus which can cause serious chest infections in babies and children.
Respiratory Syncytial Virus – known as RSV – is normally more common in winter, but this year is circulating unseasonably early, after being kept at bay during lockdown.
Paediatricians say it's currently giving them more cause for concern than Covid-19, with worries that numbers will continue to rise.
The parents of one baby who had to be put in an induced coma have told STV News of their experience, in the hope it'll raise awareness of the condition.
Five weeks ago, Emma and Paul Beattie became concerned about their son Oliver's breathing.
Mrs Beattie said: "He started wheezing, and then it followed quite quickly after with laboured breathing – he was sucking in at his ribs and his throat and he was breathing really fast.
"It was quite obvious that he was working hard to breathe. And at that point we took him up to A&E to get checked over."
Oliver was admitted to the Royal Aberdeen Children's Hospital, where he was diagnosed with RSV.
He was given various oxygen treatments but needed further help.
The nine-week-old was placed in an induced coma and put on a ventilator, before being airlifted to the Royal Hospital for Children & Young People in Edinburgh for specialist care.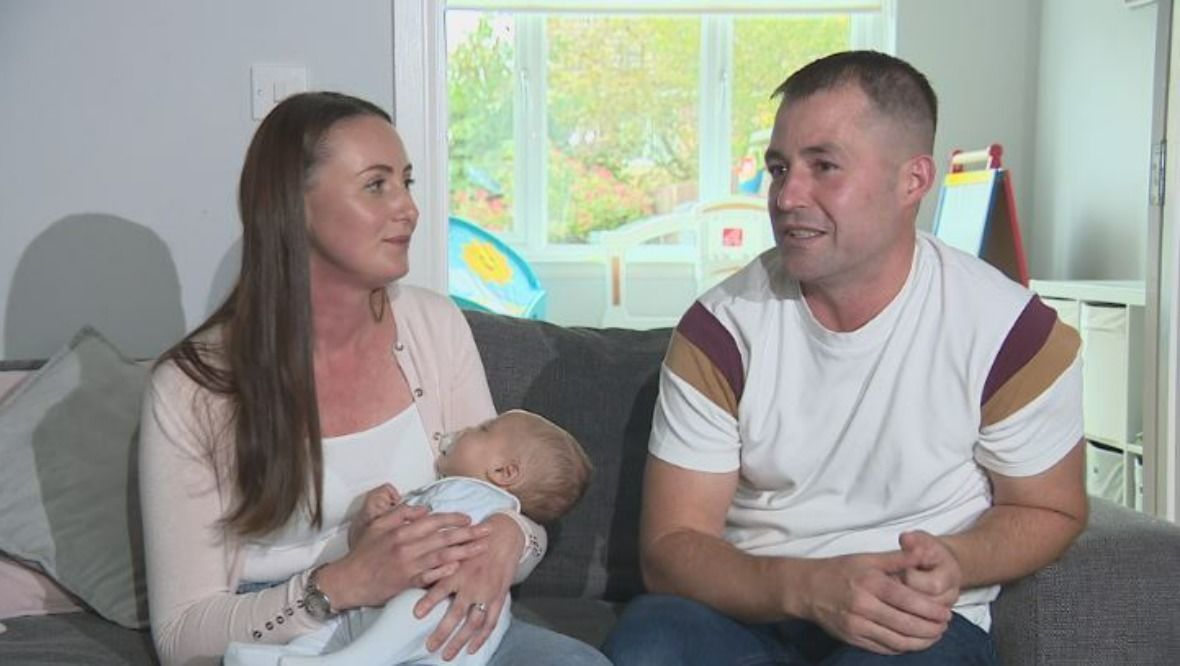 Mrs Beattie said: "It was quite a relief to see him out of discomfort.
"It's not obviously a nice thing to see your baby on a ventilator, but it was also a sense of relief that he was comfortable and he wasn't struggling anymore."
Mr Beattie added: "It was worrying, but I also had that sense really from when we got to hospital that they deal with RSV a lot and they knew what they were doing – all the doctors and stuff – so you had a huge sense of comfort from that."
RSV normally causes mild cold-like symptoms in older children and adults, but for some babies and toddlers it can lead to bronchiolitis – a more serious lung infection.
Paediatrician Dr Mairi Stark said: "We're on winter numbers so it feels more like November or December, rather than just going into October.
"We are seeing children that we wouldn't have expected to have been ill with RSV this year.
"There are more toddlers and slightly older babies, because they didn't get exposed to RSV last year due to the pandemic."
Symptoms of RSV include a runny or blocked nose, and difficulty feeding.
Common signs of bronchiolitis are a fever, a persistent cough and rapid or noisy breathing.
"We would hope during the day people would phone their GPs practice, and then if it's out of hours it's NHS 111," Dr Stark added.
"If children are really unwell or struggling with their breathing, then parents should phone for an ambulance or come to A&E."
Mr and Mrs Beattie say they hope their story will encourage other parents to get medical help for their child if they're worried.
Mrs Beattie said: "My biggest advice is follow your instinct.
"Look at their breathing, are they managing on their own?
"I believe GPs now have to see all children under 12 regardless of their symptoms, so they should see your child if you're concerned about them."
Oliver has now made a full recovery.
"He's great," Mrs Beattie added.
"He's battled a sickness bug since we've been home from hospital, but he's coped with it fine and he's definitely back to his smiley self."