While thousands face another day and night without electricity, people have been warned to brace for snow, strong winds and freezing temperatures.
More than 100,000 homes had their power cut off by Storm Arwen on Friday and Saturday.
Water supplies to thousands were also disrupted in the extreme weather which felled thousands of trees across the country, damaged buildings and caused the death of a driver in Aberdeenshire.
Scottish and Southern Electricity Networks (SSEN) said 6400 homes are still without power, most of which are in rural and isolated communities.
"You just become desperate," a mother-of-three who has had no electricity since Friday told STV News.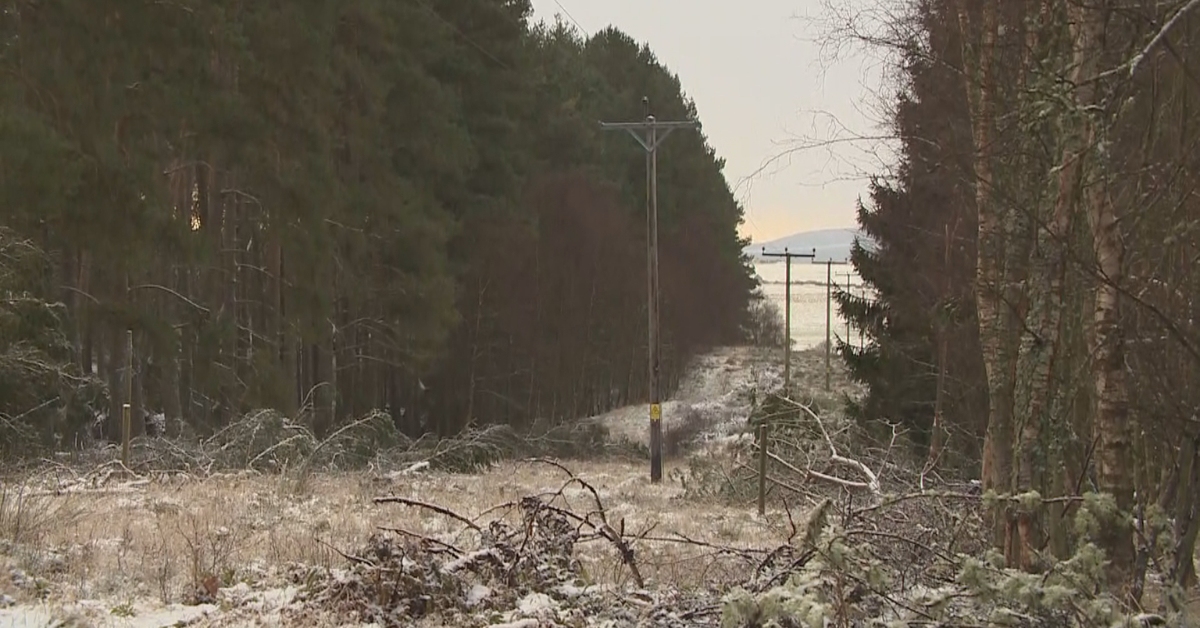 Jade Tilley, from Sauchen, said her four-month-old daughter has had to sleep in a snow-suit because it is has been so cold.
"It's been awful especially with the young family and the kids being so cold and you can't to keep them clean and you want to keep them fed but you can't give them a bath and you can't heat up any food.
"You're driving all the way to Aberdeen just for a bit of warmth, just for a bit of food, spending all this money, that we really don't have, just to get them a hot meal.
"There's only so much you can do that."
Mrs Tilley said she had no idea when her power will be back on.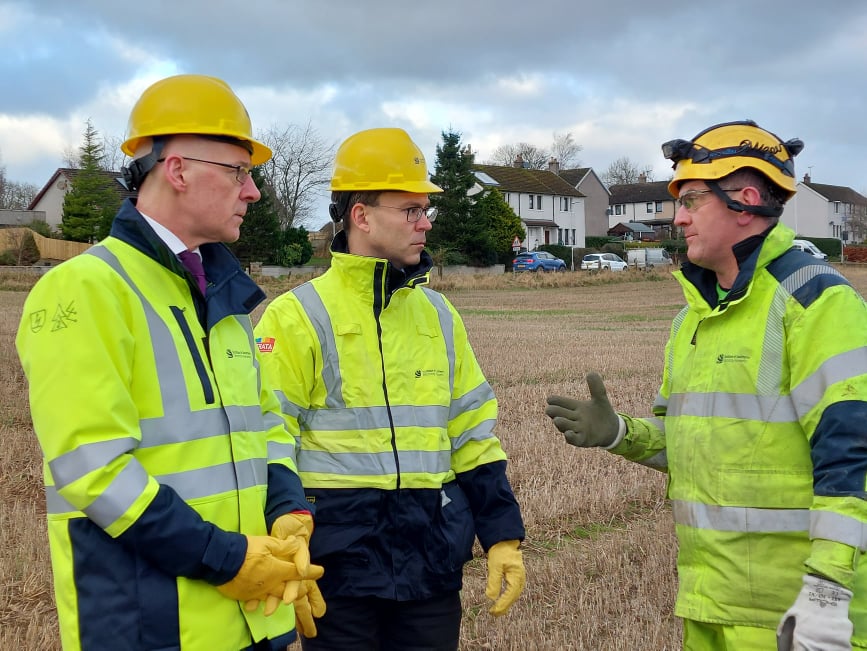 SSEN called Storm Arwen a "once in a generation event" and has more than 800 staff working to restore supplies. It said it expected to restore all connections by Friday.
But, it warned, this timetable was subject to no new damage being found or unforeseen challenges.
Deputy first minister John Swinney visited The Monymusk Welfare Hub to meet staff and volunteers supporting the response to Storm Arwen.
He said: "I've come to listen to understand their understable frustration at the situation. I would assure ethem we are doing everything we possibly can to try to recover the situation
"It's my job to make sure that we restore services as quickly as we possibly can do and that's exactly what I'm doing."
Scottish Water engineers have restored water supply to remaining communities in rural Aberdeenshire and Perthshire where service was impacted by Storm Arwen, but generators continue to support the operation of five water treatment works across Scotland where the normal power supply is still to be restored and at seven pumping stations across the north east.
A MetOffice yellow weather warning for ice is in place from 6pm on Wednesday until 10am on Thursday.
It covers almost all of north east Scotland, the inland Highlands, Shetland and Orkney.
Forestry and Land Scotland warned people not to enter woodlands after Storm Arwen made them dangerous, with many trees only partially felled.
Aberdeen City Council said it is gritting primary routes with road surfaces temperatures expected to drop below freezing.
A major support operation remains in effect offering emergency accommodation, food and water to those in need.
Chris Burchell, SSEN's managing director, said: "The impact of Storm Arwen has caused catastrophic damage to the electricity network across the north east of Scotland and is the most significant event we have ever had to deal with in the area in a generation.
"…due to the extent of damage and complexity of repairs our teams are dealing with, unfortunately, restoration times for more remote and isolated communities will extend to later this week.
"We therefore encourage all customers who remain off supply to consider our welfare provisions, which we hope will go some way to help them deal with what remains an incredibly difficult situation."
Kes Juskowiak, water operations general manager for Scottish Water, said local teams remain on standby to respond to any issues that may affect some people as the network recovers.
"The biggest impact has been on our customers in the most affected communities, who have had to contend with disruption to their essential services over several days during challenging weather conditions," he said.
"We are enormously grateful for their patience and support, as well as that of our emergency response partners."
STV News is now on WhatsApp
Get all the latest news from around the country
Follow STV News
Follow STV News on WhatsApp
Scan the QR code on your mobile device for all the latest news from around the country