The Met Office has issued two weather warnings for rain and wind over the weekend.
A yellow weather warning for rain in the north east of Scotland, Highlands and Orkney has been issued from 4pm on Saturday and will be in effect until 6am on Sunday.
The Met Office warned that train and bus journeys could be delayed by the wet weather, with motorists urged to take care on roads
Flooding of some homes and businesses is also likely, the Met Office said.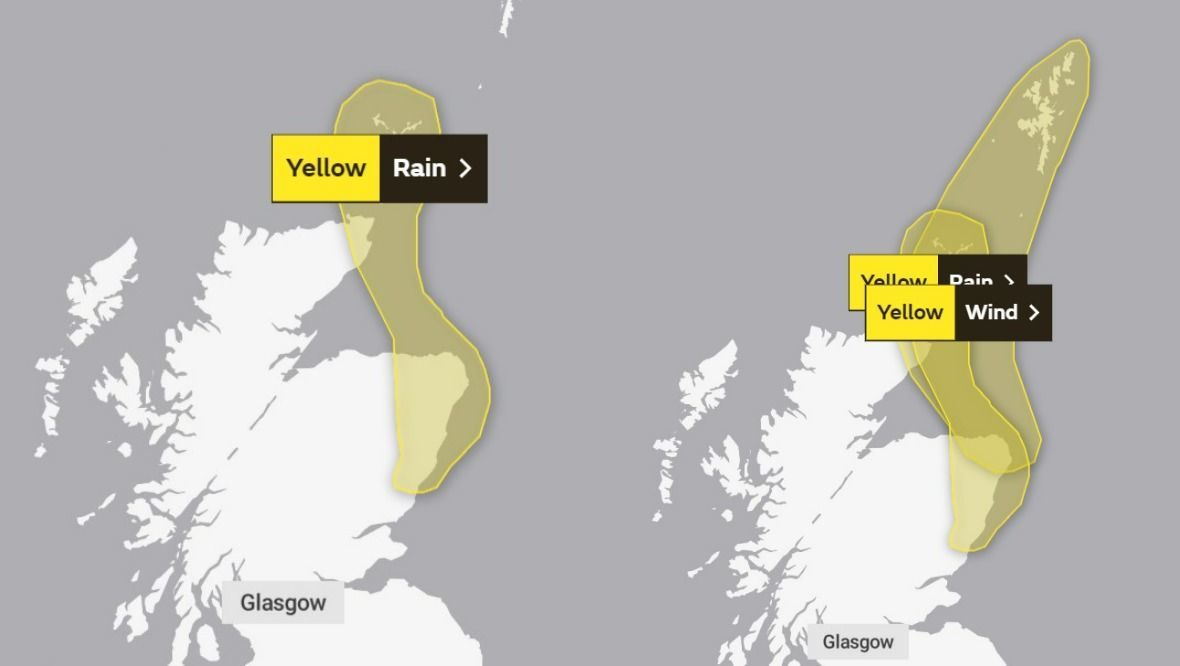 A separate yellow warning for wind has also been issued for the north east, Highlands, Orkney and Shetland from midnight on Sunday until 3pm later that day.
Power supplies could be affected by high winds, with delays to public transport including ferries and flights likely.
STV weather presenter Philip Petrie said: "Over this weekend our weather is being dominated by a couple of low pressure systems bringing with them some stormy conditions.
"The Met Office have issued a couple of weather warnings, and we could see more issued before the weekend is out.
"The first warning is for rain affecting parts of the Northern Isles, Moray, Aberdeen and Angus lasting from 4pm Saturday until 6am Sunday morning.
"Within this affected area we could see some travel disruption, surface water on the roads and localised flooding, as well as between 40-50mm in some spots and the small chance of up to 70mm.
"Then with the second deep area of low pressure moving northwards on Sunday, the second warning comes into affect midnight Sunday lasting until 3pm that day and that is for strong winds.
"These will affect the north east of the country overnight before moving across the Northern Isles throughout the day.
"There is the potential the in some spots gusts could reach 70mph around coastal spots, with the strongest winds staying mainly offshore.
"Again this could bring a lot of travel disruption, particularly to the ferries at the end of the weekend."