A village's surroundings have been left "uncrecognisable" after successive storms wreaked devastation felling an entire forest.
Edzell, north of Brechin, was left without power for almost a whole day after Storms Malik and Corrie left roads out of the village blocked with some locals having to abandon cars as they tried to return home.
"It looks a tornado has gone through the village," said Paul Thomson, who has lived there for 13 years.
"In all approaches into Edzell, it's just devastation. The forest coming into the village is completely flattened.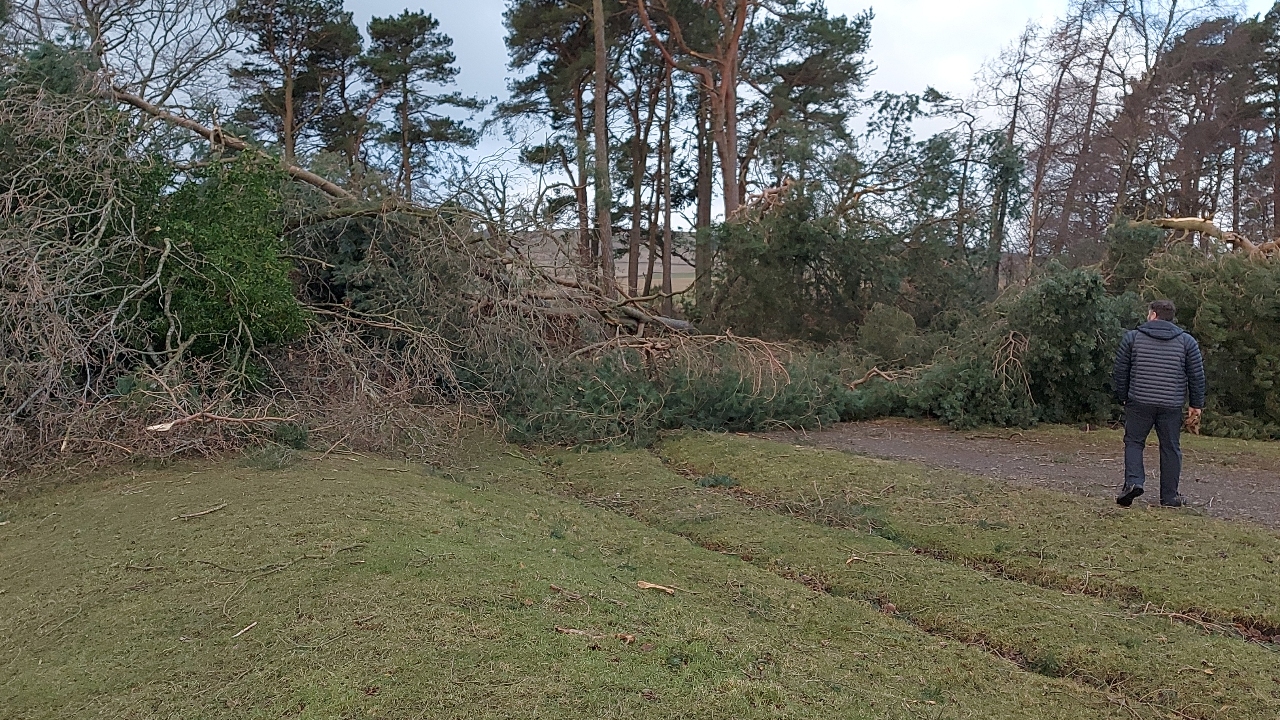 "We thought the storm in November was the worst. Storm Arwen was called a 'once in a generation storm'. This is the second in three months."
Cut off from accessing the council provided support in Brechin, the community rallied to help each other with volunteers checking on the elderly and vulnerable and others clearing the roads with tools and machinery.
"It's surreal," another resident told STV News.
"You used to know where you were but now you come up the straight [road] and you just go, 'where am I?'," she said.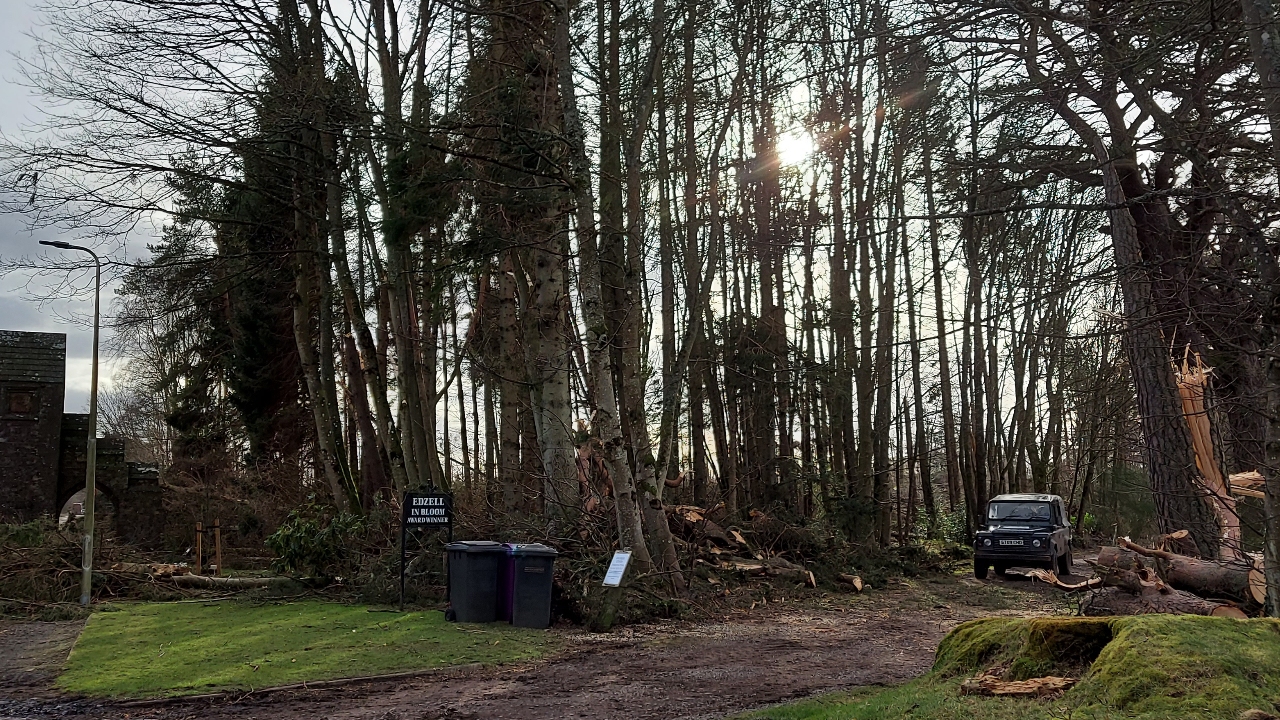 "When I spoke to somebody from the council, they said you can go to Brechin for a hot shower or to charge your phone. That's no use to anybody who can't get there. I think it's shocking."
The area, once thick with trees, is now "unrecognisable" one local told STV News.
Owned by Dalhousie Estates, the commercial woodland was several decades old and was popular with dog walkers, cyclists and other members of the public.
But estate manager Deirdre Stewart has warned people to stay out of the area due to the dangers still posed.
"Windblown timber is very dangerous," she told STV News, "There may be some broken timber suspended at height.
"Without knowing those risks posed, it's best that the public stay out of the windblown area."
Mrs Stewart said Dalhousie Estates had suffered not only damage to the woodland but also to property as well as struggling with power and communications being cut off.
But she said the primary concern was for the protection of life and they would be liaising with Angus Council.
It comes after previous strong winds already brought down trees three months ago.
In November, Storm Arwen damaged millions of trees across the east and north of the country.
Forestry and Land Scotland said the weather event was a warning of what is to come and explained the importance of adapting woodlands to deal with extreme wind.
Scottish and Southern Electricity Networks (SSEN) said it remains at red alert status in the north of Scotland as teams continue to respond to "significant damage" caused by Storms Malik and Corrie.
As of 8pm on Monday evening, SSEN said power had been restored to 100,000 customers with around 16,900 remaining off-supply.
An Angus Council spokesman said: "Angus Council, the emergency services, SSEN and other agencies, including volunteer agencies such as Voluntary Action Angus and Tayside 4×4, take a coordinated approach during periods of severe weather, such as we have seen in recent days. We work in partnership to ensure that the most vulnerable in all our communities are identified, contacted and supported.
"Part of this response is to work in close partnership with local people and local volunteers – these are the people who live in areas impacted by such events and who know their communities best of all. Their support is vital and at times, quite literally, lifesaving.
"As a part of our overall partnership response, our Communities Teams and Angus Health and Social Care Partnership colleagues continue to work with partner agencies and volunteers in support of our more vulnerable residents.
"Our roads teams have also been at full stretch in all areas across Angus affected by the recent storms, assisting private land owners in the removal of their trees from the roads. This approach is proving successful and while continuing today, the situation is greatly improved.
"Anyone who has seen images of the damage resulting from the last three storms, Arwen, Malik and Corrie, cannot in be any doubt of the scale of the challenge faced by resilience agencies, such as Angus Council, and we continue to strive to do the best for all our residents."