Over the past two months thousands of Ukrainians have arrived in Scotland after Vladimir Putin's war forced them from their homeland.
After what is for many a traumatic journey, they then face the challenge of having to rebuild their lives in another country.
STV News has been given access to a community hub in Aberdeen which has been set up to help people as they find their way in their new surroundings.
In one corner, Iryna is using her phone to decide what kind of hairstyle she would like.
In another, a group of women gather, with one holding a small dog.
This centre in the Rosemount area of Aberdeen has opened its doors to offer Ukrainians a range of support – from job advice, to hair cuts to art classes.
Crucially, it also gives them the chance to share their own personal story of where they came from, and what they've left behind.
Inna, 34, is from Kyiv. She arrived here a month ago and is living with family members who were already based in the Granite City.
"I lost my job, my motherland, everything," she said.
"But now I feel safe. For a person who starts life from the beginning again, I think Scotland is a good place to start.
"I've come to the centre to see if I can make some friends, and if I can help somehow.
"I'm hoping to volunteer here."
Inna says it's been difficult and she misses those she loves.
"With some friends I have no contact because they have no connection.
"And it's hard with my Russian friends with whom I cannot talk anymore, because they – well, they are now on the other side.
"One day I hope I can come home, hug my friends, walk in my lovely city Kyiv. I miss it. My home."
The community hub is run by Valeriia Robins and Daria Shapovalova, two Ukrainian women who are already based in the Granite City.
"Some of the women have horror stories – it's terrifying how they've escaped Ukraine so yeah, we try to provide them with a safe place," said Valeriia.
"We are here for whoever needs it," adds Daria.
"I think it is very important to have an opportunity to come and be part of the community of people who have gone through similar experiences and people who have been living here who have that background to maybe relay the Aberdeen reality way of life to the newcomers.
"We want to thank the Scottish people and community for their amazing support and welcome they have been providing."
"Scottish people are lovely," adds Valeriia.
Myroslava Rysukhyna is also being helped by the centre.
The 34-year-old and her 13-year-old daughter are now living with a host family in Aberdeen.
Her home city of Lisichansk, in the Luhansk region of Ukraine – where her husband and parents remain – was bombed last night.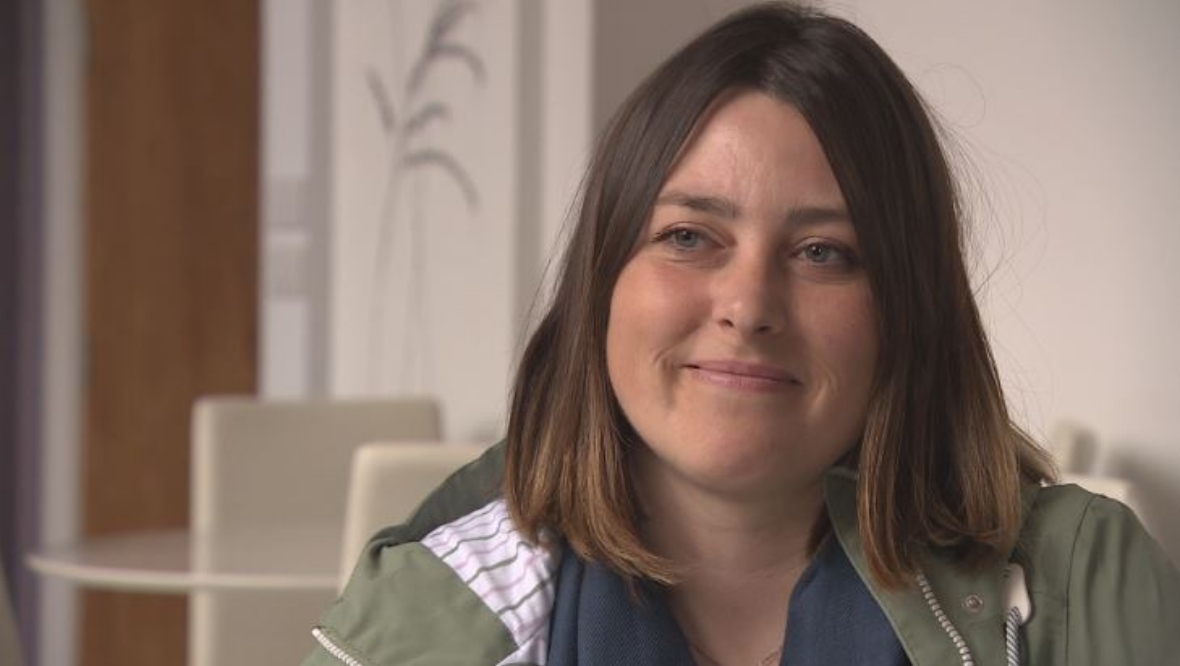 "My house right now – yesterday – was shot at and attacked with bombs.
"On the streets thirteen houses are destroyed. There is no electricity, no water."
Myroslava admits that contact with her loved ones is difficult.
She added: "I try to contact my relatives every single day, my husband as well, but it's an issue because my parents are on Russian-occupied territory, so there's a problem with the signal."
Myroslava says she will be eternally grateful to the host family in Aberdeen who have taken her and her daughter in.
"In their house I feel like it's my second home", she said.
"I can't tell it's my host family – it is my family right now."
Many of the women who come to this centre are taking part in the March of Mothers demonstration this weekend, to highlight the plight of Ukraine's children.
"It's a really painful situation," said organiser Valeriia Semchuck.
"Every moment our children die.
"Children are our future. They have to live, not die."
The event takes place in Aberdeen, Edinburgh, and Glasgow on Saturday.
STV News is now on WhatsApp
Get all the latest news from around the country
Follow STV News
Follow STV News on WhatsApp
Scan the QR code on your mobile device for all the latest news from around the country