A woman whose partner died from suspected coronavirus has issued a desperate plea to people in Scotland, urging them to stay at home.
Alexander Fenty, known as Akie, a postman and father-of-one from Peterhead, died at Aberdeen Royal Infirmary on Sunday.
His patner Lisa Masson and 15-year-old daughter Abby are now in self isolation at their home in the town.
'I want people to understand, everywhere, that if the love of my life can be taken away from me at 45 years old then it can hit anybody. '

Lisa Masson
Speaking to STV News, Lisa said: "Akie was fit and healthy, no underlying conditions that we know of.
"I want people to understand, everywhere, that if the love of my life can be taken away from me at 45 years old then it can hit anybody. Anybody.
"People need to stay at home. Help the NHS by staying at home and save lives, because that's what they'll do.
"And if even one person can be saved by this and a family doesn't have to go through what we're going through, then I'll be happy. And so would Akie."
Lisa said Alexander had been left with a cough after suffering from a flu-like illness late last year.
A few weeks ago he started feeling worse and by last Sunday his breathing had deteriorated.
He went to hospital in Aberdeen and was discharged a few hours later with what was thought to be a chest infection.
That evening Lisa phoned an ambulance as Alexander's breathing had not improved.
Paramedics came in and took him back to hospital as they were unhappy with his oxygen levels.
"They got him into the ambulance", she added.
"I said cheerio to him. He said 'I love you.' I said 'I love you back.' I said 'I'll see you tomorrow.'"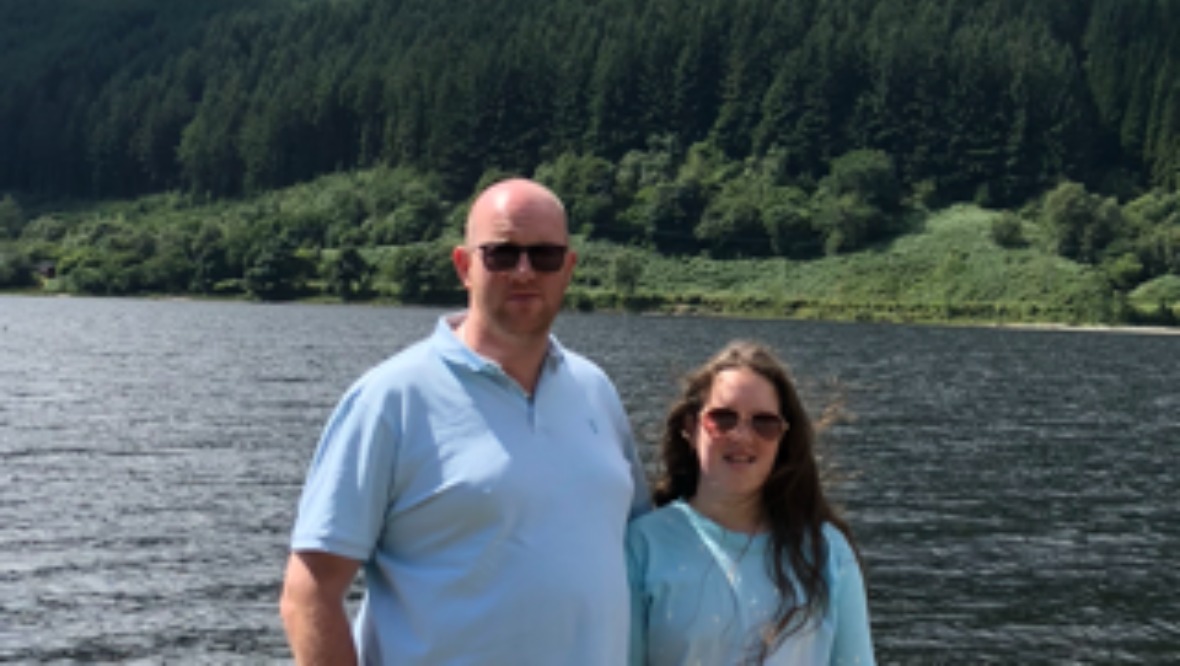 At around 11.15pm that night Lisa received a text message from Alexander, telling her he loved her.
Just after midnight, she received a phone call from the hospital.
"We got a call saying he'd passed away at quarter to twelve on Sunday night."
Lisa said the doctors told her that while Alexander had not been tested for coronavirus, because of the way he presented and his condition deteriorating so quickly, they were "practically positive" it was Covid-19, and his death would be recorded as such.
"He was sarcastic, cheeky, funny, a brilliant dad and a brilliant partner," Lisa said.
"A genuinely nice guy. A friend to many. A good brother. We loved him. We loved him dearly."
She added that their daughter had been "the apple of his eye".
"We had lovely holidays when Abby was young. Great, great times. He just adored her. From the moment she was born."
Lisa said Alexander's funeral would have to be delayed until lockdown was over so her and her daughter could be there.
She said she was speaking out to urge people to follow government advice.
"I'm hoping this will make people listen and think – wait a minute, this can happen to us.
"For people to think 'she's lost her partner, she's lost the father of her child to this'. He was 45, not 85. Not someone with underlying health problems. A fit and healthy man. Strong as an ox.
"At the moment I'm devastated. I don't know how we're going to live without him. It's just unbearable at the moment. That's all I can say."