A transgender woman who was previously convicted of sexually assaulting a minor has been jailed in a men's prison after repeatedly breaking a court order to stay indoors at night.
Katie Dolatowski was jailed for 78 days on Thursday at Falkirk Sheriff Court after repeated breaches of bail orders imposed to keep the public safe.
The 22-year-old skipped bail accommodation in Grangemouth twice within a week – after claiming to feel unsafe there, Falkirk Sheriff Court was told.
Dolatowski was sentenced to serve 78 days at HMP Low Moss in East Dunbartonshire.
The court heard how Dolatowski first turned up at a hospital in Aberdeen, claiming to feel unwell, before returning to Grangemouth and going out at night again.
Prosecutor Bernadette Cuthbertson said that at around 7pm on April 7, police attended Dolatowski's bail address, knocked on the door and peered through the windows.
After failing to appear, officers reported Dolatowski for breaking a bail condition to remain there.
It later emerged the sex offender had gone to Aberdeen where the arrest took place on April 8.
Dolatowski was freed on bail for that breach last Wednesday, April 12, at 3.30pm.
The next day, she was found outwith her bail address at night for a second time during the hours of her curfew.
Falkirk Sheriff Court heard that Dolatowski had phoned for an ambulance, giving her location as Westfield Roundabout, Falkirk, near Falkirk football stadium and not far from the M9 motorway, and saying she was having a "mental health crisis".
Ms Cuthbertson said: "At 5.10am, police traced her to be at the location, bail conditions being in place.
"Paramedics attended, examined her, and had no concerns. She was thereafter arrested, cautioned and charged."
Dolatowski, originally from Kirkcaldy, Fife, was born male but identifies as a woman. In 2018, she was banned from having contact with children after sexually assaulting a ten-year-old girl in supermarket toilets in Kirkcaldy.
That attack came just weeks after she targeted another girl at an Asda store in Dunfermline.
She did not face a custodial sentence for those attacks, but was placed on a three-year community payback order and banned from having contact with children.
Appearing by video link on Thursday, she pleaded guilty to the breaches of bail.
Solicitor Georgia Marshall, defending, said she "did not understand" how the curfew protected the public from Dolatowski.
She said: "Perhaps other conditions would have been better, rather than keeping her in the house at night.
"She had issues with the address, she suffers from anxiety.
"She's been punished by the imposition of a curfew to stay in a place where she feels unsafe.
"Somehow she ended up in Aberdeen suffering anxiety and distress due to her address being known to people who she feels in danger from, when around them."
Imposing the 78-day sentence, Sheriff Craig Harris said: "Whilst an explanation for the breaches of bail has been offered, if you wished to change your address you could have applied to the court for that.
"Your breaches of court orders require a custodial sentence as punishment."
Last year, Dolatowski was sent to Cornton Vale Prison, after breaching a restriction of liberty order that was itself imposed for breaching the terms of a Sexual Offences Prevention Order handed down after sexually assaulting a 10-year-old girl in the toilet of Morrisons in Kirkcaldy, Fife, in March 2018.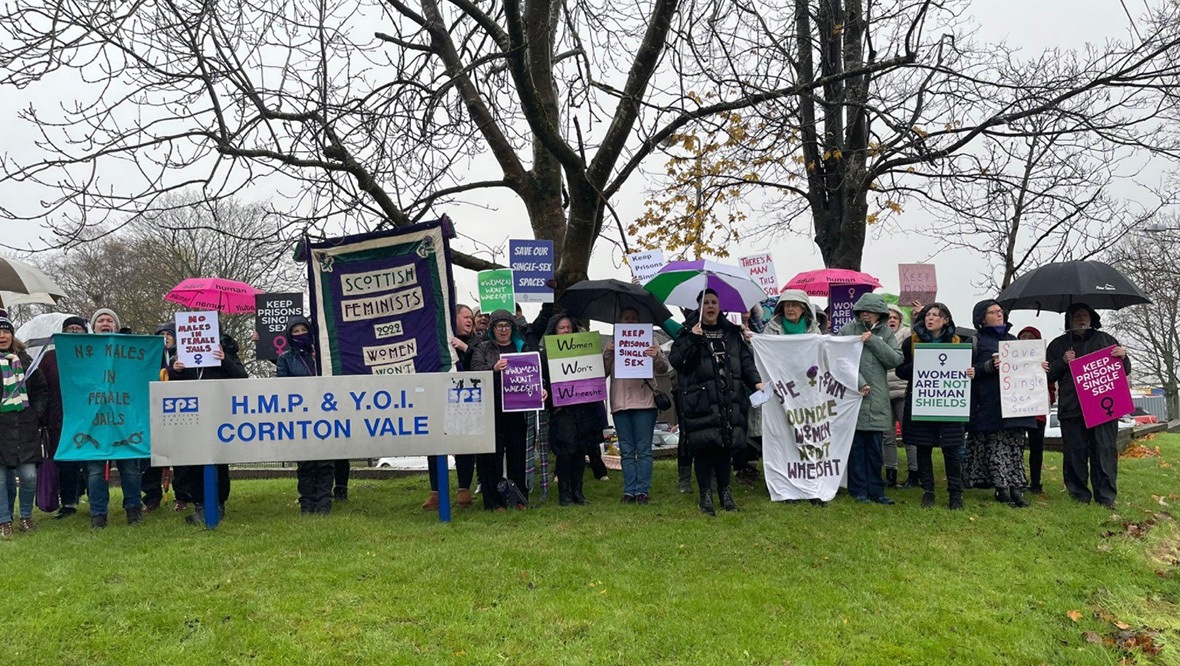 Around 60 protesters gathered outside Cornton Vale to demonstrate against the transfer of Dolatowski to the prison near Stirling.
She recently praised Nicola Sturgeon on social media as a "great First Minister" and voiced backing to legislation which would make it easier for Scots to change their legal sex.