Rural Perth and Kinross residents are about to be stranded without a bus service.
The 155 Perth – Crieff bus service – operated by Docherty's Midland Coaches – is being withdrawn and will run for the last time on Saturday, July 1.
Perth and Kinross Council – which subsidised the service – said the decision had "not been taken lightly" and a decline in usage had led to the decision.
Residents in the Tibbermore area will be left with no alternative bus service.
Announcing the decision on Facebook, a Perth and Kinross Council (PKC) spokesperson said: "Following a major retendering of all local bus services supported by the Council, and recognising low usage combined with a reduction in entitled pupils, Service 155 is being withdrawn and will operate for the last time on Saturday, July 1, 2023.
"The entitled pupils who travel on this bus will receive a letter from our Public Transport Unit towards the end of July advising them of their revised school transport arrangements as from August 16, 2023.
"We regret the inconvenience to passengers that this service withdrawal will cause, but the low levels of passenger usage, combined with alternative public transport options for some locations on the route, resulted in this service being financially prohibitive for the council to fully support."
The news has prompted angry reaction.
One resident said: "Wow thanks PKC, literally the only bus that takes me from my house to the city without an hour's walk on a main road, cheers.
"It's a rural bus, of course it's going to have less passengers."
Another responded: "PKC should be ashamed of themselves for this decision. They're too busy trying to be a city they forget that a large county like ours needs these little bus services to keep everyone connected."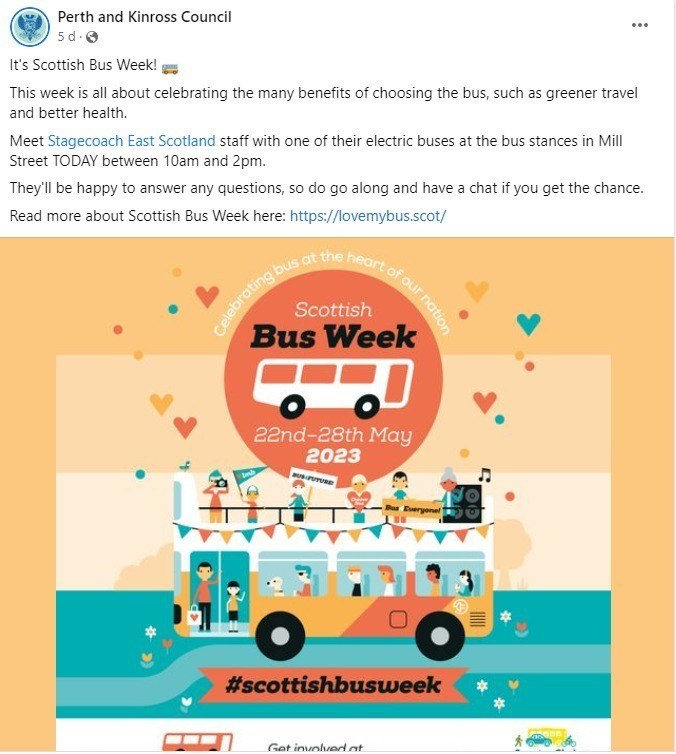 Others questioned the hypocrisy of the announcement being made during Scottish Bus Week which PKC posted about it only the day before "celebrating the many benefits of choosing the bus, such as greener travel and better health".
Linking to the previous Facebook post one resident questioned: "Scottish bus week you say… with no buses?"
A PKC spokesperson said: "The decision to cancel Service 155 has not been taken lightly as we have to consider the best use of our public transport funding to most effectively serve communities' needs.
"The level of usage of the service by fare-paying passengers has remained consistently very low.
"This, coupled with a reduction in the small number of secondary school pupils entitled to free school transport needing to use the service from the start of the new school year in August, means we cannot justify its continued funding.
"As advised, we will confirm with families prior to the start of the new school year, the revised school transport arrangements for those pupils who have previously used service 155."
All three Almond and Earn councillors have been contacted by local residents.
Conservative councillor Frank Smith said: "I fully understand the frustration of people who have bought houses out at Tibbermore.
"The council needs more money from the Scottish Government or there are going to be more people isolated. The settlement was not there so there's no money to subsidise it all."
Conservative councillor David Illingworth described the situation as "desperately sad".
He said: "A number of constituents have contacted me about the ending of this service.
"It is desperately sad that Tibbermore will be left without any public transport provision of any sort.
"Communities can expect many more of these difficult decisions from Perth and Kinross Council forced on us by cuts from the incompetent SNP/Green Scottish Government."
SNP Almond and Earn councillor Michelle Frampton said: "I am aware of the strong public reaction to the news that the 155 service is to be cancelled.
"I share those concerns and alongside Jim Fairlie MSP I will be consulting with Perth and Kinross Council and bus operator Docherty's Midland Coaches to understand what can be done to mitigate the impact of the reduction in service."
Docherty's Midland Coaches was approached for comment.