A Ukrainian teenager who fled her home in Kyiv has said Scots who took her in are "like family now".
Arriving in Scotland a week ago after escaping from Kyiv, Varvara Shevtsova is now living with her host family Harry and Catriona Smart in Montrose.
The 18-year-old student said she was forced to flee her home following Russia's invasion of Ukraine.
"My parents were woken up by sounds of shooting, bombing and like flashes from our window," she told STV News.
"But first of all I didn't hear it.
"When my mum came to my room to wake me up, the first thing I asked her was "did the war begin" and she said yes.
"And then we started packing. I was shivering and I just couldn't believe it was really happening."
It had always been Varvara's ambition to visit Scotland, and when the conflict started, she decided she wanted to try to continue her education here.
Varvara saw Harry and Catriona Smart as potential hosts on an official online site which pairs Ukrainians with British families.
She contacted them and after correspondence between their families, she arrived in Edinburgh last week.
"When I saw them I was smiling under my mask and I was holding a guitar – they said they recognised me by my guitar," she said.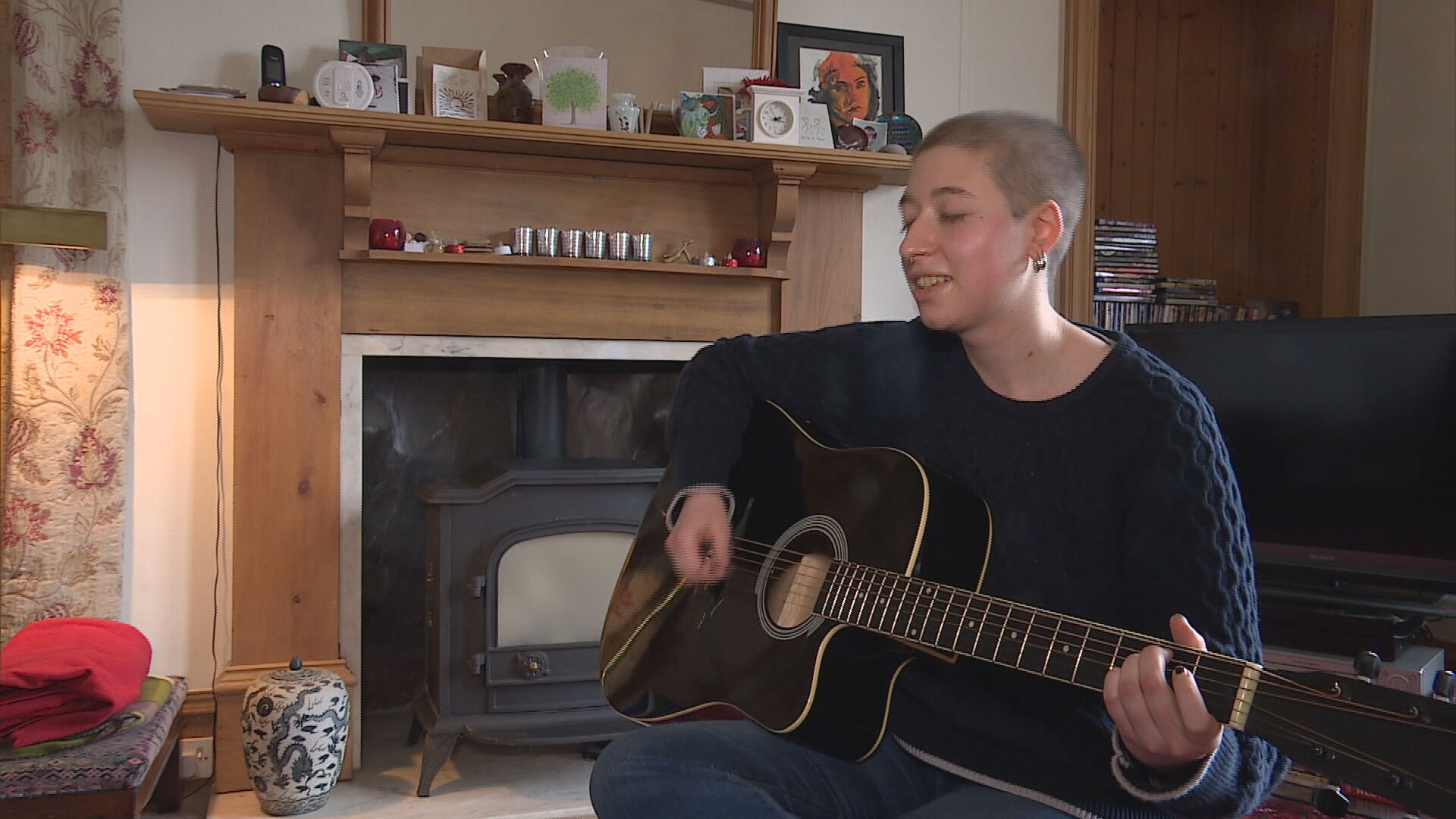 Varvara and her mother endured a week-long journey on trains and buses after leaving Ukraine for Germany where her grandparents live.
Her mother remained in Germany while her father stayed behind to help the emergency services in the Ukrainian capital.
"Ordinary people, ordinary lives get destroyed in a moment," said Varvara
"It is the worst, you just can't arrange any plans anymore because you don't know whether you're going to be alive tomorrow or not."
Harry said his family wanted to become hosts to help people caught up in the conflict, but added the experience has been emotional.
Harry said: "Varvara copes with the emotional hit much better than we do.
"We just wanted to help folk who've lost everything – I don't think it's something that we rationalised.
"It's something that we both immediately felt we wanted to do.
Harry says the visa system for Ukrainians coming into the UK needs to be simpler and swifter, both before they arrive and once they're here.
"Suddenly you try to get someone to the UK and it all changes so radically," he said.
"Everything is bureaucratic and delayed and difficult.
"And in some cases, for some people, if they weren't able to get documents and so on, it's impossible."
Varvara now hopes to continue her studies in social work at the University of Dundee and says she can't thank Harry and Catriona enough for their act of kindness.
"Complete strangers, but they're like my family now and I continuously say thank you," she said.
"My mum and dad always say thank you.
"I can't express the level of my gratefulness."