A teenager who suffered a catastrophic brain injury in a biking accident has thanked those who are helping in his recovery.
Wil Ritchie from Forfar spent weeks in a coma after falling from his bike last July.
Despite wearing a helmet, the 15-year-old suffered a catastrophic brain injury and spent ten months in Ninewells Hospital in Dundee.
His family say that doctors are now "confounded" by his progress since moving home and continuing his recovery.
Wil's dad Dave said: "I'm convinced they've been confounded by his progress, he's moved on so far from where he was.
"Some of the machines they had to use to move him, to shower him, to do all these things, he's home now and he's doing all that himself.
"I think they've been absolutely flabbergasted by Wil's progress and I can see why from where he was back in July"
Wil says he put in a lot of hard work and effort to get to this stage in his recovery and he's determined to keep going.
"I always knew that was the case I would have to," Wil said.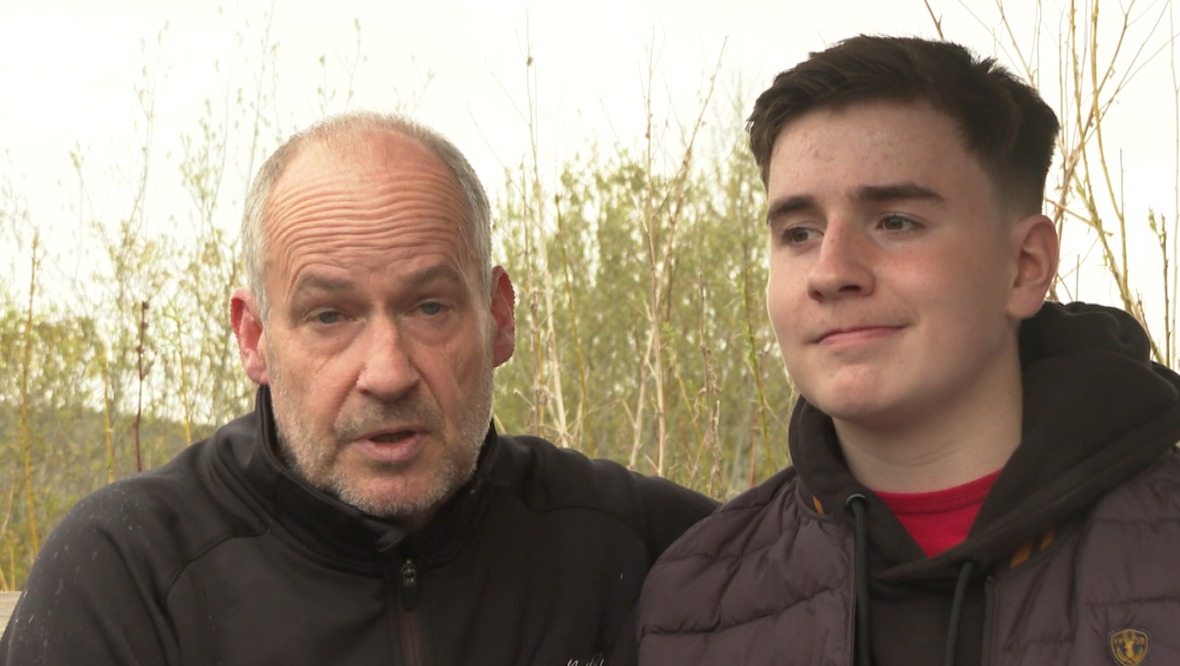 The fight and determination Wil has shown has helped his parents get over the shock of his accident.
Wil's mum Karen said: "I thought to myself when did I last think about that and the sadness, just the horror ot it all, I can't answer when that was last in my thoughts.
"There's just so much enjoyment from working with Wil through his rehab."
Thinking back on Wil's accident, Dave added: "It's not something that dominates my thoughts now, we are where we are and he's come on so well.
"The first couple of weeks when he was in ICU back in July, even in December but even more so now, I'd have bitten your hand off to have Wil where he is now, so it's just amazing."
Wil is a keen sportsman and part of the local rugby club in Forfar.
Coaches and players at Strathmore Rugby Club have been raising money to help with Wil's rehabilitation.
Steve Oakley from the club said: "We sort of set a challenge to look at riding the NC500 as part of a team, and currently there's six to eight people doing it and that's progressing as we go."
Karen says the support from the local community has made "all the difference" as the family focus on Wil's recovery. 
She said: "That they would afford so much of their time, their thoughts for us is very special, yeah it has, it's held us together, quite simply."
Dave added: "Wil's discharge could well have been delayed if we hadn't had their back up, the funds they've raised have also supported a special glove to help with the function in his right hand, petrol to go to Ninewells.
"With Karen not working we've not been overly flush with money, so it has made a massive difference."
Wil is due to return to school after summer and it's a moment he's looking forward to.
In the meantime, he's thankful for all those who have supported him in his recovery.
"Thank you, honestly," he said.
STV News is now on WhatsApp
Get all the latest news from around the country
Follow STV News
Follow STV News on WhatsApp
Scan the QR code on your mobile device for all the latest news from around the country