A schoolgirl battling difficult health conditions has been given a new lease of life after taking up bagpiping.
Katie Robertson, who uses a wheelchair, told STV News that "with piping, I feel like I've found my place".
The 14-year-old, from Carnoustie in Angus, has suffered from arthritis from the age of four and recently had to have 11 steroid injections into her hands after the condition started flaring up.
The teen also has scoliosis, which has curved her spine in two places.
Despite living with chronic pain, Katie has not let that get in the way of following her dreams to learn how to play the bagpipes.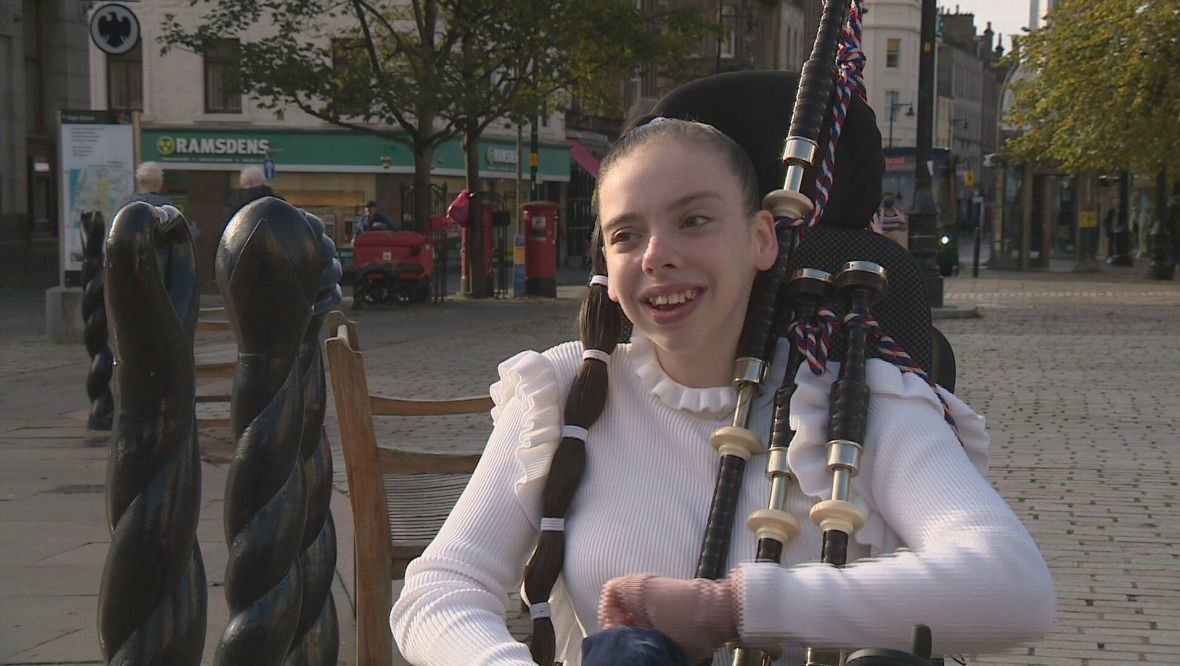 The teen, who has been learning the chanter at school, was scheduled to undergo spinal surgery last year, but that was postponed due to the coronavirus pandemic.
In response to the delay, Katie became determined to use the time to learn how to play the pipes and go out busking in Dundee city centre to perform for shoppers.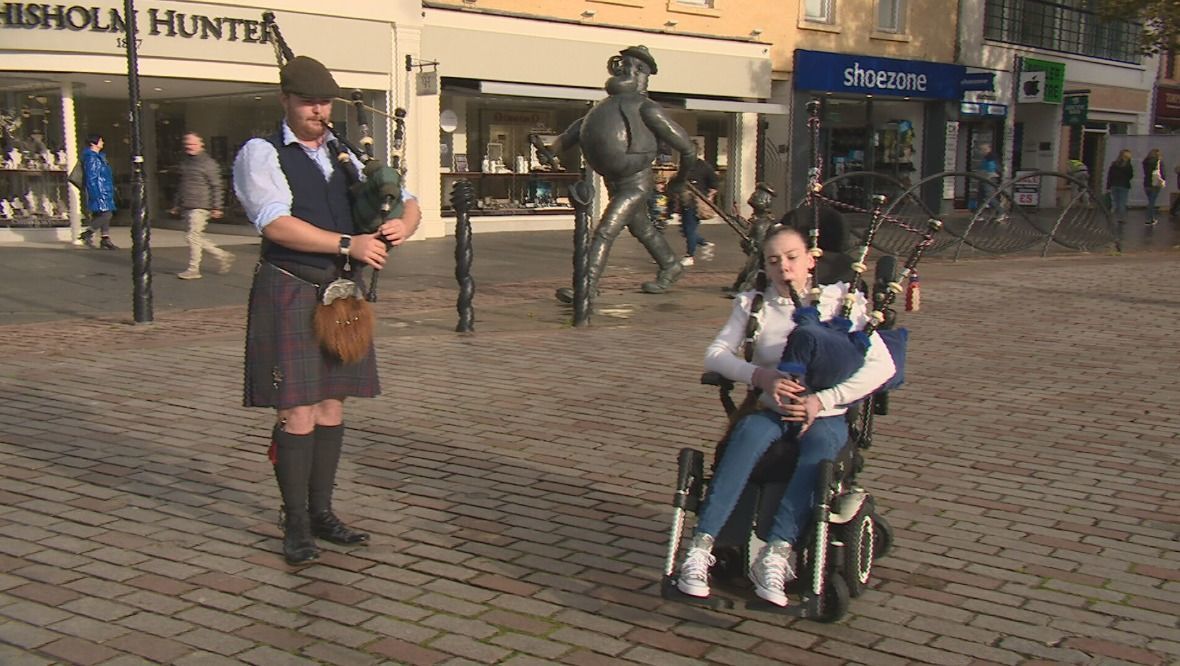 She told STV News: "I just feel so confident when I'm playing for people, it's just such an amazing experience.
"I honestly just can't describe how happy it makes me feel. Every chance I get I'm out busking.
"The amount of people who stop and say such nice things about me is amazing.
"People used to look at me for being in the chair, sort of looked down at me – I'm not the same as them.
"All the folks in my class, they can be a bit mean sometimes and not very understanding.
"Whereas now when I'm busking, people look at me for a different reason. They look at me because I'm playing the bagpipes."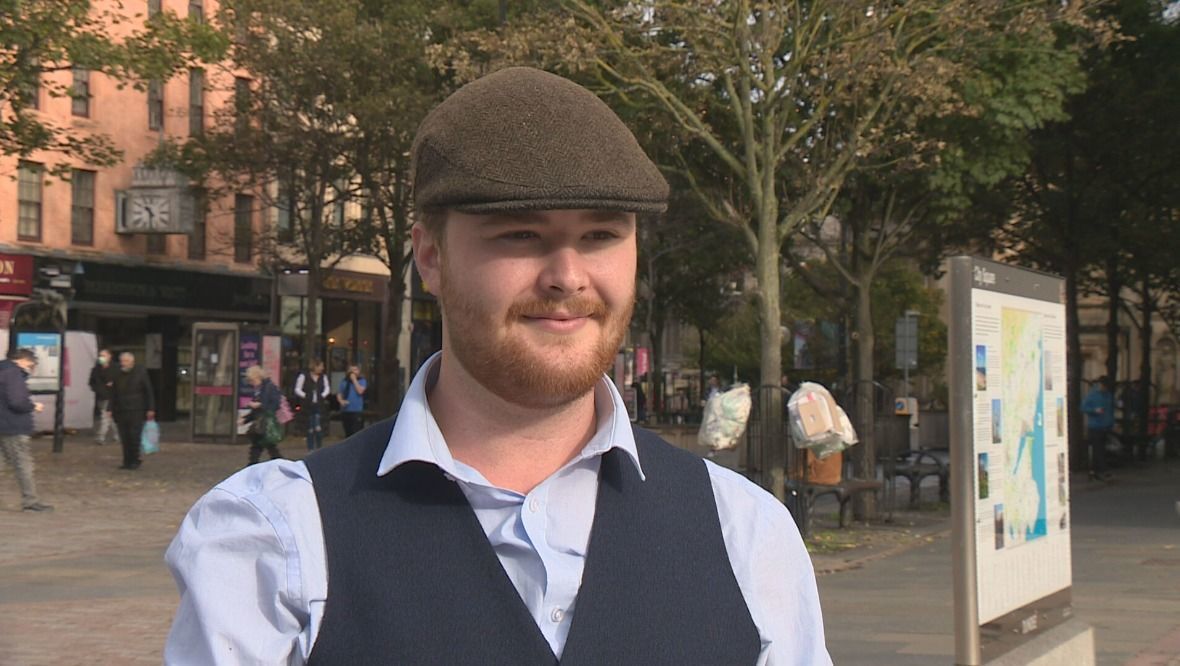 Katie only got her first set of pipes in May after a chance encounter with Liam Eaton, a pipe sergeant with Dundee City Pipe Band.
Last week, she cemented her place as part of the all-inclusive band by leading the musicians down Dundee's Reform Street.
Mr Eaton, who helped Katie find her first set of pipes, has been giving her lessons as well as accompanying her on busking performances.
He also encouraged her to take part in her first National Mod, where she placed first and second in the two events she entered in.
He said: "Katie has such a natural talent for [playing bagpipes] but her skill level is only part of it. The enthusiasm she has for the pipes is unbelievable.
"I've never seen this level of dedication to the pipes – I was never this enthusiastic and I love the pipes.
"I've actually had to ask her to practice less because bagpipes are quite fickle and if they get too wet they can break."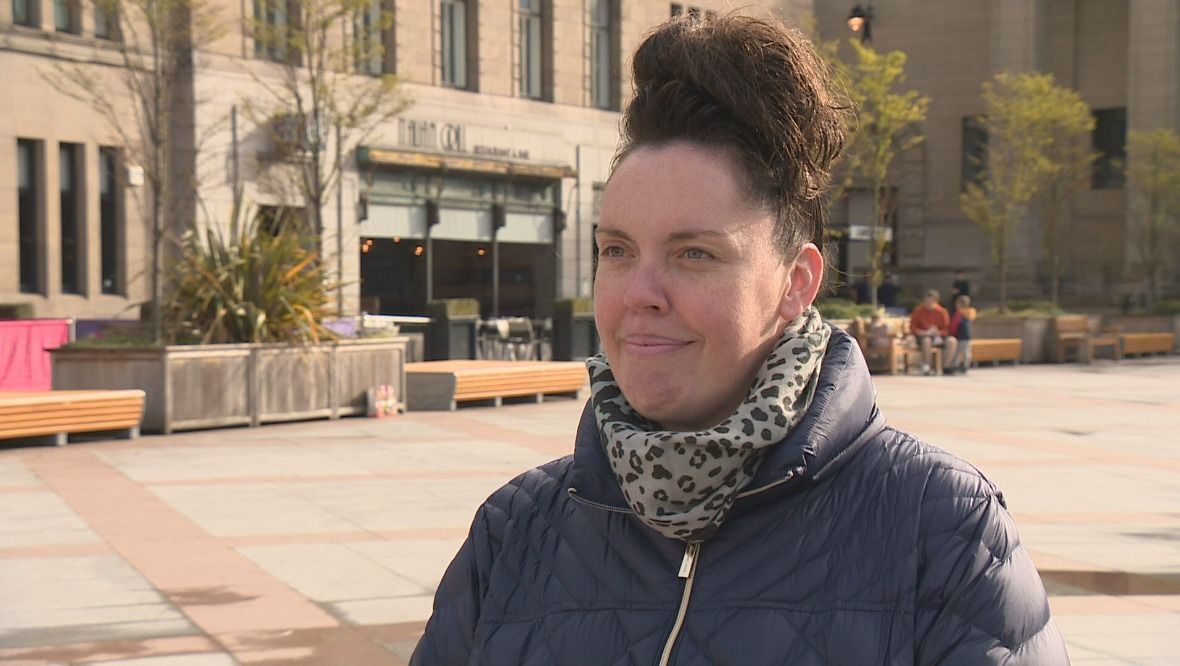 The teenager's mum said she's seen a massive difference in her daughter since she took up the bagpipes.
Jane Robertson said: "The confidence it's giving Katie is amazing.
"For me to look at her and know what she's going through daily with her pain and the struggles she has – to do this is more than what she would have ever imagined.
"Bagpipes have become her focus. She wakes up thinking about pipes, she pipes during the day and the last thing she does before bed is pipe.
"Katie is more confident and more proud of herself of achieving this because there are so many things Katie couldn't do that other kids the same age could.
"She now has excelled in something and people are looking at her for the right reason.
"Katie used to be bothered by people looking at her because she's been in the chair for a few years, and she would say to me 'why are people looking at me' and I would say 'because you're beautiful'.
"The people were looking at her and she used to just shrug it off, but now people are looking at her because she's doing something unusual.
"She's a wee girl, a young lady piping and she's so proud of it and she's changing people's perceptions and that is amazing and makes me so proud."
Katie's surgery has been rescheduled for as early as next week.
Her ambition is to take her pipes to hospital and play them for the doctors and nurses that look after her.
Her recovery could take anywhere between six weeks to six months, meaning she won't be able to pipe, but she has saved up her busking money and bought herself a digital set of pipes so she can keep practicing without having to use her lungs.
As Katie says, "nothing's going to stop me piping".