A student and her pet pony have completed an epic trek from Germany to Scotland.
Johanna Maria Wurtz, 22, arrived in Dundee on Friday after almost seven months on the road and will now research barley breeding for six months as part of her dissertation.
The agriculture student couldn't afford the £2000 flight costs for her 14-year-old Shetland pony and couldn't bear to be without him for such a long time, so she set out from her home in Halle in February with Hechizo dragging all her belongings on a cart.
Her father drove her to Spain for a work placement – and from there the pair walked to the French border before hitching a lift with her dad to Dover.
Once in the UK they began the journey north to Dundee on foot, walking 15 miles a day on average through rain and shine.
Staying with strangers, or camping in churchyards or parks, the duo have walked more than 1100 miles.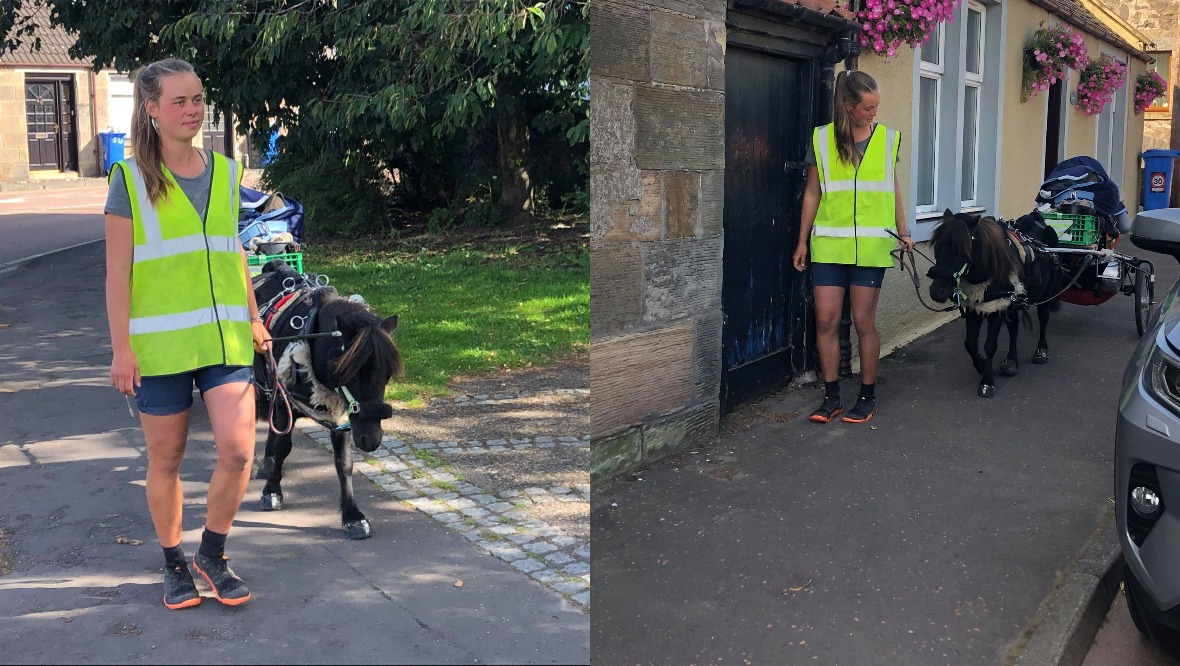 Speaking to STV News on her arrival to Leuchars on Thursday, Johanna said: "I wouldn't have done this year abroad without a pony so this was just the best way of taking him with me.
"I didn't really want to transport him. My dad would have given us a ride really to wherever I wanted to go, but this is not only the cheapest way but the most sustainable way of travelling with the horse. But, also just an incredible experience really – my life's journey with agriculture with nature and with the horse.
"I've seen so much about the agriculture, and most importantly this change in nature from June to September – all the harvest season and the difference between the centre of Spain to the middle of Scotland."
Johanna bought Hechizo – whose name means magic in Spanish – for her 18th birthday and has spent "nearly every day" with him since.
At the start of each day, the 14-year-old pony is "ready to go".
Johanna said: "It's more than 1100 miles already on these tiny little legs but he really has a bit of a gypsy soul.
"It's amazing, and all that trust that he shows me by just laying down to sleep nearly every place – even when we were in a busy campsite in Spain.
"I absolutely love him.
"I wouldn't have done this travelling without him, and couldn't have left him behind."
Johanna is in the middle of an agriculture degree at the University of Halle.
She will now attend the James Hutton Institute to work on her dissertation, which revolves around a barley breeding programme.
The pair had done one previous six-day trek in Germany three years ago, but decided to embark on this adventure on February 28.
Her father drove her to Segovia, Spain, where Johanna worked at a farm for a number of weeks and from there she began the walking part of her journey.
With the help of her father and his converted camper van, they crossed the Channel and arrived in England on July 13, starting their hike again in East Sussex on August 1.
Strangers have given her places to stay, repaired her broken cart, given them shelter from the rain, paid for her to stay in B&Bs and given her meals.
The duo carried on amid the coronavirus pandemic, with Johanna saying the adventure eventually "worked out better than I could've dreamed".
She added: "I'm totally happy with how everything's turned out, people have been amazing.
"I really feel so blessed to be able to live this life.
"Especially at this time – it's great to be spreading his bit of magic along the way because it just makes everyone happy to see him.
"It's great to be living my dream even during this difficult time."
By Jenness Mitchell & Haley Bouma
STV News is now on WhatsApp
Get all the latest news from around the country
Follow STV News
Follow STV News on WhatsApp
Scan the QR code on your mobile device for all the latest news from around the country