A man who murdered his 84-year-old grandmother in a vicious attack in her home while under the influence of alcohol was jailed for life on Friday.
Scott McCulloch, 26, repeatedly punched Patricia Bitters and stamped on her as she lay bleeding, resulting in the slightly-built victim dying six days later in hospital.
A judge ordered that McCulloch must serve at least 15 years in prison before he can be considered for release on licence.
Lord Beckett told him at the High Court in Edinburgh: "After drinking heavily on August 28 last year, you inflicted sustained, brutal violence, causing appalling injuries which inevitably proved fatal after some days in hospital.
"She had given you a home and was entitled to expect your protection and support in return."
McCulloch, a prisoner in Inverness, admitted assaulting and murdering Mrs Bitters at her home on Oystercatcher Close in Forres, Moray, by repeatedly punching and stamping on her head and body before she died at Raigmore Hospital in Inverness on September 3.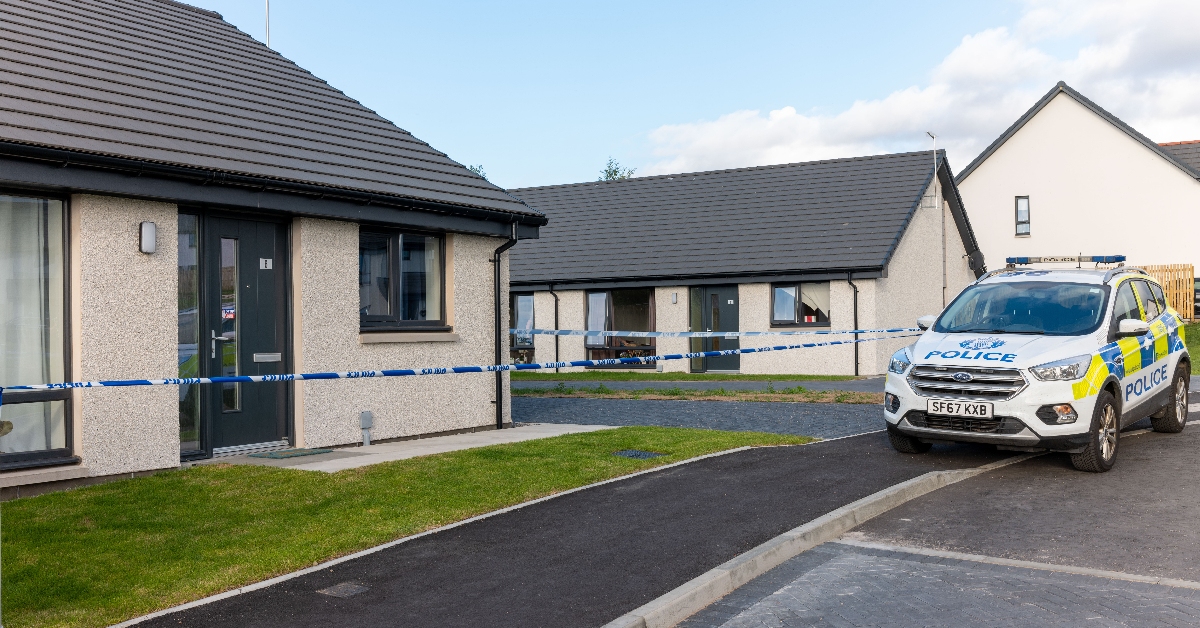 After the attack, McCulloch told a neighbour: "She kept on and on and on at me. I told her I was going to commit suicide and she said: 'What's stopping you?'."
The court heard that former barmaid Mrs Bitters, who stood 4'9 inches tall and weighed about seven-and-a-half stones, had 13 grandchildren and eight great-grandchildren.
Advocate depute Nicola Gilchrist said: "Over the years Mrs Bitters' health deteriorated, leading to mobility issues. Due to these issues she preferred to stay within her home. Scott McCulloch provided care to his grandmother, assisting her with day-to-day living, shopping and medical appointments."
The prosecutor said that on the day of the attack, McCulloch – who has a previous conviction for assault with a bottle – visited a neighbour to mow his lawn.
He took a six pack of cider with him and the neighbour noted that during the work he was becoming more difficult to understand, which he put down to his drinking.
At one stage, McCulloch was seen lying on a dog's mattress at the back door and appeared to be about to fall asleep. He was asked to leave and a friend helped him to his feet and walked him back to the home he shared with his grandmother.
Later that evening, another neighbour heard a disturbance coming from Mrs Bitter's bungalow. She heard a male shouting aggressively and a woman screaming: "Help, help, stop, stop, no." before the female fell silent.
Wendy Heron alerted members of her family and they went to the scene, where her husband Michael found McCulloch on the pavement outside his grandmother's home.
McCulloch told him: "I have killed my granny. I have killed my granny. I didn't mean to do it." Emergency services were contacted.
Mr Heron went into the house and asked McCulloch where his grandmother was. He pointed to the living room and said: "She's in there." He covered his eyes and said: "I canna look."
The advocate depute said Mr Heron found the stricken woman unmoving and with blood coming from her mouth. His wife, who is a trained nurse, went to the aid of the pensioner.
"Wendy Heron established Patricia Bitters was breathing, although her eyes remained closed and she had blood coming from her nose, mouth and ear," said the prosecutor.
The attack victim opened her eyes and was able to confirm that she was assaulted by her grandson. She was asked why and said: "I don't know. He lost it."
Mrs Bitters told the nurse: "Don't leave me, I don't want to die alone, please stay with me while I die." The attack victim was taken to hospital by ambulance but later died after suffering blunt force head and neck injuries that led to haemorrhaging. She also sustained fractured ribs.
McCulloch told Mr Heron that he was the carer for his grandmother and had been doing it for two years, but was not receiving help.
He phoned his mother and said he was at his granny's and she said her mother would be in bed by now. But he told her: "No, she's lying on the living room floor covered in blood. He said he 'killed her'."
When police arrived at the scene, they noted that McCulloch smelt of alcohol and was heavily intoxicated. He was staggering about slurring his words.
He told officers that he did not understand what was going on and had no idea why they were present. A blood test carried out on McCulloch 12 hours after he was arrested found he was almost three times the drink driving limit.
Before Mrs Bitters died he wrote a letter to his mother from prison: "Can you send some money in so I can get some juice and food. I hope Granny makes it. I am going to get help in here."
Defence counsel Donald Findlay KC said that McCulloch was "profoundly sorry" and added: "He finds it difficult to come to terms with why this has happened, but has to accept it has.
"He looked after his grandmother. They had their differences, but there does not seem to have been any simmering malice or resentment," he said.
Police Scotland welcomed Friday's conviction.
Detective Inspector Martyn Thomson, the case's senior investigating officer, said: "This was a brutal and sustained attack on a woman who should have been safe in her own home.
"Patricia's family have been left absolutely devastated and our thoughts remain with them at this extremely difficult time.
"While this conviction can't change what happened, I hope the outcome brings them at least a degree of closure.
"I would like to thank those who came forward with vital pieces of information that assisted with our inquiry.
"Violence like this has no place in our society and we will continue to work closely with our partners to bring perpetrators to justice."