More investment is needed to meet the First Minister's ambition of making Scotland "one of the most innovative small countries in the world", renewable businesses have said.
The Scottish Government is to publish its "Innovation Strategy" this week, aiming to improve economic performance and keep the country competitive.
Previewing the plans, Humza Yousaf insisted Scotland's energy transition, from oil and gas to renewables, offers real opportunity and could make the nation a "world leader" in developing new technology.
Kieran Hope, founder of Aberdeen-based start-up Air Control Entech, which reduces carbon intensive offshore inspections by using drones, said ideas are just the spark but financial backing is essential.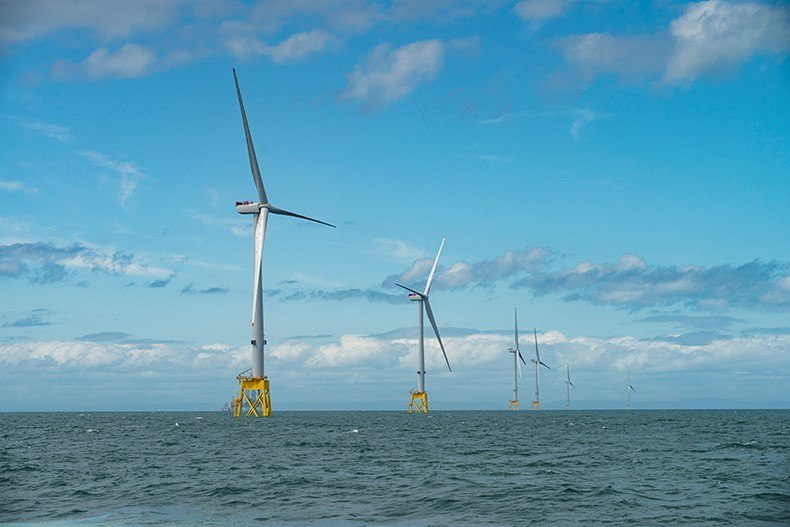 "There is not enough support for small companies to be able to basically research and develop new technologies," he told STV News.
"If we go and look at Innovate UK, it's extremely hard to get access to that funding.
"I'd quite like to see a funding body which would maybe utilise some of the profits from the windfall taxes to be regenerated into creating technology to support a greener operation than our see."
Scotland's climate change legislation sets a target date for net zero emissions of all greenhouse gases by 2045.
In recent years, advances in technology have helped to boost use of renewable energy and reduce emissions across heavy industry.
But oil and gas still provide for around 75% of Scotland's energy consumption.
"We want a cleaner North Sea… but it's going to take money and investment to do so," Mr Hope said.
Groundbreaking technologies have the potential to be exported and used across the world – likely bringing benefits to the domestic economy.
The Net Zero Technology Centre – an organisation which helps companies and entrepreneurs explore green technologies – said more capacity is needed for people to showcase their skills.
"What we really need more of are test and demonstration sites that allow developers, people with really great ideas, to demonstrate their technologies," said Hayleigh Barnett, an engineer from the centre in Aberdeen.
"What's really key is having that linked to industry – to ensure developments really have that opportunity to flourish."
More innovation is required for Scotland to achieve net zero, the boss of renewable offshore energy company Mocean Energy told STV News.
"If we had the solutions we needed right now to get to net zero, we would do it," said managing director Cameron McNatt.
"The challenge with renewables is variability.
"Obviously you only get solar when the sun is shining, wind power when the wind is blowing.
"But you don't solve that challenge by adding more solar or more wind. What we need is a variety of types of energy."
Mr McNatt's company is aiming to use Scotland's seas to add an extra layer of resilience to the country's renewables production by providing around 3% of electricity demand by 2050.
"That might not sound like a lot, but 3% of a huge market is a huge impact," he told STV News.
"That will potentially save hundreds of millions of tonnes of CO2 compared to our energy system today."
There's confidence in Government that winning the tech race would reap economic growth and environmental security.
Minister for innovation Richard Lochhead said: "As the First Minister said this week, innovation has been an important focus for Government investment in recent years, and I am determined to continue that commitment.
"This includes supporting the TechX Clean Energy Accelerator as part of our £90m Aberdeen City Region Deal investment in the Net Zero Technology Centre."