Two school pupils are living the Life of Pi after mastering the mathematical method.
Charlotte Simpson and Alfie Adair from Comrie Primary, in Perthshire, stunned their class when they recited Pi to more than 200 decimal places.
The P7 class were challenged by their teacher Danny Gilbert to mark World Pi Day in March.
Mr Gilbert, who admits he struggles to recite Pi to 15 decimal places, was astounded when the genius pair racked up all the numbers they could recall.
Pi – which begins 3.14 and is endless – is the relationship between the circumference and diameter of any circle.
"It is a very tricky number to memorise because it goes on forever and there is no repeating parts of it, so there's no obvious way of remembering it," said Mr Gilbert.
Astonishingly, Alfie recited Pi to 267 decimal places, while Charlotte reached 300.
"It was quite difficult, I started by just doing six at a time," said Alfie.
"I would only do it at night because when I go to sleep it's easier to remember, it sticks in my head and I would try and do one line every day on the sheet I was practising on."
Charlotte revealed it became quite competitive between the pair as they tried to outdo each other.
"I enjoyed it, it became a bit addictive," said Charlotte. "It was very competitive. We both tried to memorise a few more each day."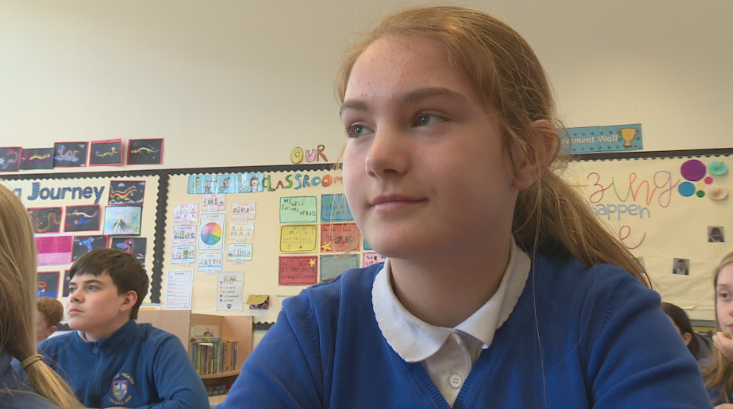 The class were inspired by ten-year-old Charley Thomas, who showed off his Pi prowess on Good Morning Britain on STV in 2019. Charley, from Gloucestershire, managed to reach 258 places.
Alfie and Charlotte were keen to outsmart him and started memorising the mathematical method.
Alfie said: "It was quite fun, but after this I'm just going to forget about it because it's taking up too much space in my memory."
Mr Gilbert said the pair had set a tough target for next year's primary sevens.
"It holds a strange fascination for so many people," he said. "I am aware there are some people who can memorise it to 100,000 places, but I'm not sure what they do the rest of their lives.
"We've certainly got a target to beat for next year and I think the children that took part and did really well should be rewarded, perhaps with some slice of pie."