Vladimir Putin ordered the Russian invasion of Ukraine on February 24, 2022.
The assault has resulted in one of the world's largest refugee crises in recent times, with more than eight million people fleeing the country.
Over the past year, more than 21,000 Ukrainians have come to live in Scotland.
While the displacement has been of mass proportions, each person forced from their home has their own, individual story to tell.
They often ones filled with pain, trauma and loss – but also of incredible resilience, courage, and hope.
As the war reaches its first anniversary, STV News has been hearing the experiences of some Ukrainians now living in Scotland.
Oleksandra Kobets
Wherever she goes, Oleksandra carries two small pieces of cloth in her jacket pocket.
To others, they might seem like unremarkable bits of fabric. But to her, they mean everything.
They are the uniform labels of two Ukrainian soldiers, gifted to her after they survived a particularly brutal battle.
"I'm so proud to receive such a present," she said. "I believe it keeps me safe."
The safety of her own children was at the forefront of Oleksandra's mind when the war broke out.
Initially, the thought of leaving her home city of Dnipro wasn't a consideration.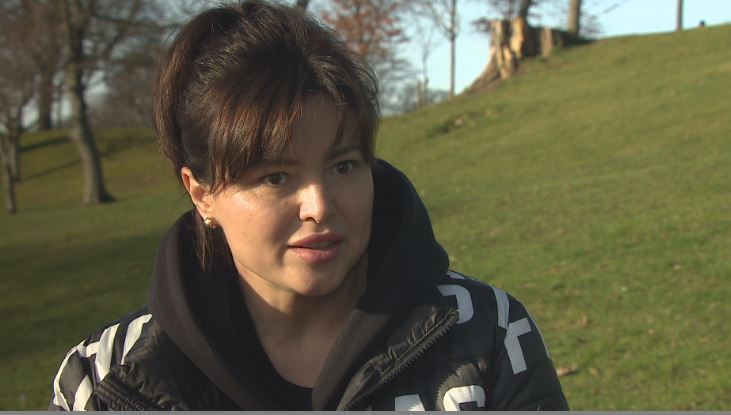 Her life was there with her son, Zakhar, daughter, Liia, and her husband, Serghei.
But in the ten days that followed, everything changed.
As Dnipro came under attack, the family had to sleep in their hallway.
They propped rugs up against the windows to protect themselves from the bombs, stayed put, and prayed it would get better.
It got worse.
With her children becoming increasingly distressed by the explosions happening around them, Oleksandra knew they had to get out – and quickly.
They hastily packed a bag, and Serghei drove the family to the Slovakian border. Their journey was fraught with danger.
"We stopped at a gas station and I heard this horrible noise," said Oleksandra.
"We were sitting in the car and I opened the door and screamed 'just run'.
"I saw two jets flying over our heads. We started to run out of the car into the fields because I was thinking 'they're going to shoot us'."
Eventually, they made it to the border. Serghei would remain in Ukraine to help with the military effort. It was time to say goodbye.
"The kids, even though they are small, realised that it was going to be a long time before they saw their dad again," said Oleksandra.
"I tried to be strong, but I was crying inside. It was very hard."
Oleksandra decided to come to Scotland through the Super Sponsor scheme.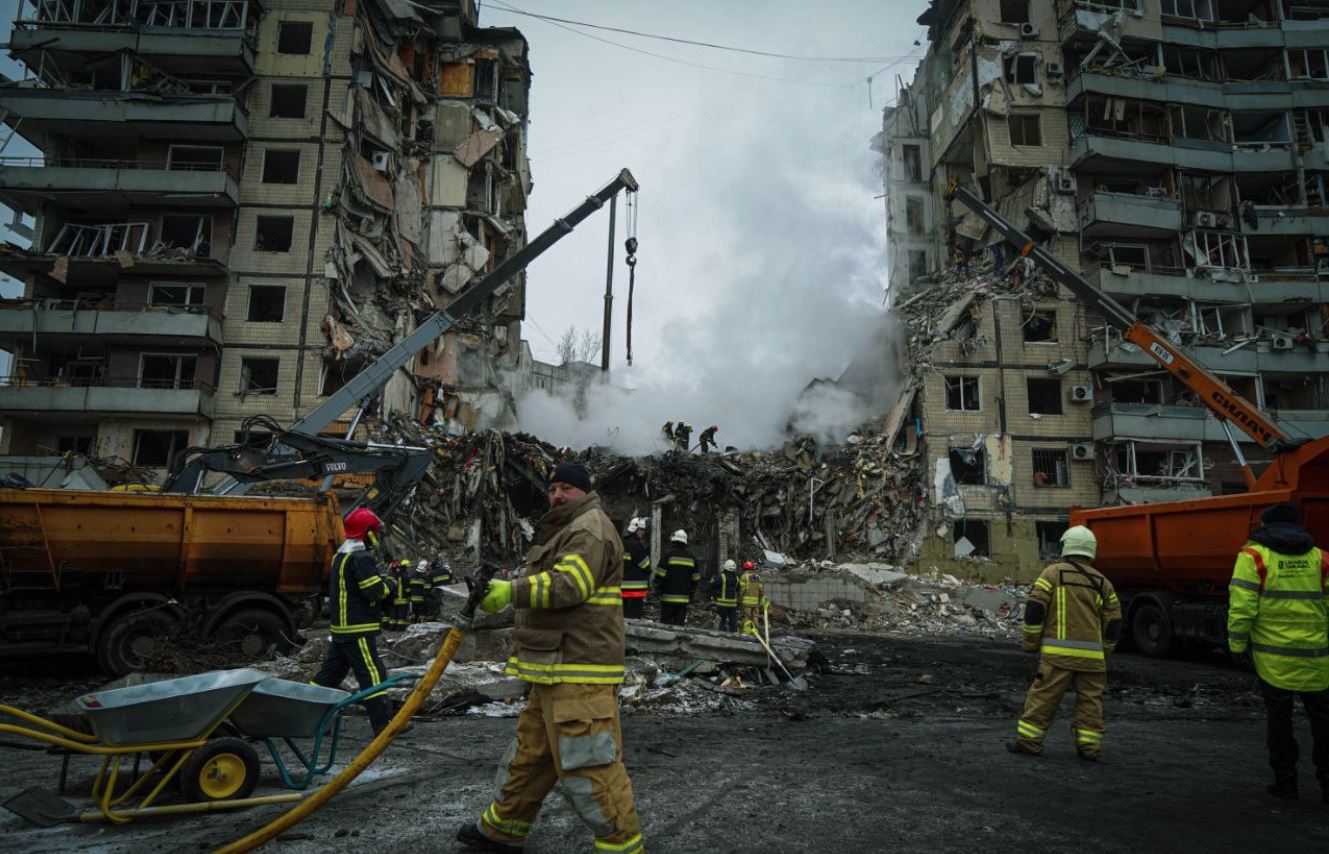 Since last June she's been living in a hotel in Aberdeen with her children. It's been difficult, but she's been overwhelmed by the welcome she's received here.
"They are smiling, they are like warm people, in a cold country," she says, breaking into a smile herself.
Oleksandra knows her children are safe here in Scotland. Her son is at school, and her daughter at nursery.
She's embarked on a college course and is trying to improve her English.
But every day, she grieves for those who haven't been so lucky. They include friends who lost their lives in a recent attack on Dnipro.
"I know people who are dead… and the whole family, five people, were killed there under ruins.
"It's hard to explain and hard to tell with words. It's just something you can feel inside. This horrible pain for people."
Oleksandra says realising how much has changed over the last 12 months is hard to get her head around.
"When we left our home, we thought it was going to be months,' she said.
"Then the second month, third month. Now when we look back, I realise it's already a year.
"When we came to our hotel, there were little kids who could not even walk.
"And now they're big and walking and speaking, and I'm realising it's a year. A whole year of war."
Like so many, Oleksandra's only wish is for an end to the war, and to return home. But the uncertainty remains.
"The most horrible is thing is we don't know when it finishes," she says. "That's the hardest part of it – we don't know when it stops."
Nataliia Zaplitna
Nataliia divides her life into two parts – before and after February 24.
She was working as a factory seamstress in Kharkiv when Russia's troops invaded. The border city was one of the first to be targeted. Much of it was left in ruins.
"It started with explosions. They never ended," she said. "They still continue until this day."
Nataliia came to Aberdeen as a refugee after the death of her mother. It was a devastating loss, and one she still finds incredibly difficult to talk about.
"She died because there was a shortage of medication in the area where my mother lived," she says. "The supply of medication was interrupted."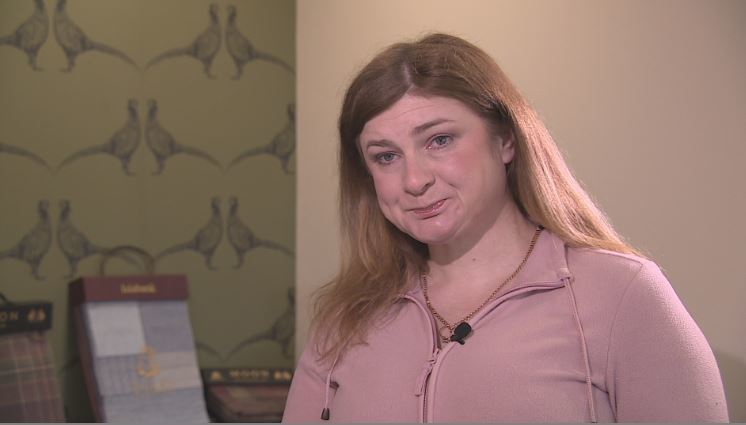 Nataliia is now working at Glencraft, a social enterprise which makes and sells mattresses.
They'd been looking for a seamstress, and Nataliia's experience meant she was perfect for the job. For her, it's been invaluable.
"I like my colleagues and I enjoy being surrounded by employees at Glencraft," she says.
"I have a chance to continue to do what I used to do – what I know and just to continue my profession."
Nataliia initially lived in a hotel. She's now in student accommodation, but her long-term housing plans remain uncertain.
"I know the accommodation is available until March – I don't know where I'll stay after that," she says.
Nataliia has a quiet life in Aberdeen. She enjoys the city's architecture, and walks by the sea.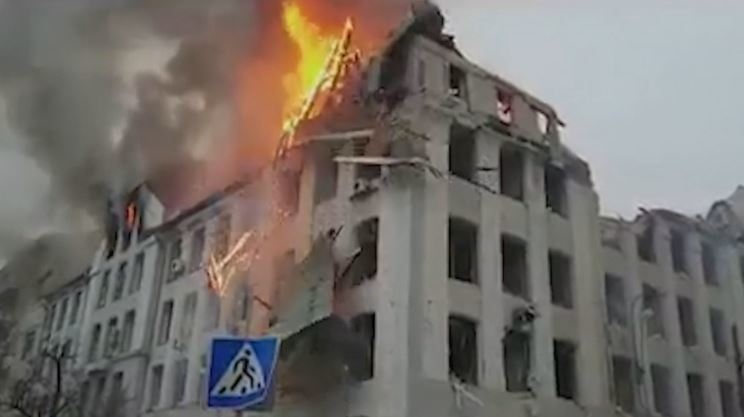 She hopes telling her story will inspire others.
"I wanted to share my own experience, my own example," she said. "In all situations there is a hope to be able to continue life and work."
STV News is now on WhatsApp
Get all the latest news from around the country
Follow STV News
Follow STV News on WhatsApp
Scan the QR code on your mobile device for all the latest news from around the country