In the queue for the delayed morning bus in Arbroath, the mood amongst passengers waiting to board was easy to overhear. One elderly woman could be heard saying the service was "ridiculous" – while another discussed its unreliability.
These are becoming regular sentiments shared at bus stops along the east coast, where commuters often face disruptions and cancellations. For those who rely on buses, it means extra planning and mounting daily stress.
Kim Rennie uses the bus regularly to travel from her home in Ferryden near Montrose, to work in Stonehaven, Aberdeenshire. The journey should take around 40 minutes, but it's plagued by regular delays and cancellations.
Kim said: "It's not fun being stuck as a single person in a town you don't know that well. It makes me feel quite isolated and scared to go out in case I can't get home."
There are frequent concerns raised over the reliability of services, especially the key X7 route linking towns between Perth, Dundee and Aberdeen. But services heading north from Edinburgh through Fife appear to be affected greatly too – especially in Dunfermline and Glenrothes.
On Tuesday this week alone, there were around 50 bus cancellations. The disruption affected hospitals, cities, towns and villages
The most common reason cited by the operator Stagecoach is driver shortages, but passengers have raised concerns over the health of the bus fleet serving the area.
Sheila Patterson said: "Buses are cancelled because they break down, it's not just because of a lack of drivers, it's because the buses are in poor condition too."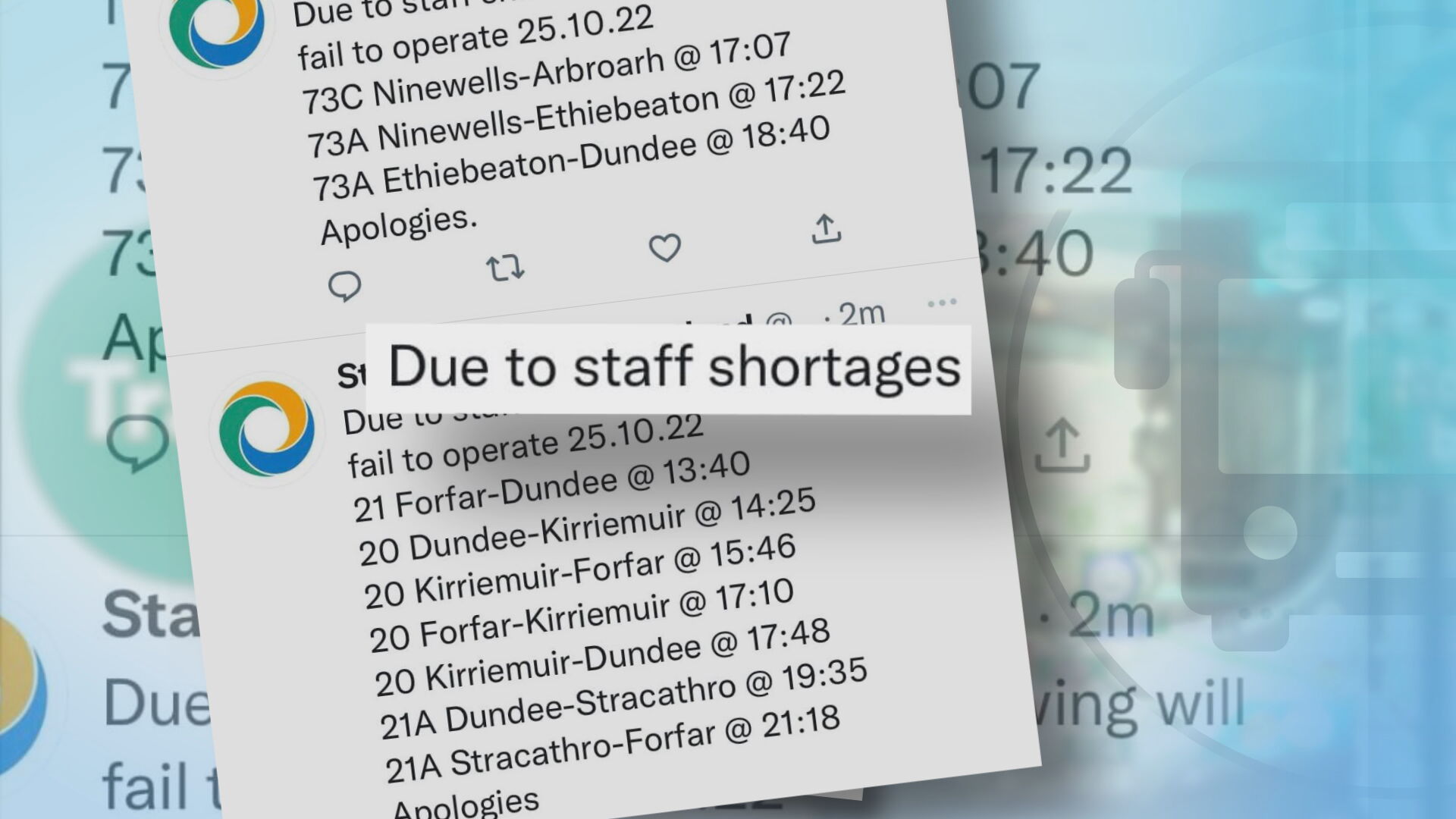 The failure of some services is leaving people with no option but to use means of transport they cannot afford.
Regular bus user Donna MacDonald said: "I had an appointment in town last week and had to get the bus, but the service was cancelled. I had to take a taxi there and back. The whole trip ended up costing around £14 when it should have cost £2.60."
Delays and cancellations are posted regularly on social media by the operator Stagecoach, but Michelle Fletcher says people can't keep up and she's taking matters into her own hands, sharing information on timetable updates to locals in her village.
Michelle said: "Last night my friend called and told me her son had left his phone on the bus in the morning – when it came to the evening, the home bus didn't turn up, so my friend didn't know where he was.
"She had to drive to town to find him and he was in a state. People are having to pay for taxis that they can't afford in this time of economic crisis."
Bus operator Stagecoach has apologised – saying it's doing everything it can to ensure customers receive prompt and clear service information and to mitigate the underlying issues, many of which – they say – are driven by factors in the economy outwith its control.
Those who rely on buses to drive their daily lives hope that better services will resume soon.