An Aberdeenshire farm that supplies some of the UK's biggest supermarkets is under investigation after footage emerged of pigs being hammered to death and subjected to other serious violations.
Animal Equality, an international animal protection organisation, released undercover videos on Friday showing disturbing scenes of animal suffering said to be filmed at P&G Sleigh Pig Unit in Oldmeldrum over a number of weeks in late 2020 and early this year.
Photos and video footage appeared to show a catalogue of incidents of ill-treatment and breaches of animal welfare rules.
The farm's owner, Philip Sleigh – who is the former chair of the National Farmers Union Scotland (NFUS) pigs working group – no longer holds his position on a meat industry standards body after the allegations surfaced.
STV News repeatedly tried to contact Mr Sleigh on Friday but he did not respond to messages.
Quality Meat Scotland (QMS) said Mr Sleigh was no longer a member of its board or any of its committees.

A spokesperson said: "After reviewing the footage and assessor investigation, QMS has withdrawn this member from our quality assurance scheme for non-compliance with our standards.
"Animals must be handled humanely and with respect. Pigs that do not respond to treatment or require emergency euthanasia must be promptly and humanely euthanised by a trained and competent person in line with the Pig Veterinary Society (PVS) casualty pig publication."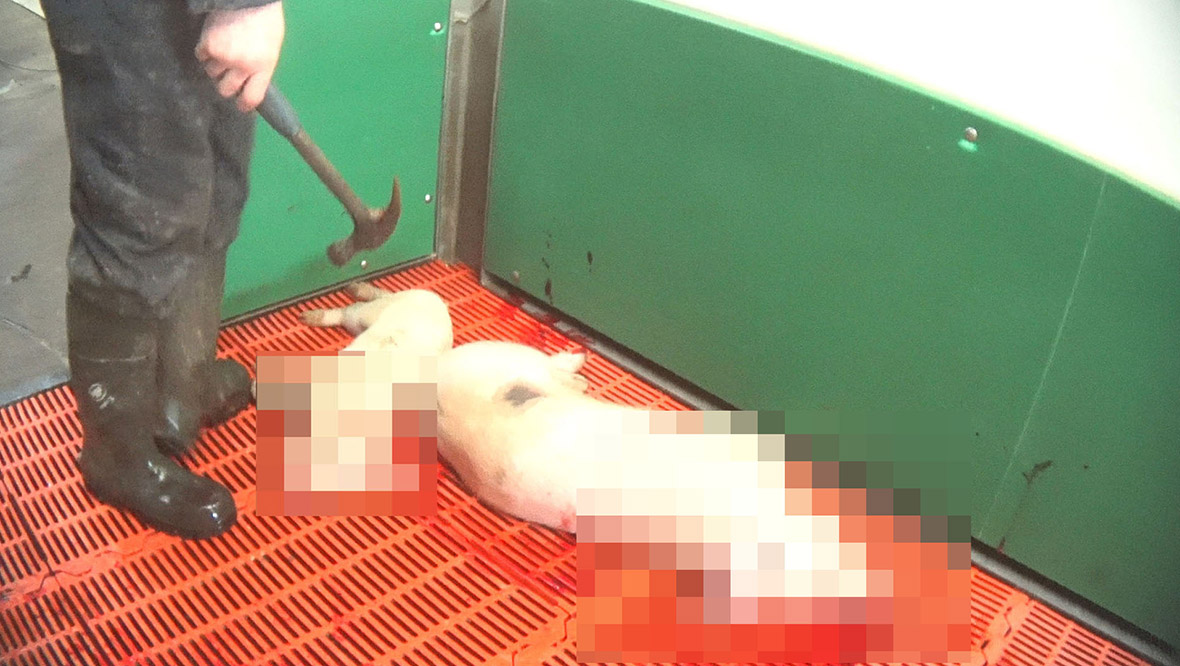 The pigs in the footage were said to be slaughtered at a nearby abattoir contracted by major food producer, Pilgrim's Pride, which supplies Lidl, Tesco, and many other major restaurants and retailers.
Tesco and Lidl have already taken steps to remove the farm from their supply chains.
A Tesco spokesperson said: "The conditions shown on this farm are completely unacceptable. We require all farms in our supply chain to adhere to strict animal welfare standards and we delisted this supplier as soon as we were made aware of these allegations."
Meanwhile, Lidl said they do not source directly from the farm but that "some pork products originating from them are used by our direct supplier".
A spokesperson said: "At Lidl GB we take the matter of animal welfare extremely seriously and are committed to maintaining high welfare and traceability standards throughout our supply chain.
"All of our fresh pork originating from Scotland is assured to QMS certified standards. Upon learning of these concerning allegations the farm has been suspended from our supply chain with immediate effect, pending a full and thorough investigation by QMS."
Animal Equality, the organisation behind the investigation, said pigs at the farm were destined to be slaughtered and butchered at Quality Pork Limited slaughterhouse in Brechin, Angus.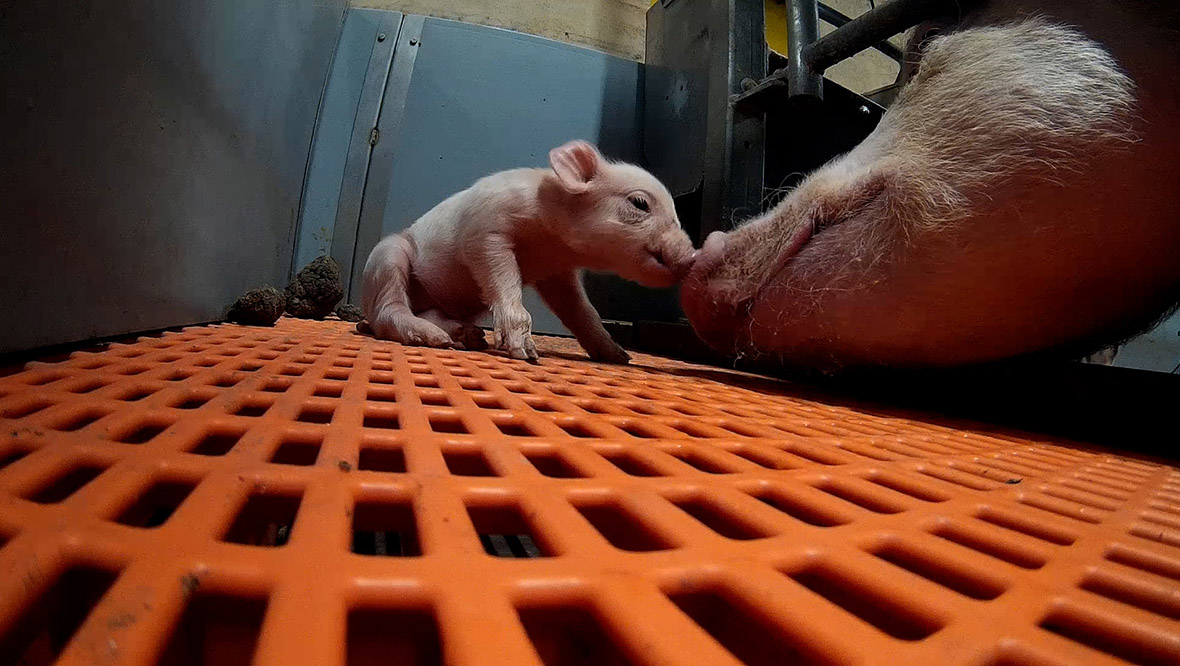 It added: "With an eye-watering government grant of £2.7m in 2014, the enormous abattoir (in Brechin) is the largest in Scotland, with capacity to slaughter nearly 400,000 pigs each year.
"Despite large investments, the abattoir – like many other slaughterhouses globally – experienced controversy over recent months, with a coronavirus outbreak in January 2021 that saw more than 40 staff members infected.
"This alarming exposé from Animal Equality comes at a time when the Scottish Government has committed to a financial handout for the pig industry, providing Scottish pig farmers with an additional £715,000 of funding to continue existing farming practices."
Abigail Penny, executive director of Animal Equality UK said the organisation's investigation had not just exposed one bad farm, but "an industry that is rotten to the core".
She said: "The ever-growing body of evidence we are building is a damning indictment of this cruel industry. This is what British bacon looks like."
"Rubbing shoulders with government officials and accreditation reps, Philip Sleigh was entrusted with a position of power, and yet his own farm breached the very standards that he helped set. QMS boasts of being proud of its standards, yet it took Animal Equality to uncover these serious breaches on its board member's farm.
"How can QMS claim to take animal welfare seriously when its own poster-boy didn't?" Animal Equality has investigated ten UK pig farms in five years and on each one has exposed severe suffering and filthy conditions."
The National Pig Association (NPA) said it takes allegations of mistreatment very seriously, but also questioned why Animal Equality did not immediately alert the authorities.
An NPA spokesperson said: "The UK pig sector takes allegations of the mistreatment of pigs incredibly seriously and as soon as aware will always encourage the relevant authorities to investigate as we did in this instance.
"As with all livestock farming, however, pigs do sadly become ill or injured and when they do not respond to treatment, will need to be euthanised.
"What matters is the skill, expertise and care exercised by the stockperson in identifying problems and dealing with them appropriately. Euthanasia is a permitted legal practice and can be conducted in a variety of ways, dependent on the size of the pig, provided it is in accordance with veterinary direction and oversight.
"In this instance, however, the footage does depict poor practice with regard to the method of euthanasia used and pig handling, which we do not condone and find totally unacceptable. We understand that the farm in question is now subject to a full investigation by both the relevant authorities and Quality Meat Scotland.
"It is also important to highlight that if Animal Equality were so concerned about the welfare of the animals on the farm, they should have alerted the relevant authorities immediately to ensure any animal welfare breaches were quickly addressed, rather than wait for four months to release the footage."
NFU Scotland said incidents like this remain very rare but when alleged they will be investigated.
Meanwhile, the Scottish Society for the Prevention of Cruelty to Animals said it will be submitting a report to the Procurator Fiscal in relation to the footage.
Scottish SPCA chief superintendent Mike Flynn said: "We will be submitting a report to the Procurator Fiscal based on information we received concerning breaches of animal welfare law at a farm in northeast Scotland.
"Considering this, we are unable to comment further at this time."