The manager of a Perth hotel where three people died in a fire says the tragedy will live with her for the rest of her life.
Karen Kennedy, who has been manager of the New County Hotel for five years, told STV News she repeatedly raised concerns over safety.
She was speaking as a report emerged showing concerns were raised weeks before the blaze ripped through the hotel just after 5am on Monday, January 6.
The fire claimed the lives of sisters Donna Janse Van Rensburg, 44, and Sharon McLean, 47, both from Aberdeen, and father Keith Russell, 38, originally from Edinburgh.
Donna's dog Joey also died in the blaze.
"These young people have families at home and one night of horror has turned into a lifetime of grief for them," said Ms Kennedy.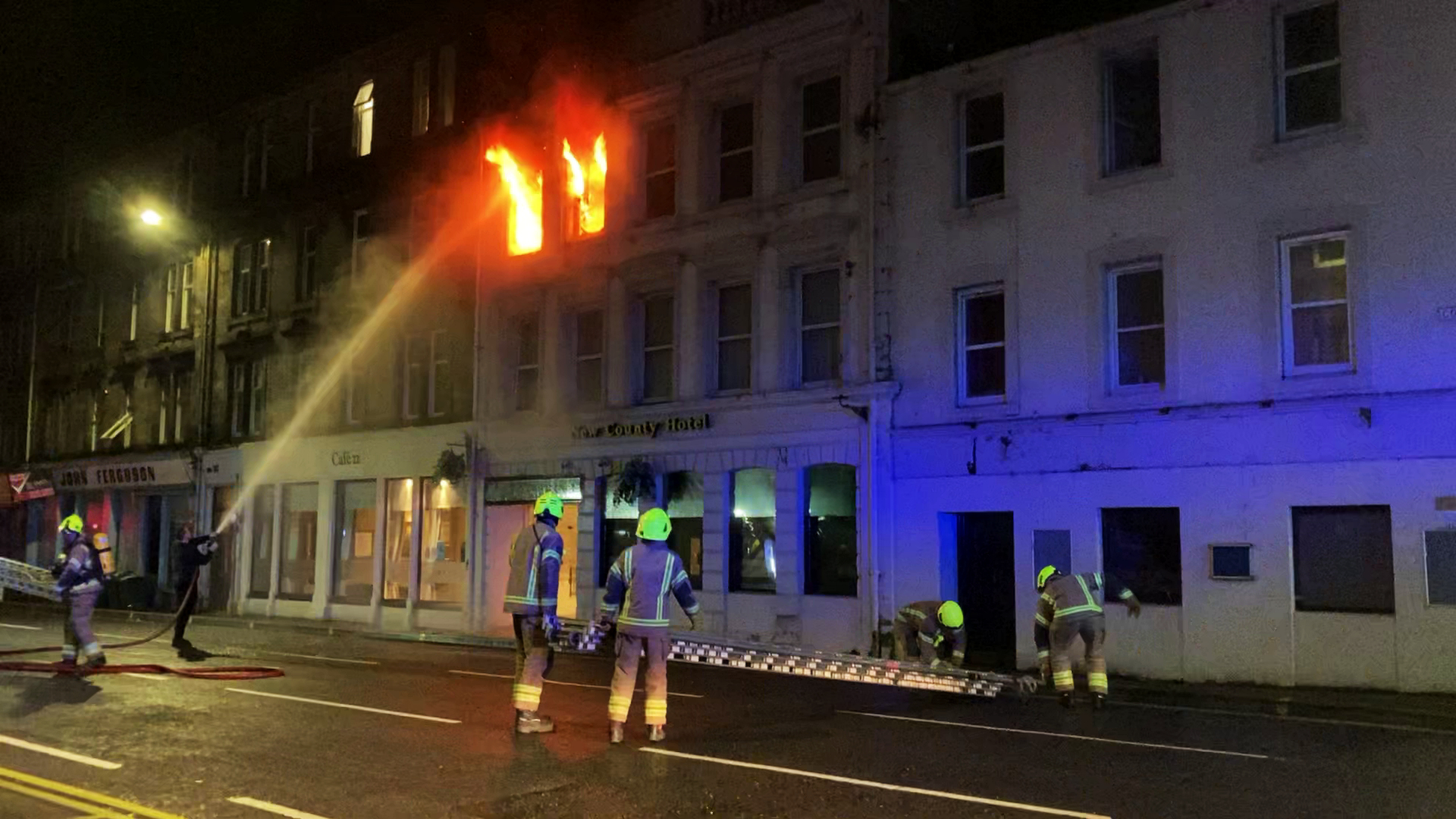 "An absolutely tragic start to the new year. I can only commend the emergency services. Telling the truth and being transparent is really important to allow these families to have some understanding."
The fatal fire left Ms Kennedy questioning whether she could have done more. She said she repeatedly raised concerns about faults with the owner, but repairs were not forthcoming.
Ms Kennedy told STV News she filmed and photographed many of the mounting problems at the hotel, including fan heaters in rooms and decrepit conditions in hallways and bedrooms.
In the three weeks leading up to the blaze, both the fire service and Perth & Kinross Council identified a catalogue of safety failures.
Torn carpets, broken windows and a lack of competent staff on duty overnight were highlighted in three improvement notices. Issues were also found with fire doors and escape routes, as well as emergency lighting.
Meanwhile, an audit from the fire service highlighted eight key areas of concern, with changes to be implemented within 28 days.
Details in a separate report by health and safety experts at Croner Group – following an inspection on December 5 – showed that consultants highlighted numerous areas of concern, including:
No evidence to indicate that the gas appliances had been issued with a safety certificate
Arrangements to keep walkways free from slip, trip and fall hazards were inadequate
Adequate arrangements were not in place for water testing, disinfection, cleaning, de-scaling of shower heads and flushing of infrequently used water outlets
The extraction systems had not been subject to a recent internal deep cleaning
It could not be determined at the time of the visit if a suitable carbon dioxide alarm or detection system was installed
Flooring, walls and ceilings were in a state of disrepair
A legionella management plan had not been prepared and implemented
The Croner Group report stated: "At the time of the visit, the standard of health and safety management at this site was below an acceptable level with some health and safety matters requiring urgent management corrective action."
Ms Kennedy said: "The condition rapidly deteriorated over time because there has not been proper investment in the hotel, in the entirety of the time I've been there anyway.
"So reviews gradually got worse over time as there was no maintenance support and no ability to tap into repairs.
"Things deteriorated quite rapidly in around October when there was no heating whatsoever for staff and guests – this became really troublesome, not just for guests who were staying overnight, but for staff working in these conditions and for dealing with aggressive guests who wanted refunds.
"I think it's quite a standard expectation that a hotel has heating.
"The solution that was given, after costs were put forward to head office, was to purchase electric fan heaters for the rooms, on the premise that the advertisement didn't say central heating.
"There were times when there was water coming through lights, there were times when ceilings would fall down, the walls and ceilings were immediate requirement for repair.
STV News has made repeated attempts to contact the hotel owner, but they have failed to respond.
Police and fire service investigations into the incident are continuing.