One of Scotland's youngest breast cancer survivors has told how she feels like "living proof of the power of research".
Rachel Coats was just 26 when she was diagnosed with the disease.
Now, ten years on at the age of 36, she has recalled the moment she received the news and the years which followed in honour of breast cancer awareness month.
Rachel, from Broughty Ferry, was first diagnosed with cancer at Ninewells Hospital in Dundee on Friday, September 13, 2013.
She had been referred there after visiting her GP with back, hip and stomach pain as well as exhaustion.
Doctors explained that Rachel had a tumour in her left breast and the cancer had spread to her right hip and spine.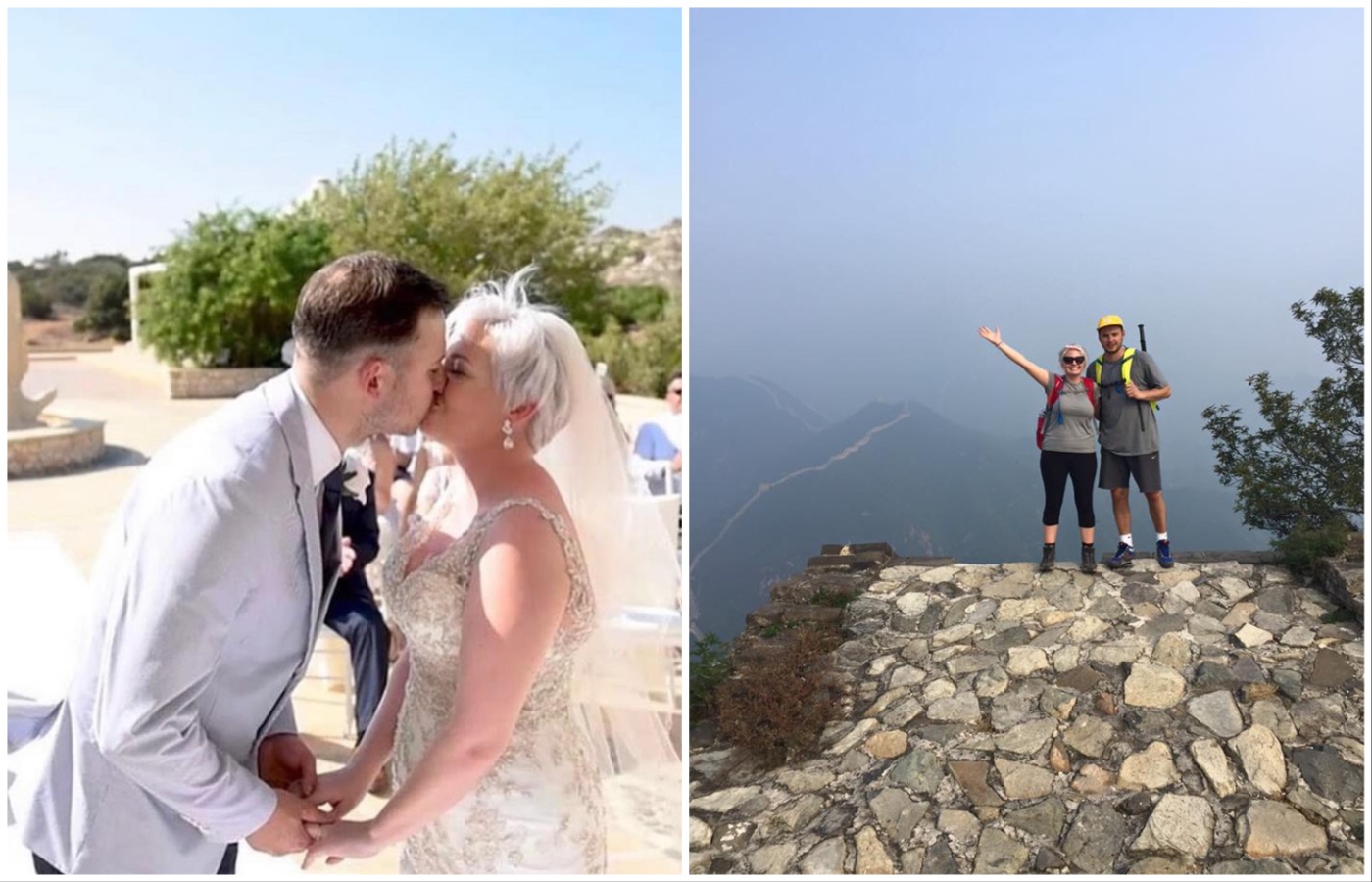 Her treatment began with a course of radiotherapy then six sessions of chemotherapy which resulted in her hair falling out.
However, her recovery was successful and, despite living with secondary breast cancer, she has been able to achieve multiple goals including walking the Great Wall of China in 2016 for charity CoppaFeel.
She was then dealt a blow when tests showed the cancer had spread to her brain and, in July 2017, just two months before her wedding day, she had surgery to remove the tumour.
On September 18, 2017, Rachel married her partner Adam in a ceremony in Cyprus surrounded by her parents Avril and Ian Gibson and sisters Angela, Jenna and Lauren.
She then endured brain surgery for a second time on January 12, 2018, when the tumour grew back and, now takes chemotherapy tablets daily and is monitored closely by doctors at Ninewells Hospital.
This autumn, Rachel threw a party to mark ten years since diagnosis to thank the friends and family who have supported her along the way.
Looking back on her cancer journey, Rachel said: "I can't believe it's been ten years.
"I was 26 when diagnosed and I'll never forget being at the breast clinic, getting it confirmed, my mum sobbing and me just being upset seeing her upset, not knowing this was just the beginning. My mum has been there for everything.
"Thanks to life-saving treatment I'm still here and I can't thank everyone enough for the love and generosity I've been shown."
She added: "I'm making the most of my life and in the last ten years have lived more special moments than I could ever have imagined.
"From marrying the love of my life ten weeks after brain surgery to walking the Wall of China, from watching my four nieces Olive, Heidi, Indie and Mabel growing up to climbing some of the highest mountains in Scotland and celebrating some big birthdays, I've done so many amazing things."
Rachel's treatments have included Herceptin, a drug which Cancer Research UK played a role in developing.
Rachel said she has benefitted directly from the advance of research and treatment.
She said: "I'm the recipient of new treatments that simply didn't exist in the past. When I first received the drug Herceptin I remember my mum saying I was lucky to be getting it as only a few years ago it wasn't available."
Rachel has now been chosen to help launch a new campaign aiming to shine a light on the impact that cancer breakthroughs can have.
Data released by Cancer Research UK reveals around 80,600 deaths have been avoided in Scotland since the early-1990s due to advances in cancer prevention, diagnosis and treatment.
Over the last three decades, cancer mortality rates in Scotland have fallen by 20% after peaking for both men and women in 1993.
The figures have been released to support the charity's new awareness and fundraising campaign Together We Are Beating Cancer.
The campaign includes billboards and posters across the UK showcasing the real and heartwarming moments, including birthday and anniversary celebrations, which are made possible by advancement in research.
On September 8 this year Rachel chose a sky blue designer dress from Dundee fashion house, Isolated Heroes to wear to her 10th "cancerversary" party.
The fashion house which has dressed stars including Miley Cyrus, Paloma Faith and Towie star Gemma Collins was founded by Samantha Paton, a friend Rachel had studied textile and design with at Heriot-Watt University.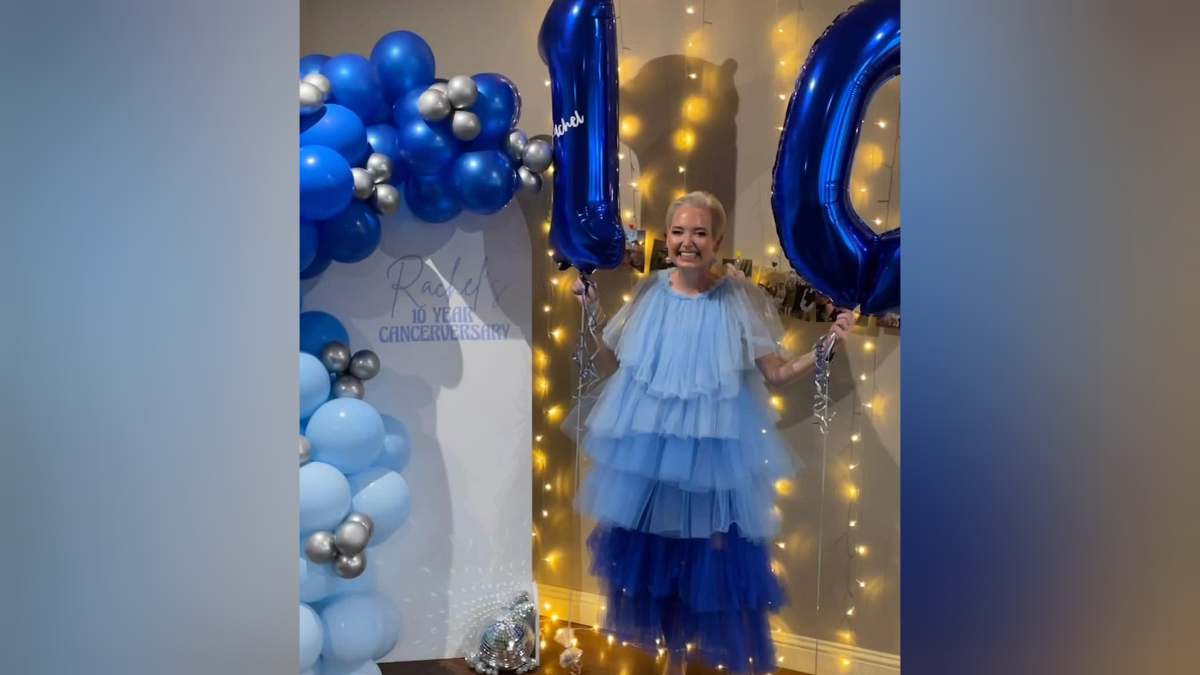 Rachel said: "It was a dress of dreams and the party was a real celebration of life.
"I'm forever living in hope and I'm able to be the way I am thanks to the legends that surround me. That includes so many caring, special and understanding nurses.
"When I was first diagnosed with cancer I remember thinking, just get to your 30th birthday. Once I hit that milestone, there was the wedding to look forward to, turning 35 was another milestone and now I'm 36 and it's been ten years living with cancer.
"And my message is always the same, 'Get to know your normal and talk to your doctor if you notice a change not normal for you, it could save a life and that life could be yours."
Cancer Research UK scientists have been involved in some of the biggest breakthroughs in treatment and understanding of the disease including helping to prove the link between smoking and cancer and playing a role in around half of the world's essential cancer drugs, to the development of radiotherapy and discovering cancer-causing genes.
Cancer Research UK spokeswoman for Scotland, Lisa Adams, said: "The fact that so many lives have been saved in Scotland over the last 30 years is testament to the power of research and, as a result, a huge number of people have been able to reach milestones in their life they didn't think they'd see.
"Thanks to the generosity and commitment of our supporters, we've played a key role in this progress. Together, we are beating cancer – our research breakthroughs mean every day, people are being diagnosed earlier, have access to kinder and more effective treatments, and some cancers are prevented completely.
"As our new campaign shows, this all adds up to more moments with the people we love – moments that we need help to protect so that future generations can live, longer better lives, free from the fear of cancer.
"That's why we're calling on people in Scotland to help us go further and faster in the fight against the disease."
The data has been revealed along with a new YouGov survey which found that 41% of cancer survivors polled said that experiencing a particular milestone, life event or personal interaction became more important for them following their diagnosis.
An additional 81% of the cancer survivors who responded had positive emotions about their life in the future, such as feeling hopeful or happy, for some of these their overall emotions were mixed.
Despite progress, cancer remains the number one cause of death in Scotland.
Across the UK there have been increases in mortality rates for certain types of the disease in recent years including liver, head and neck, and womb cancer.
Cancer Research UK is calling for Scotland's cancer strategy to be fully implemented and funded to ensure cancer survival improves faster in the decades to come.
Ms Adams added: "The situation for people affected by cancer across Scotland remains worrying. Long waiting times for tests and treatments are leaving many people facing fear and uncertainty.
"Cancer is a fixable problem – with increased investment in cancer research and the NHS, strong political leadership, and the continued support of the public, we can build upon the progress of the last 30 years. Around 34,600 people are still diagnosed with cancer every year in Scotland, so this is more important than ever."
The charity is urging people to get behind the Together We Are Beating Cancer campaign, for more information click here.
STV News is now on WhatsApp
Get all the latest news from around the country
Follow STV News
Follow STV News on WhatsApp
Scan the QR code on your mobile device for all the latest news from around the country