An experienced nurse says her loyalty to the NHS is running low as the cost of living and staffing crisis continues to take its toll.
Faced with rising bills, Zoe James is now one of a growing number of staff who say they're taking on agency shifts on top of their existing work or during their annual leave to make ends meet.
In the last year, the NHS has more than doubled its spend on agency nurses to fill staffing gaps on Scottish wards. Unions say this situation is unsustainable.
The community mental health nurse told STV News: "I'm gutted really but if I don't do this then I'll then have to leave the NHS permanently and work in another job anyway.
"I'm very aware that the clock is ticking in my capacity to pay my mortgage and I have a family to think of so my loyalty to the NHS 24 years later can only go so far. Agency hourly rates work out at two to three times as much."
On social media including TikTok, videos and posts highlight the flexibility and the earning power of agency work. Zoe believes its easy to see why others are quitting the NHS to work full-time for agencies.
She added: "There are quite a lot of long term agency nurses working on wards alongside their NHS colleagues and we are grateful to have them and we couldn't do our jobs without them.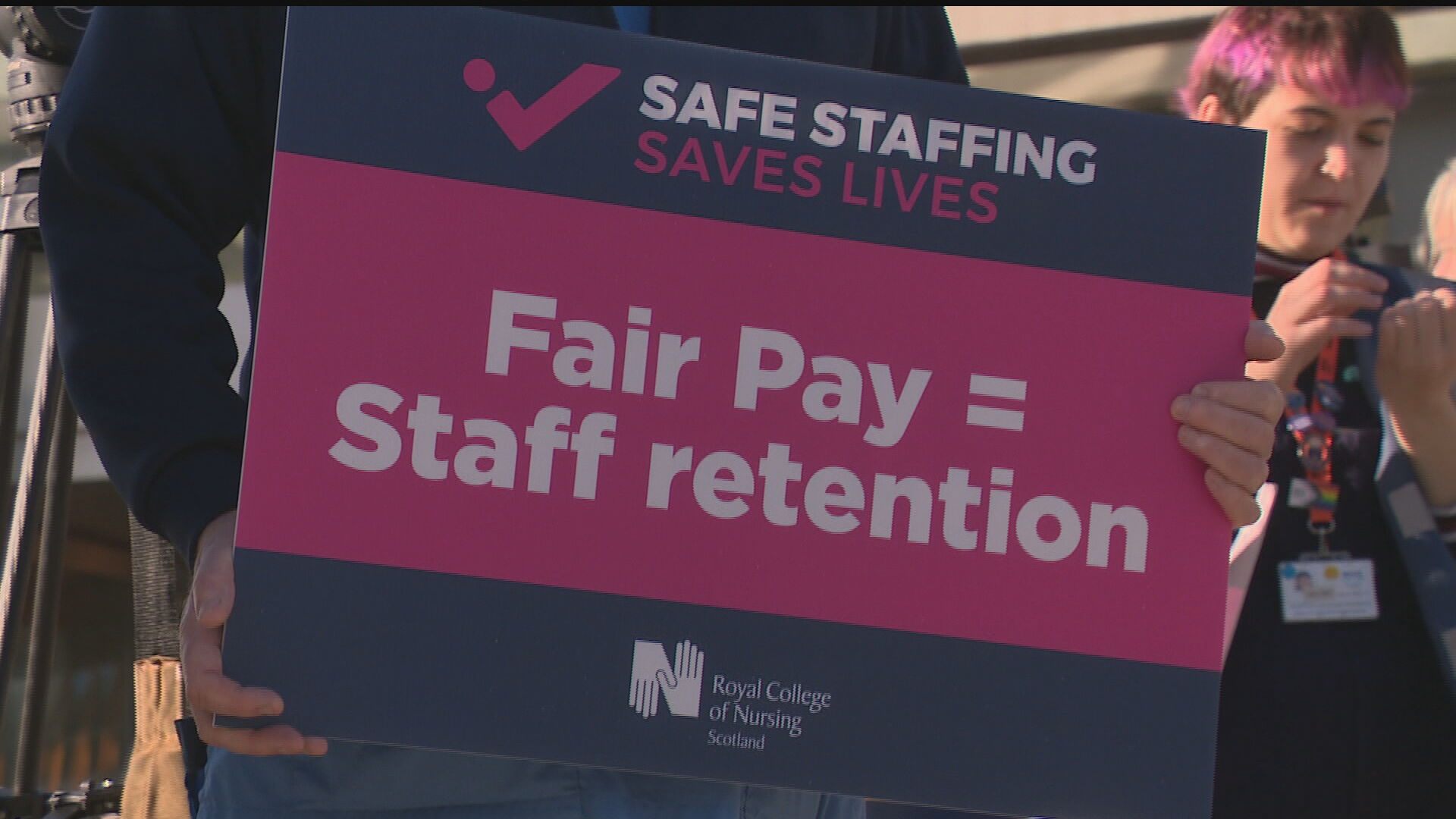 "There are people who this is a career choice but for me, I'm solely doing this to continue work in the NHS and to make ends meet. Its not for luxuries or fancy stuff."
"On Boxing Day, people were being paid £1,000 pounds a shift, £75 an hour. One shift I saw was offered for £2,000 a shift. I mean why wouldn't you?
"If you want to have a better quality of life, you could work half a month and take half a month off or you can work to earn more money. I mean it's becoming a no-brainer for some people."
One agency, the Scottish Nursing Guild was asked for comment about its role in supporting the NHS in Scotland but has so far not responded to requests.
Staff can also pick up overtime, known as bank shifts, within their own health board, and are paid at the same NHS rate. Apps show which roles are available.
One used by NHS Greater Glasgow and Clyde was offering around 250 shifts on Thursday. The shifts unfilled through the staff bank go out to agencies.
Nurses are often drawn from the same pool, leading to fears of burnout.
Zoe said: "I have colleagues who finished their job on a Friday, go home, have their tea and go work a nightshift on a ward.
"It's always the wards that are screaming out for staff. There is no respite, there is no family time. You are making huge sacrifices and people are just not willing to do it anymore.""
The latest figures reveal one in ten nursing and midwifery posts are unfilled across Scotland.
NHS spending on agency staff increased from £39m in 2021 to £88m in 2022. During the same period, spending on overtime or Bank shifts also increased from £198m to £232m.
Eileen McKenna from the Royal College of Nursing: "It is a concern. We can see that pattern. Year on year the spend on bank and agency continues to rise. It is not sustainable.
"It is not cost effective in terms of the amount of money. It doesn't wholly mitigate the risk of having staffing gaps and the ideal would be to have nurses working within the social care sector or the NHS who are valued, paid appropriately and there is the right staff to deliver high quality care. That is where we want to get back to."
The Scottish Government say there are more nurses now than ten years ago, adding "in an organisation as large and as complex as the NHS, temporary staff will always be required."
It stressed spending on agency nursing is less than 2% of the total £9bn NHS budget and insists the majority of temporary roles are filled by staff banks.
Zoe is in no doubt about the hardest part of her job.
"That sense of coming home and knowing that you haven't done your job, that is the toughest thing.
"You spend a whole 12 hour shift telling patients, 'I'll be with you in five minutes' and then you realise once you're home that you never went back."
The nurse believes ministers have a finite time to address the issues facing all healthcare staff.
"We are no longer fighting for just us, it is for our patients and the NHS as a whole as we feel it is collapsing around us and it is all services, not just the wards, its community as well."
As English nurses stood on the picket lines on Thursday, talks in Scotland resumed.
Accelerated negotiations set to continue in the coming weeks meaning the threat of strike action here is on hold.
The decision to delay the industrial action follows a meeting with the First Minister and the GMB, Royal College of Nursing Scotland (RCN) and the Royal College of Midwives (RCM) last week.
The unions previously rejected an offer of a 7.5% rise but after talks, the Royal College of Midwives (RCM) said it was "cautiously optimistic" over a pay deal with the Scottish Government.
Health secretary Humza Yousaf said: "NHS Scotland staffing is around £9bn a year, with spending on agency nursing a tiny fraction of this, less than 2%. The majority of temporary staffing come from staff banks; these are NHS staff, working on NHS terms and conditions.
"We absolutely value our nursing staff and have reached historically high NHS staffing with consistent growth over the last decade and we continue to engage extensively with trade unions to reach a pay offer that reflects the incredible job staff do."
STV News is now on WhatsApp
Get all the latest news from around the country
Follow STV News
Follow STV News on WhatsApp
Scan the QR code on your mobile device for all the latest news from around the country