A family doctor in Aberdeenshire says he feels like apologising for the service offered to patients.
Dr Mike Steven told STV News that GPs' surgeries across the country are having to close "in record numbers" as they buckle under the pressures of severe staff shortages and a huge increase in patient demand.
The senior GP, who works at Banchory Group Practice, says the current situation is the worst he's seen in his 20-year career.
He was speaking after a survey by BMA Scotland found that more than a third of practices across the country have at least one vacancy.
"I've been a GP for 22 years – and undoubtedly the last few years has been the most challenging time," said Dr Steven.
"There's just a lack of people, there's a lack of staff. As a practice, as an individual, I almost have to apologise sometimes for the service we try and offer.
"I have to apologise for the ambulance (situation) – you might have to wait a long time – I have to apologise that you have to wait two years for a knee operation.
"If that (apology) was to come from the (Scottish) Government it would be a lot easier, because we feel we're kind of fending for ourselves.
"To be fair to Grampian health board, they have worked with primary care and GPs to get some messaging out there, which is very helpful because it takes some of the pressure off us as a practice and as an individual.
"But I think the Scottish Government needs to be honest with the public – the NHS is in dire difficulty at the moment. It will be difficult but please bear with the staff, who are trying to give you the best care they can."
The Scottish Government insisted it was committed to increasing GP numbers.
But many surgeries are already reaching breaking point and the BMA – the country's largest health union – on Tuesday rejected the latest pay offer for NHS staff.
Banchory Group Practice itself has some 13,500 patients on its books and receives up to 800 calls a week.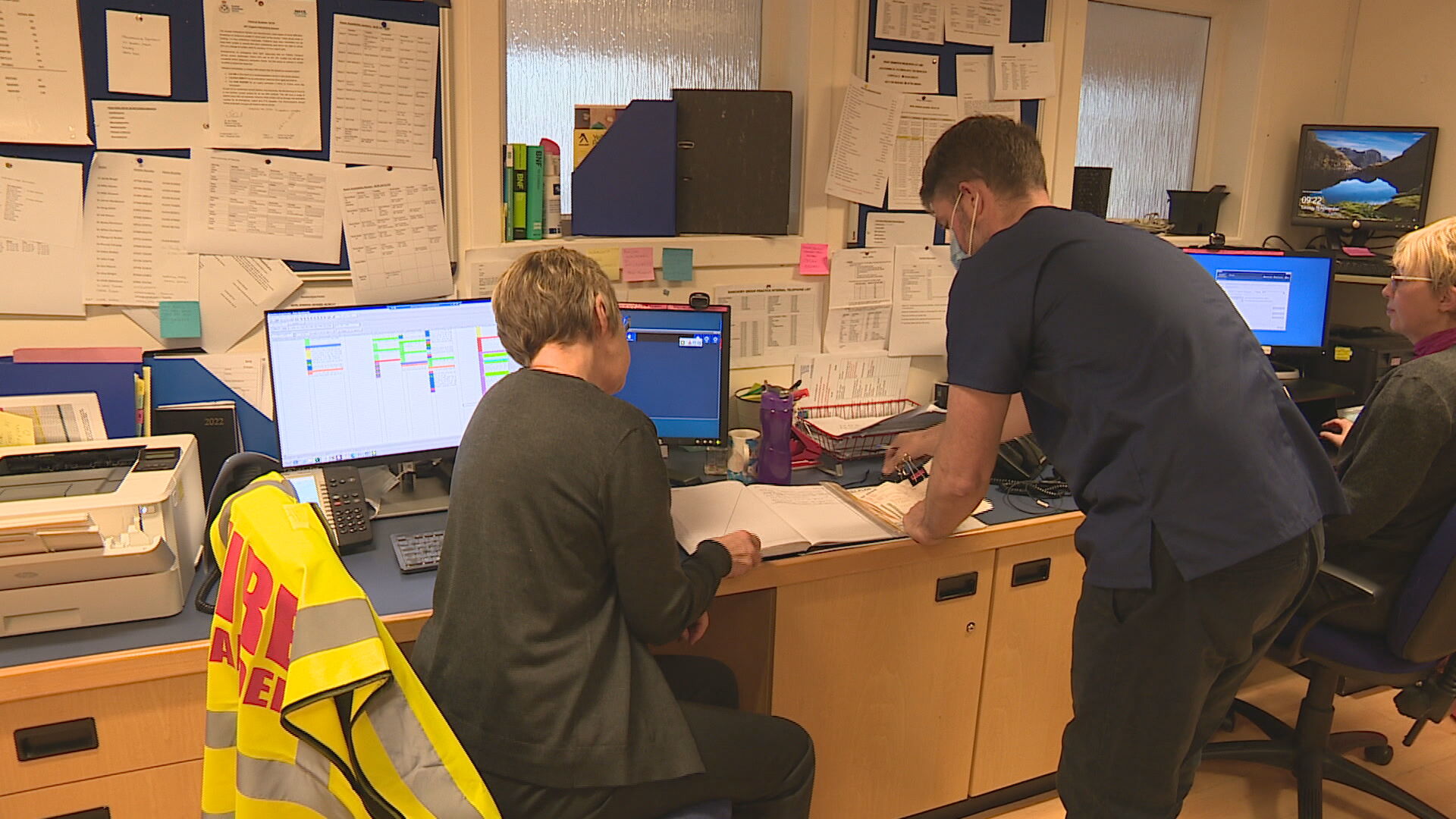 Dr Steven said: "We've seen increasing numbers of practices and partnerships folding, being unable to supply or have enough staff for their patients and then they have to hand back their contracts.
"That's happening in record numbers
"We've recently put an advert out for a particular type of GP – a GP retainer – but we've had absolutely no applicants for that over the last three months.
"In the past we would have been disappointed if we didn't have a good handful of applicants for any job we put out – and now I think we'll be hoping that we might get one."
The BMA said that cuts to funding supporting general practice had seen more than £70m slashed from their budgets.
And the association's survey, which saw more than four in ten of Scotland's GP surgeries respond, found that 34% of practices were on the hunt for at least one GP, which it said meant there could be as many as 312 vacancies north of the border.
The survey also revealed abuse of staff has got worse, with 65% of practices having told the association it had deteriorated since last year and only 2% having told them things had improved.
Some 61% of Unison members have rejected a flat rate pay offer of £2205, roughly the equivalent of 7% across the board.
It is now up to the Scottish Government to come back with an improved pay offer, which won't happen until after the UK Government Budget on Thursday.
Dr Andrew Buist, chairman of the BMA's Scottish GP committee, called for more openness from Holyrood ministers about "what GPs can deliver right now" amid the shortage.
Health secretary Humza Yousaf's political rivals have blamed him for difficulties in the sector, with MSPs in both Scottish Labour and the Conservatives demanding that he should be sacked.
Sandesh Gulhane, the Tory health spokesman, blamed the "SNP's dire workforce planning which, even before the pandemic, left GPs and practices under incredible pressure".
Jackie Baillie, Scottish Labour's deputy leader, also criticised the health secretary.
A Scottish Government spokesperson said: "We have already delivered a record number of GPs working in Scotland, with more per head than any other country in the UK. To support GPs, we have recruited over 3,220 healthcare professionals into multi-disciplinary teams working alongside GPs.
"We are committed to investing £170m a year to help grow these teams and to further increasing the number of GPs in Scotland.
"Any form of abuse towards NHS Scotland staff is unacceptable."
A spokesperson for NHS Grampian said: "Our primary care colleagues do an incredible job every day to care for patients and keep people fit and well in their communities.
"Health and social care services are under unprecedented and immense pressure.
"Primary care is the 'front door' to the NHS and as such will often see and feel an increase in demand first. Across Grampian, our health and social care partnerships work closely with practices to support them and to deliver service improvements."