A man no longer suffers from "uncontrollable" tremors in one of his hands after a pioneering treatment started being carried out in Scotland.
Ian Sharp, who first noticed vibrations 30 years ago, underwent a procedure at Ninewells Hospital in Dundee.
Within a few hours of the "miracle" treatment on his left hand, he was able to sign his name and hold a cup without spilling his drink.
The 66-year-old, from Moray, said: "Miracles do happen. I didn't get my hopes up too much and thought there would be some improvement, but the tremor in my left hand has gone completely."
Dundee University raised £2m to buy the Magnetic Resonance-guided focused Ultrasound (MRgFUS) technology, which uses sound waves to destroy the tissue that prompts tremors.
It will help patients, such as Ian, who suffer from 'essential tremor' – or dystonia – including those with Parkinson's disease.
The non-invasive procedure is being provided free of charge at Ninewells and takes about three hours.
Ian, who hopes to have treatment on his right hand soon, said: "Afterwards I had lunch and a drink without any problem.
"It's difficult to break old habits so I was using both hands to hold the cup, but I can now do it with one hand without spilling anything.
"I was in and out of the MRI scanner several times as they pinpointed the correct part of the brain and I could feel the heat in my head, which was quite painful but worth it."
'It can be embarrassing'
Ian first noticed the tremors in his early 30s when his handwriting became "very scrawly", before it began to affect eating and drinking – "anything you have to do with extended arms".
"When I'm fishing, things like tying on a fly, which I used to do in ten seconds, can now take upwards of 15 to 20 minutes," he told STV News before the treatment.
"Put the nylon through the hook and your hands start shaking and it all unravels again.
"I try not to rely on other people, so I persevere with that. Initially it can be embarrassing, but through the years you get used to it.
"The advent of swiping credit cards has been great because you don't have to sign your name or even put in digits anymore.
"If you're carrying a cup or even a glass of wine, you don't want to waste that, but invariably you end up getting to your seat and there's nothing left."
What is dystonia and how does treatment work?
Essential tremor – or dystonia – is a chronic neurological condition which causes 'faulty circuits' at the base of the brain.
That then prompts involuntary movements in the hands and arms.
Invasive surgery was previously required to mitigate severe tremors, but MRgFUS uses high-intensity, focused ultrasound to destroy the faulty circuits.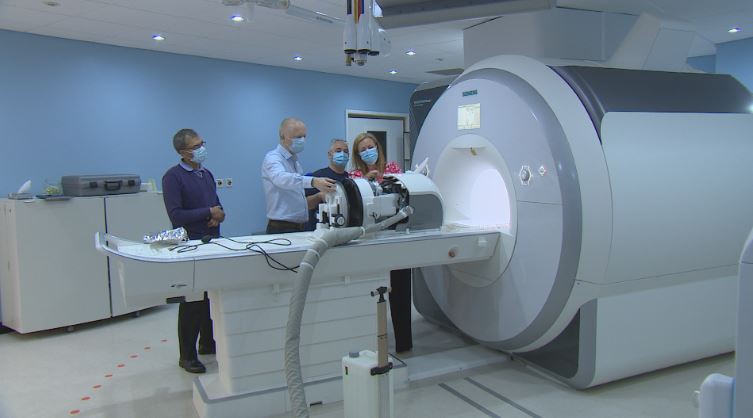 'Element of magic'
The procedure will be carried out once a month at Ninewells on patients who've been referred by a doctor.
Consultant neurologist Dr Tom Gilbertson said the treatment can make a "transformative" difference to people's lives.
"We are bringing a standard of care to Scotland that is comparable with the best available anywhere in the world," he said.
"People with essential tremor and Parkinson's may not be able to feed or dress themselves, skills most of us take for granted. Within four hours, this treatment will allow these people to become largely self-sufficient again.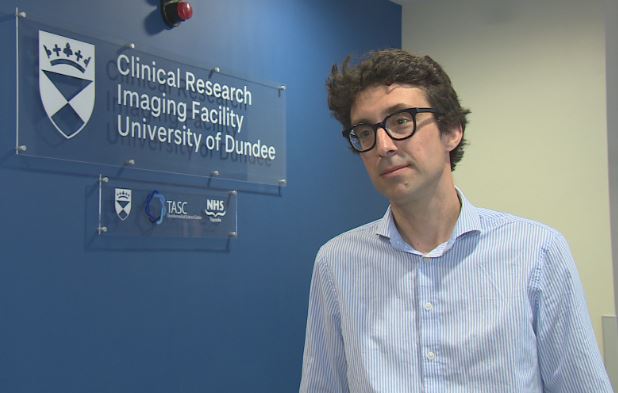 "There is an element of magic about this. We are now able to go into the brain and remove lesions.

"Any previous treatment would have required an invasive procedure, something that not all patients are fit enough to undertake
"This is a significant change and a healthcare revolution for Scottish patients."
STV News is now on WhatsApp
Get all the latest news from around the country
Follow STV News
Follow STV News on WhatsApp
Scan the QR code on your mobile device for all the latest news from around the country