A man sexually assaulted students at a Scottish university after claiming he was conducting radiation testing for the Ministry of Defence following the Chernobyl nuclear disaster.
John Beaumont subjected two men and a woman to fake medical examinations and got one victim to sign the "Official Secrets Act".
The postgraduate theology student was in his late 20s when he committed the three indence assaults at St Andrews University in Fife between 1986 and 1988.
A judge at the High Court in Edinburgh told the now 65-year-old that what he did was "depraved and deceitful" and that he preyed "on young students starting out in the world".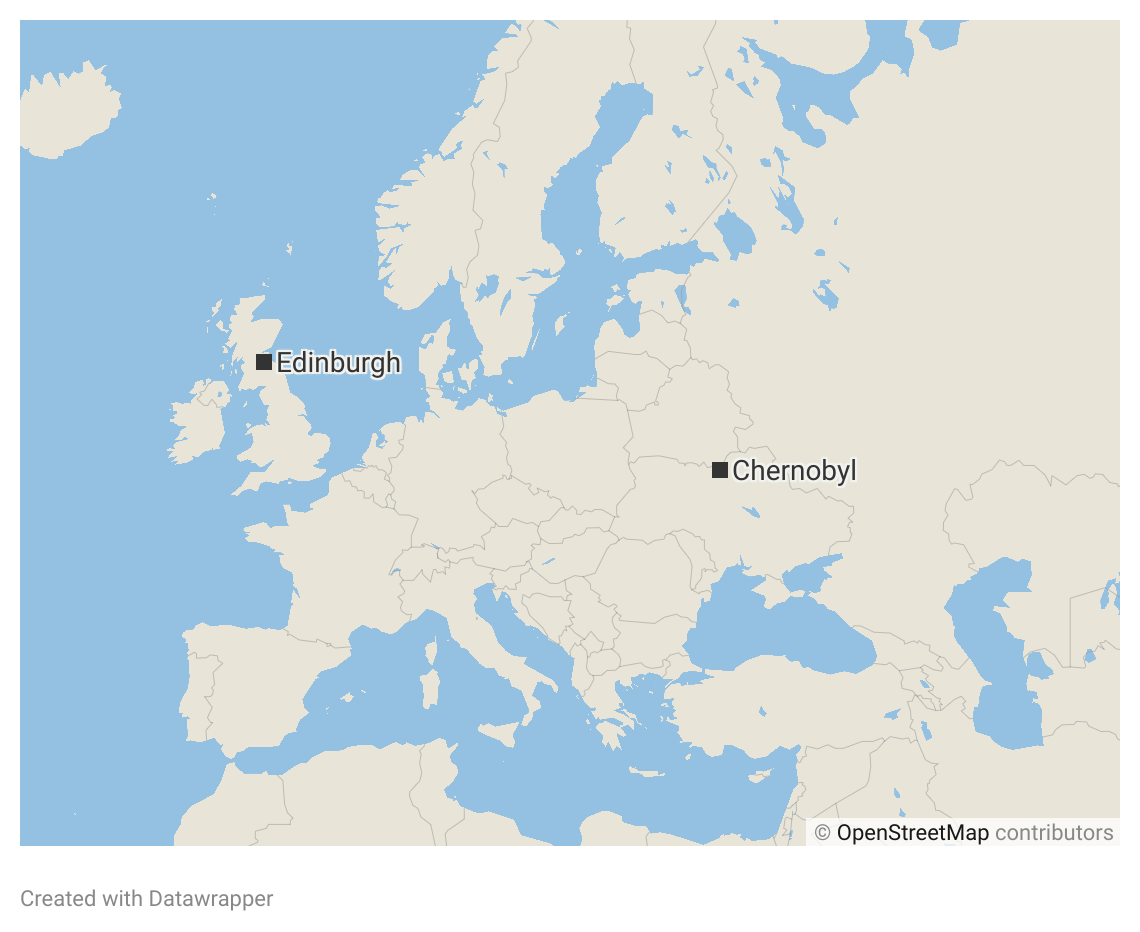 The court heard that as well as studying at St Andrews, Beaumont had also become a sub warden at a halls of residence.
Judge Lord Mulholland said that Beaumont had manipulated the situation for his "own gratification" and placed him on the sex offenders' register.   
Advocate depute John McElroy KC said one of the victims learnt last year that Beaumont had been convicted of sexual offences in Manchester.
"He went online to check for himself and noted that the accused had been convicted for offences that mirrored what had happened to him," the prosecutor said.
He told another victim that he had decided to report it to the police.
The court was told that Beaumont is currently serving a 13 and a half year jail term in Durham prison after he was convicted of similar offending by an English court in 2017.
The prosecution said that one victim recalled that following the Chernobyl nuclear plant disaster in the former Soviet Union in 1986 it was at the forefront of everyone's minds and there were real concerns about the effects of radiation from the stricken power station.
Beaumont told him in 1987 that he was working for the MoD (Ministry of Defence) and showed him some form of identification.
"The accused told him that he was involved in sampling members of the public based on their medical records as certain individuals had a type of protein in their systems that reacted adversely to the nuclear radiation from Chernobyl," Mr McElroy said.
"The accused then said that he had been tasked to take discreet and secret samples from these individuals for monitoring.
"The accused also stated that the MoD was aware that he had this particular protein in his system and that he needed to take samples from him for his own good as he had a heightened risk of cancer."
The prosecutor said this "terrified" the man who believed what he had been told. Beaumont asked the student to come to his room at halls of residence the following day.
"It was there that the accused showed him a brief case within which he had a Geiger counter and copies of an official secrets non-disclosure agreement," the court heard.
"The student also noted that there was a box of rubber gloves and some syringes."
Beaumont asked him a number of medical questions and told him he would take samples from under his arms and his genitals.
Mr McElroy said: "Due to the fact he was terrified by the Chernoby situation he agreed to what the accused was saying."
He was told to strip down to his socks and Beaumont informed him he was going to carry out a prostate examination and then used a syringe as he pretended to take samples from under his arms and carried out a similar procedure on his genitals.
The advocate depute said: "The man recalled he felt terrified and dismayed throughout this examination by the accused."
He was told to later return to Beaumont's room for the same procedures to be carried out. He was informed samples would be sent to a laboratory and later told him the MoD were "happy" with the results.
But the man was later told by Beaumont in January 1988 that he was informed by the MoD that further examinations were required and the sex predator continued to take samples from under his arms and scrotum.
The student made a diary entry in February in which he wrote: "Today I had to give J samples, which was embarrassing, but joy, all is over now. Free again."
He calculated that over the course of the examinations Beaumont subjected him to being penetrated by the needle of a syringe more than 50 times.
A second student said that Beaumont had visited him at his own room in student accommodation and told him he was secretly working for the MoD to take radiation samples. The student was aware of the Chernobyl disaster and its press coverage.
Beaumont told him he needed to take a sample from his testicles to assess radiation in his body. Beaumont told him he had to sign what he claimed was the Official Secrets Act and asked him to remove his trousers and pants.
Beaumont claimed that he would use what he said was a Geiger counter to take a reading and proceeded to take a sample from him.
Mr McElroy said the incident left the student feeling "embarrassed, awkward and anxious".
Beaumont's third victim was a female student who was told by him that he had been asked by the Foreign Office to test her radiation levels.
He told her he was trained in this and she found him very convincing and trusted the older student, so she agreed.
She went to his room and he told her to take her clothes off and wrap a towel around herself. Beaumont then got a Geiger counter and placed its probe at pulse areas on her neck and arms and at the top of her legs.
Following the test he told her something along the lines that everything was fine and she dressed and left.
Defence counsel Janice Green told the court: "No samples were in fact taken from any of the three complainers."
She said that Beaumont would first become eligible to seek release from parole authorities for his current sentence in England in June 2026.
Lord Mulholland deferred sentence on Beaumont for the preparation of a background report and risk assessment.
STV News is now on WhatsApp
Get all the latest news from around the country
Follow STV News
Follow STV News on WhatsApp
Scan the QR code on your mobile device for all the latest news from around the country