It's estimated that around 80,000 people in Scotland could be living with the effects of long Covid.
Its symptoms can include extreme fatigue, shortness of breath and a difficultly in concentrating.
Research is being conducted around the world to try and find ways of helping those who are suffering from the illness.
Could hyperbaric oxygen therapy be an answer?
Leanne Lawrence, from Aberdeenshire, contracted Covid in January of this year.
Since recovering from the initial infection she was left tired and her symptoms made her so unwell at times that she could barely look after herself.
She said: "It changed my life. I couldn't be a mum, I couldn't be a wife.
"They had to solely look after me. My husband was lucky enough to get three-months' leave from his work.
"The kids had to help with everything because I couldn't do it and that was the hardest part.
"Hearing them have supper together, hearing them watch a movie together, all while I lay and slept."
Ms Lawrence has been undergoing hyperbaric oxygen therapy.
It means she spends around an hour-and-a-half in the chamber, which has been made famous for its use in treating divers from 'the bends'.
She says after 12 sessions it has transformed her symptoms.
Ms Lawrence added: "I can be a mum again, I can be a wife again, I can go out in my car, I can see friends.
"I'm wanting to do things. I am wanting to go shopping, I am wanting to do the things that I have missed out on in these eight months."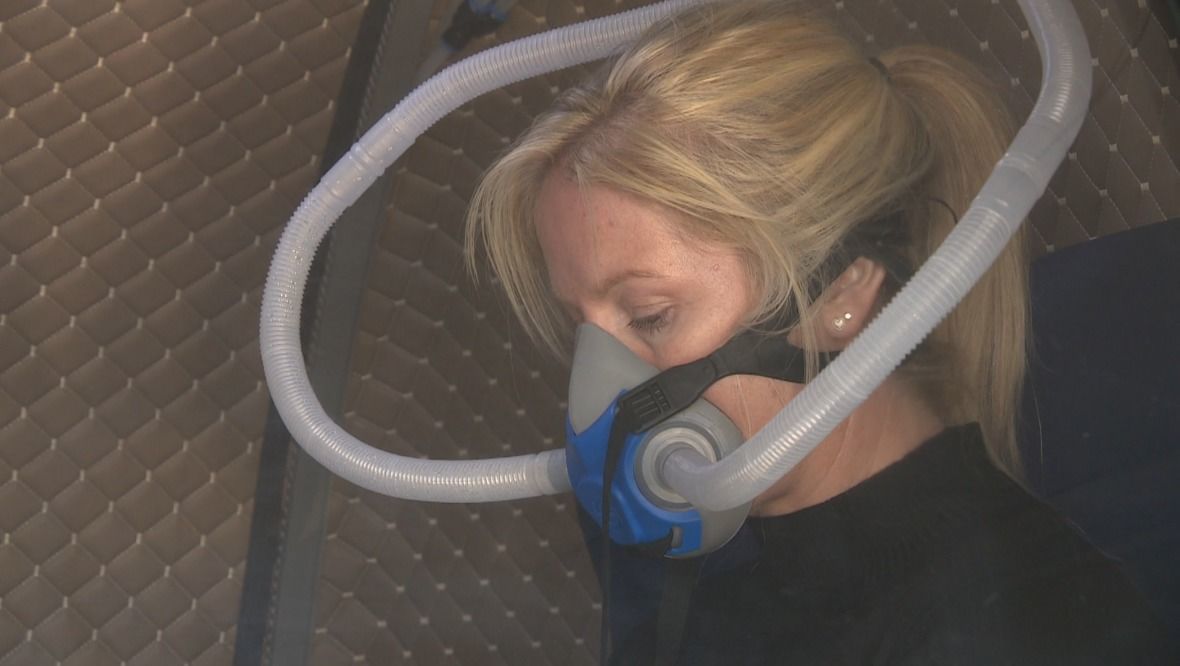 Ms Lawrence has had her therapy at O2 Worx, a firm in Aberdeenshire, and the owner says they've seen a real difference in her.
Founder Mike Bisset said: "She came in the first time and her lips were blue, no energy enough to sit down, she had to lie down in the hyperbaric chamber.
"Every time she came in, we were noticing massive differences."
Those using this therapy are told that they should consult their doctor, and the firm use medical professionals to assess if someone can use the chamber.
An international trial has started this week with researchers in Sweden looking at whether hyperbaric oxygen therapy is safe and effective to be used to treat long Covid.
The lead of the clinical trial, Anders Kjellberg, from Karolinska University Hospital, says the trail will give some participants oxygen therapy and others a placebo of compressed air in a 'sham' trial to find out the effectiveness of the treatment.
He said: "Around the world people are saying that they got better or even cured by hyperbaric oxygen, but we don't know what sort of effects it may have on the lungs for instance.
"It's important to do a safety trial, and this is first of all a safety trial and hopefully obviously it will prove it is effective as well."
He added: "Hyperbaric oxygen has been used for almost 100 years for other types of chronic inflammation.
"It's a good rationale to believe that this could work for long Covid as well because most of us that know a little bit about long covid believe this is an inflammatory disease."
But there is a warning that hyperbaric oxygen therapy is not without its risks.
Like all treatments it can have side-effects and depending on where it is done can be costly too.
Those researching long Covid and how to treat it in Scotland caution that people should see the outcome of trials.
Professor Edward Duncan, from the University of Stirling, said: "Oxygen seems naturally to be a good thing. You know that we all need oxygen to breathe and having more oxygen would seem like a good thing.
"Oxygen therapy though in itself is not harmless and can cause side effects if not properly monitored.
"Where we don't know the potential effectiveness of the intervention is and where we don't know what the risks of hyperbaric oxygen therapy for the long Covid population are, the ideal place to ask this important question is in a controlled trial."
The initial results of the trial are expected by the middle of next year with the hope that if it proves effective it could be used around the world to help those suffering from long Covid.
Ms Lawrence had undergone other medical treatment, but she's pleased that this therapy is working for her.
She added: "For my mum and dad and my whole family to see me now has been amazing.
"I feel like I am me again."