Huge workloads, abuse from patients and a lack of doctors – that is the reality of working at one of the busiest general practitioners in Scotland.
On average, receptionists at Elmbank Medical Practice in Aberdeen answer more than 1,000 calls a day from people who want to book appointments.
Dr Bhana, a GP at the practice, told Scotland Tonight: "On a daily basis at our practice we see an excess of 100 unscheduled care contacts."
"Sometimes that number reaches 130, 150, and that workload is managed by two GPs. So that equates to 50 to 70 patient contacts per GP, which is two or three times above what the BMA recommends as a safe limit."
Since 2012, the number of people trying to access GP services in Scotland has risen by 300,000. But at the same time, there's been a 9% decrease in practices.
Dr Bhana said: 'The biggest challenge we face as a profession at the moment is the issue around demand versus capacity.
"Alongside that, we have an ageing population. So not only are we having to look after more patients, but the patients that we are seeing are more complex, more frail and have more illnesses that we have to sort out and manage. That takes time and it takes more GPs."
The medical staff at Elmbank are doing their best to book people in for consultations. But practice manager, Heather Sharkey, says many patients do not react well when told they can't have a face-to-face appointment at a time that works for them.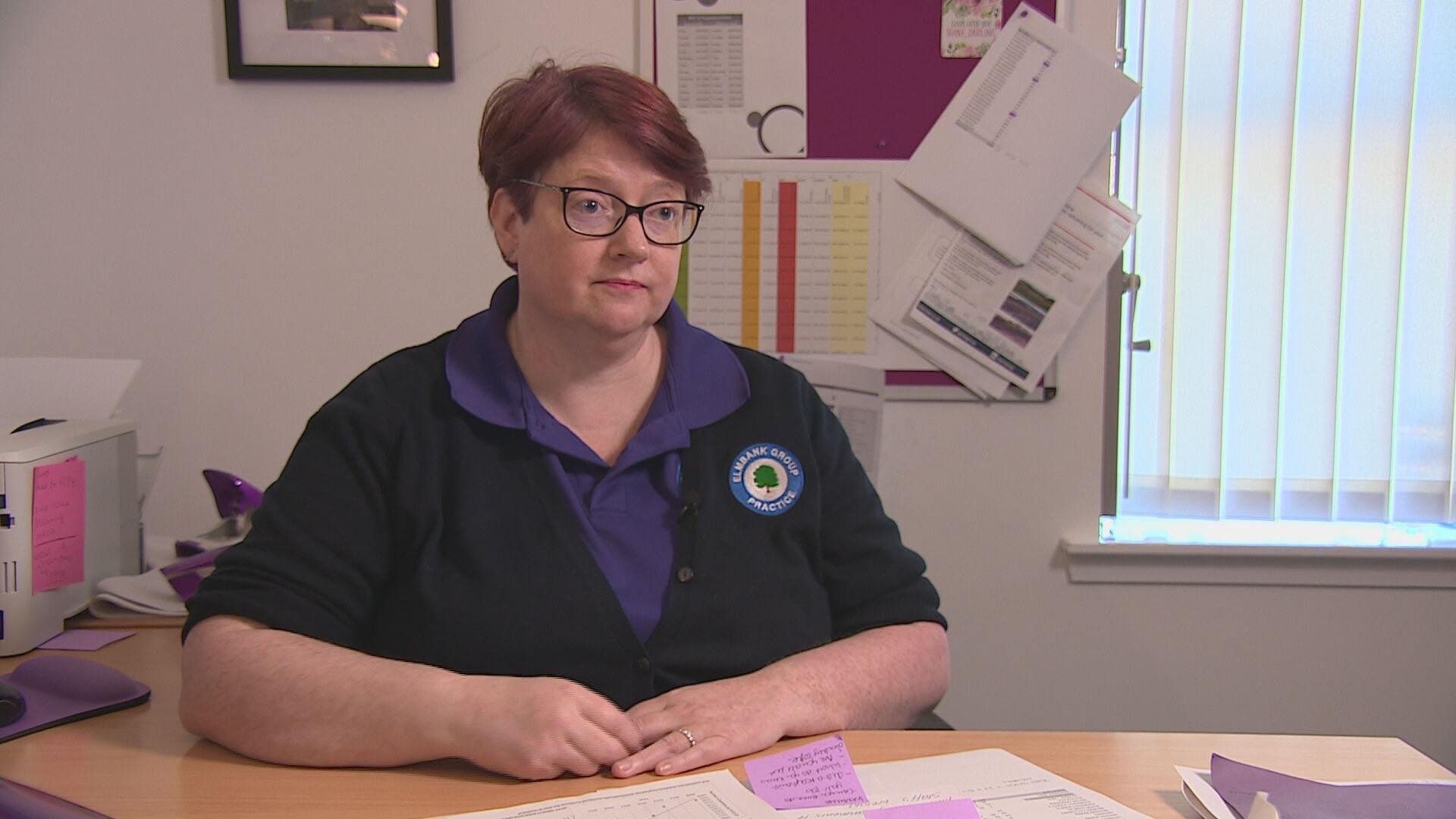 "We've had 'if you don't give me my medication and I die, it's your fault and you'll need to live with that'. 'Give me an appointment with my doctor'. 'You're stopping me'. 'You're a b****'.
"We've had staff followed to the bus stop by patients. I've called the police twice since I've been here on patients that have been verbally and physically aggressive."
Heather said these types of situations happen two to three times a week.
"It's absolutely soul destroying because nobody comes into healthcare not wanting to do the best job, not wanting to help people, because there's other jobs that we could all do.
"But we do this because we feel like it's a thing that we're meant to do and it's the right thing to do. But people are horrible. I've got young staff through there who are being told 'I hope you and your whole team commits suicide'.
Amid that volatile backdrop, Elmbank has been trying to recruit new doctors and office staff.
"We've had some interest, but not as much as we would hope, you know, and that's a significant change over the last sort of 15 to 20 years.' said Dr Bhana.
Heather added: "One of the big challenges for the office staff is when people come in for an interview, we say 'it's really busy, the phones will ring all the time, the phones will not stop, and people are going to be horrible to you'.
"You think 'I'm having to tell them this in an interview when I'm trying to persuade them to come and work in the practice', but I have to tell them what the reality is."
In 2018, BMA Scotland and the Scottish Government devised a 'GP Contract' to help ease the workload on doctors. It was aimed at expanding primary care services, recruiting 800 new doctors in a decade and providing more money to GPs who own their practice.
But five years on, the BMA claims the situation remains dire.
Dr Andrew Buist, chair of the BMA, warned Scotland is 'sleepwalking towards a two-tier health service that will see a continued loss of GPs, with practice contracts given back to their health board, leading to the subsequent closure of some practices.
He said: 'This in turn will lead to increased levels of health inequalities, and create opportunities for private GP services, just look at our big cities, it is happening there already.'
Dr Chris Provan, who has been a GP at Elmbank for three decades, backed the BMA and said the Scottish Government needs to step in and help. He says the problems at Elmbank aren't isolated and that most GPs across Scotland are facing the same issues.
"General practice is the cornerstone of the NHS and at times it feels as if it's on life support in certain areas of the country.
"And unless we stop practises closing and there's many practises closing and that's going to really harm hospitals and the whole system is in danger of actually falling over.'
Scottish Government viewpoint
Health secretary Michael Matheson told Scotland Tonight: "It's not just about general practitioners. It's also about the team that you have around a GP practice – physiotherapists, occupational therapists.
"There are additional groups that can actually help and support the delivery of primary care. We've seen an additional 3,000 plus additional staff who have gone into primary care to support GPs over the last couple of years.'
When asked if the Scottish Government will hit its target of 800 extra GPs by 2028, the health secretary said: 'I am confident we will meet that target.
"But it's not just about the additional recruitment, it's also about ensuring we are supporting GP services as well. So that wider multi-disciplinary team is really important."
For the full story on Scotland's GP crisis, tune into Scotland Tonight on STV at 8:30pm on Thursday.