The new King has returned to Scotland as the Royal Family begins a period of private mourning following the funeral of Queen Elizabeth II.
Charles travelled by plane from RAF Northolt on Tuesday morning and arrived at Aberdeen Airport in the early afternoon.
He is understood to be accompanied by the Queen Consort, Camilla.
On Monday night, Queen Elizabeth was buried alongside her late husband, the Duke of Edinburgh, at the King George VI Memorial Chapel at Windsor Castle.
It followed a day of ceremonies and processions marking the funeral of the late monarch watched by millions around the world and attended by thousands of dignitaries, world leaders, public representatives, friends and family.
It is the first time the King has returned to Scotland following a procession in which the Queen's coffin was taken from the Palace of Holyroodhouse to St Giles' Cathedral in Edinburgh during Operation Unicorn last week.
On the evening of Monday, September 12, King Charles III, the Princess Royal, the Duke of York and Earl of Wessex took their places at the four sides of the oak coffin for a silent vigil.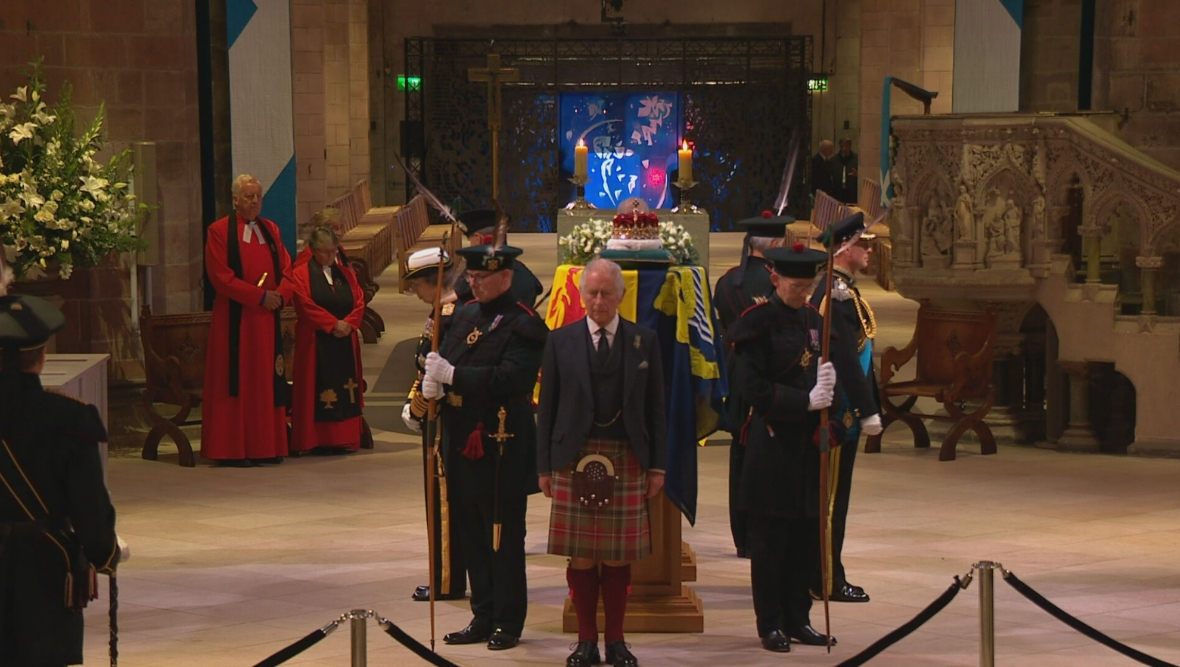 Charles then travelled to London before visiting Northern Ireland and Wales.
The Queen's committal service at St George's Chapel in Windsor on Monday afternoon marked the end of the ten days of public mourning for the late monarch.
The Queen's coffin was interred with the Grenadier Guards' Queen's Company Camp Colour, a smaller version of the Royal Standard of the Regiment, which the King placed on her coffin at the end of the committal service.
IN PICTURES: State funeral held for Queen Elizabeth II
At 9pm on Monday, the official website of the Royal Family confirmed that a private burial took place in The King George VI Memorial Chapel this evening, conducted by the Dean of Windsor.
"The Queen was buried together with the Duke of Edinburgh, at The King George VI Memorial Chapel," the statement said.
The Royal Family has announced that members will observe a further seven days of private mourning and will not undertake any duties during this time.