When Helen Will heard what was happening in Ukraine, she felt compelled to help those fleeing the country and started connecting refugees with potential hosts.
After matching 450 families, she went a step further, organising a bus to bring dozens of Ukrainians to the UK.
Helen, from Fetterangus in Aberdeenshire, then travelled to Warsaw to support them on their journey.
"I didn't ever think I'd be in Poland picking up a full bus of refugees, never," she told STV current affairs show Scotland Tonight.
"It's probably one of the most emotional things I've ever done, but it was worth it.
"Everybody I've been talking to over the last six weeks was looking for me coming – so they know it's a safe bus to get on."
Daniel Dovgal, 16, travelled to Scotland with his mum, Iryna, younger sister Masha, and their dog, Jessie.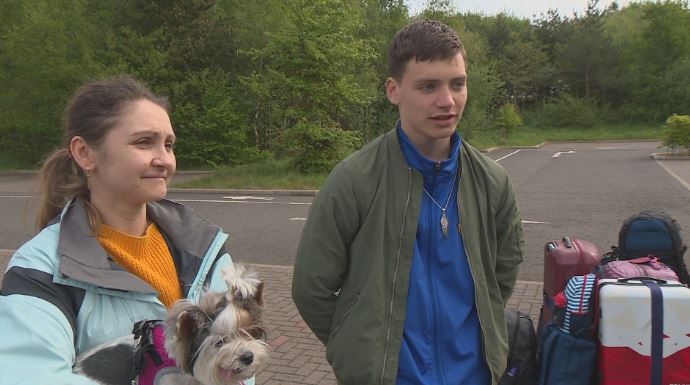 They are initially staying in a hotel, but have been sponsored by the Scottish Government and are waiting to be matched with a longer-term host.
"When I was 10 or 11 years old, my dream was – go to Great Britain," he said. "The road was so long and there were so many problems – but we're happy.
"Masha will try to go to school and, if Scotland lets me, I will try to go to university. And mum will work, and help."
The English port of Harwich was the last stop for some of Helen's passengers, while others continued onto Peterborough and York.
Ten made it safely to Edinburgh after an overnight journey, including Amira Ibrahim, her mother Iryna, and her brother Nadim, who were picked up by their new neighbour Andrei, also Ukrainian.
The family will stay in the capital, in a home offered by a couple who live in Shetland.
"We're tired and relieved." said Amira. "It's been an exhausting couple of days, it was so hard to part with our things and our family – but now we've been here a few days it feels like there's ground under our feet."
For Helen, it was emotional saying goodbye, but she told Scotland Tonight she had made bonds for life.
"It's so rewarding – one of the most rewarding journeys I'll ever go on," she said. "When I saw everyone, they were all waving, and I've never been hugged that much in my life."