An ex-airman who struggled to adjust to normal life has found sanctuary in helping other veterans grow their own food.
David Cameron left the Royal Air Force 11 years ago and is now a registered nurse supporting other former service people in the great outdoors.
He believes the Dundee Therapy Garden has provided a vital lifeline for veterans during the pandemic.
"We try to create a relaxed atmosphere in the garden to let the veterans work at their own pace," David said. "I've seen how beneficial this place is for veterans.
"If it hadn't been for Dundee Therapy Garden, some of our veterans would have had very little to rely on during the pandemic."
'Loneliness is a big issue'
David has worked at the garden for around 18 months and believes it has helped transform the lives of many people similar to himself.
"When I left the air force, I didn't know this place existed," he said. "When the job became available, being a veteran, it was hugely important that I got involved in something which has both a professional and personal value.
"The work we do here is to allow veterans a safe place to come and we establish a set of goals that they can work towards, which will help improve their physical, mental and social wellbeing."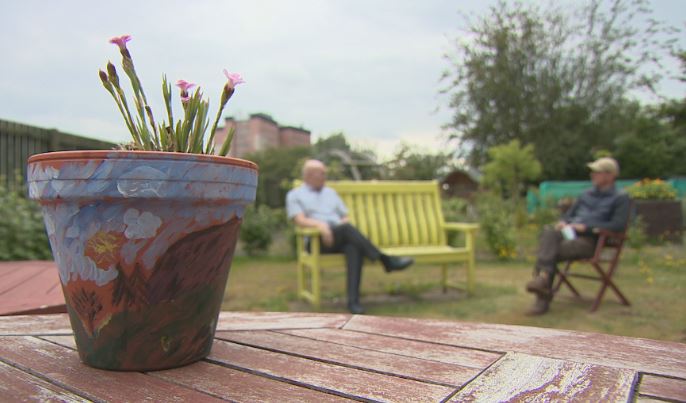 The garden also allows veterans to learn vital new life skills, such as being able to cook for themselves, as well as make new friends.
"Some of the veterans may not be great at preparing freshly cooked meals, so this is an ideal opportunity for them to learn new skills in that area as well," David said.
"Loneliness is quite a big issue. When they come to the garden, they're amongst people who share a common theme, so they don't have to explain themselves or justify their existence.
"They come here and develop positive relationships."
Growing number of gardens
Across Scotland, the number of community gardens has quadrupled over the past five years from 75 to more than 300.
Victoria Gardens in Dundee was launched three years ago by charity Yusuf Youth Initiative to provide a sustainable source of fruit and vegetables.
Gisela De la Espada, who grows food there, believes it helps with wellbeing.
She said: "With mental health, it helps a lot. Just to be outside, getting dirty and being connected with the environment and then knowing that the food that we are going to grow, we are going to eat."