A fire engine has been taken out of use, just hours after responding to a nightclub blaze, as £11m of cuts to firefighting budgets came into action this week.
The Fire Brigade Union has warned that communities across the country will experience a reduced fire cover as the beginning of the major cuts to Scottish Fire and Rescue Service (SFRS) came into effect this week.
On Sunday afternoon, fire crews in Kirkcaldy were called to the scene of a fire at what used to be Kitty's nightclub on the town's Hunter Street.
They were later called again for a fourth time on Wednesday.
Police confirmed three 15-year-old boys had been arrested and charged in connection with wilful fire-raising at the derelict building.
This incident has prompted campaigners to challenge the cuts, with one of the height appliances used to tackle Sunday's fire being taken out of use entirely just 24 hours later.
John Mckenzie, regional secretary of the Fire Bridage Union, told STV News: "The recent incident in Kirkcaldy shows how important it is to have these vehicles available across Scotland.
"Since the creation of the Scottish Fire and Rescue Service in 2013 the East of Scotland has gone from seven height appliances to just four as of the start of this week.
"This is just a further illustration of how sustained real terms budget cuts have impacted the Fire and Rescue Service in Scotland over the last decade."
In Fife, as well as the Kirkcaldy appliance, fire engines are being removed from Glenrothes and Methil along with operational fire crews in Dunfermline are also being removed.
Perth will lose a crew and Kingsway East in Dundee will lose a fire engine.
In Glasgow, two of the busiest stations at Cowcaddens ad Maryhill will lose engines along with Govan, Hamilton and Greenock.
Polmadie will lose crew who respond to incidents on the River Clyde.
Opposition to the cuts has come from the union along with politicians and local and national level.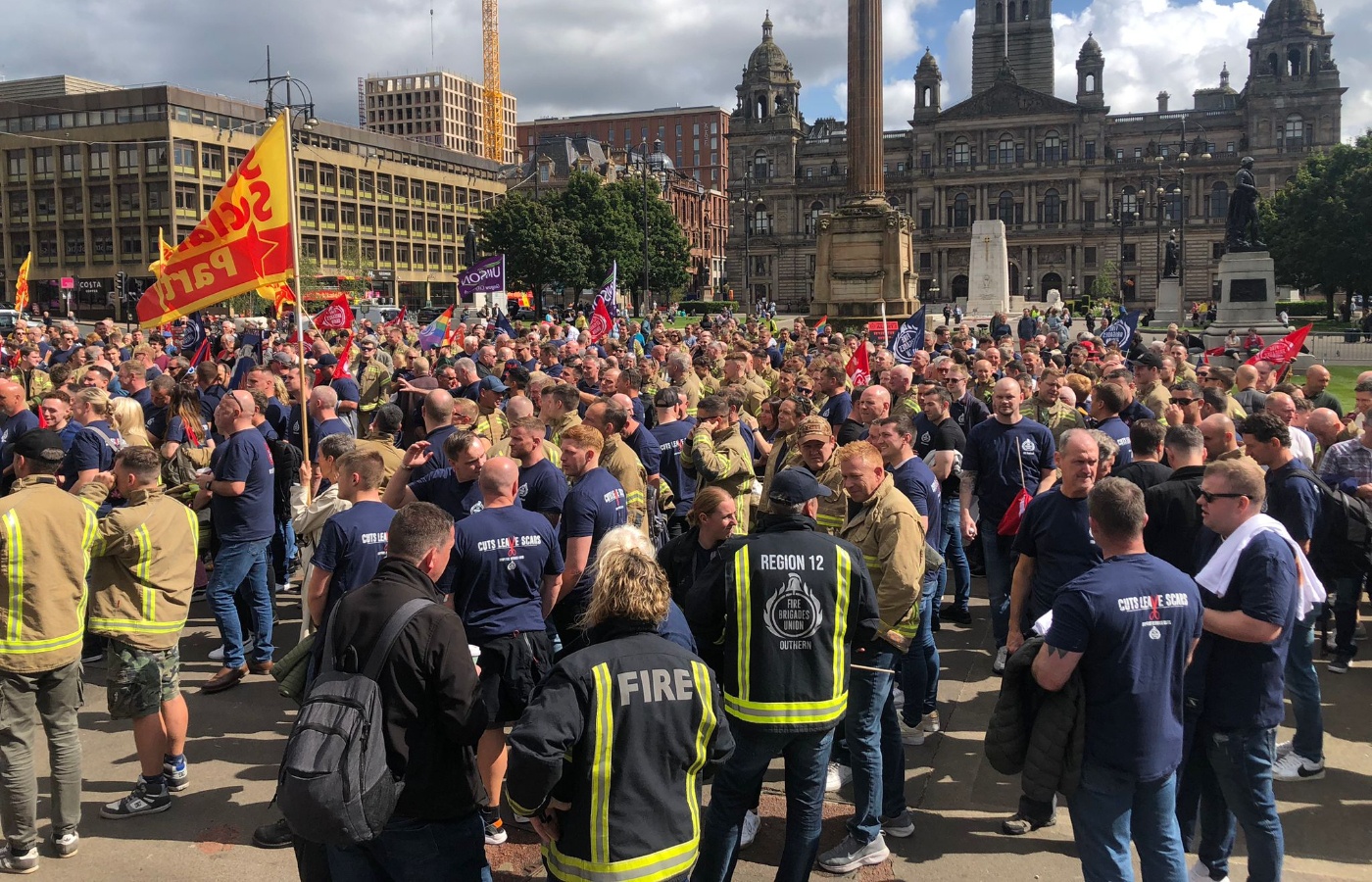 Six appliances and two height trucks were on the scene during the worst of the fire on Sunday – the third at the same location this year.
Firefighters from across the UK gathered in Glasgow last week to demonstrate against the plans.
Gus Sproul, chair of the FBU in Scotland, said: "The Scottish Government and the minister responsible for the Fire Service Siobhian Brown have to recognise the damage these cuts are doing to our service and instead invest in Scotland's Fire and Rescue service. The FBU will not stand by and watch as jobs are lost and communities and firefighters put in danger.
"Fewer firefighters means reduced cover and reduced cover leads to a greater risk of someone losing their life. If more jobs and the safety of firefighters and the communities they serve are threatened/ the FBU will consider all options available to stop these appalling and dangerous cuts."
A Scottish Government spokesperson said: "The Scottish Fire and Rescue Service is a vital service which is why, despite difficult financial circumstances due to UK Government austerity, we are providing it with more than £368m this year, an increase of £14.4m on 2022/23. We are also maintaining front-line services, with a higher number of firefighters in Scotland than other parts of the UK and we are pleased firefighters have also recently accepted an improved pay offer.
"Operational decisions including number and location of fire appliances are rightly a matter for the SFRS. In common with all public bodies it is right that SFRS continues to review its operations to ensure it is effective and delivering value for taxpayers' money whilst keeping communities safe."