A family forced to live thousands of miles apart for eight months over a visa wrangle has finally been reunited.
Dr Alaa Garad's wife and four daughters were stuck in Egypt after travelling from their home in Fife to visit his ill mother-in-law.
But that journey invalidated an application to renew their visas, which was being processed at the time.
After speaking to STV News two weeks ago, the Home Office acted and their nightmare finally came to an end.
"We lost hope that we would get back to Tayport or Scotland again, but finally we made it"

Hanan Ali
"I can't believe that I'm here," said Dr Garad's wife Hanan Ali, who is delighted to finally be home.
"We lost hope that we would get back to Tayport or Scotland again, but finally we made it."
Dr Garad, the academic director at Al Maktoum College in Dundee, has indefinite leave to remain in the UK, but his wife and four daughters need to renew their visas every few years.
The family all travelled to Egypt last July after Hanan's mother suffered a stroke. Unknowingly, the trip voided their applications.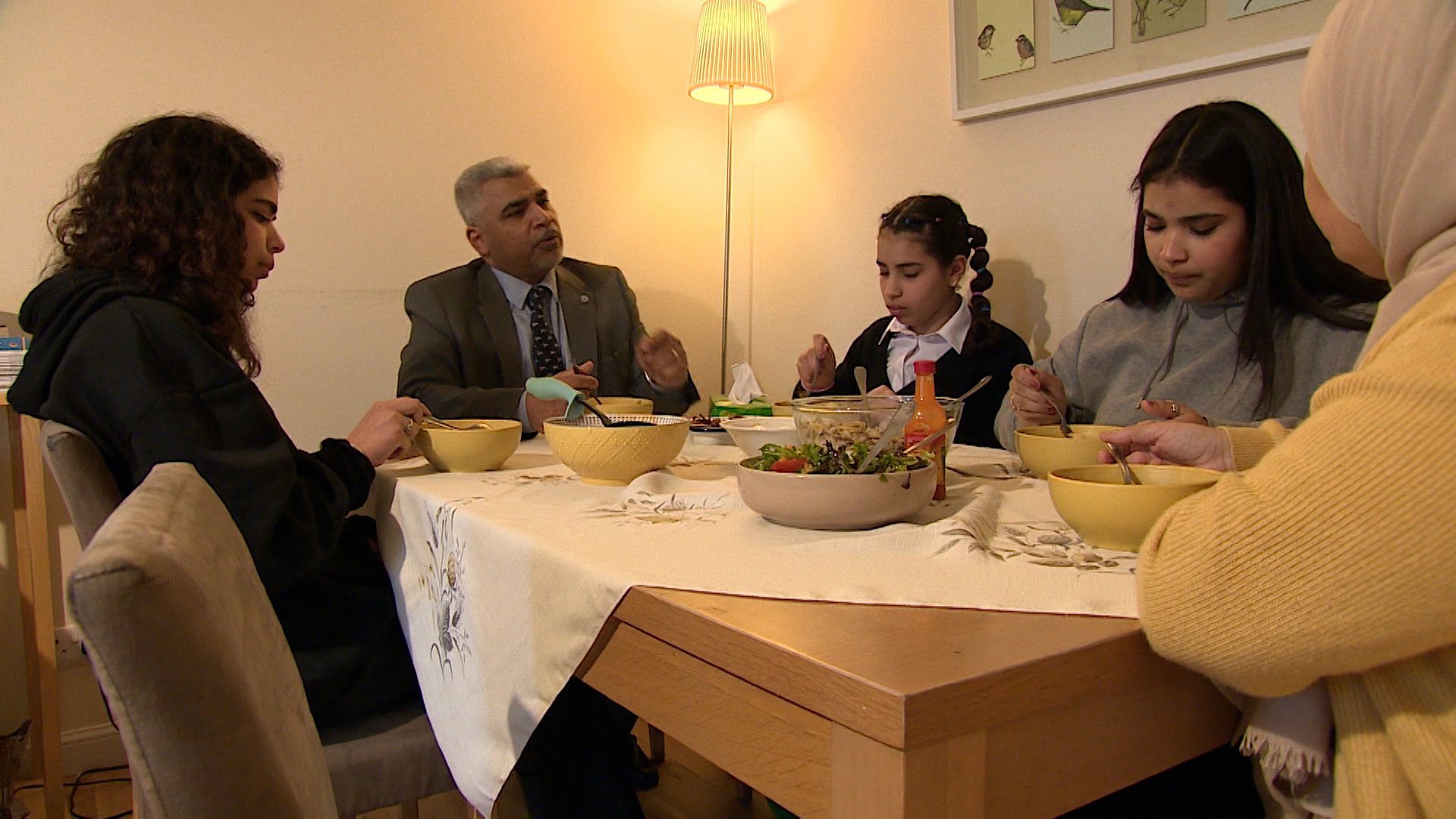 They had to reapply, in a process which has cost the family more than £40,000.
Dr Garad – who was given an award for his contribution to education by Princess Anne last year – continued to work in Scotland, but the lengthy separation took its toll.
With his wife by his side once again, a relieved Dr Garad said: "When the solicitor told me, I couldn't believe it, [he said] 'the passports are there, and you can go to Cairo to collect them'.
"That was a huge relief for me to be together again and continue our life as before.
"Had I known that this is not correct to let my family travel outside the country, had it been simply mentioned in the application form, then I would have found another approach and not put myself in such a situation."
The sisters are delighted to be back at school and able to see their friends again.
Jude Garad, a sixth-year student at Madras College secondary school in St Andrews, has missed more than half the year and now won't be able to sit her exams.
"This is our life that has been put on pause for eight months," she said. "It shouldn't have gone that way. It caused a lot of stress.
"I missed eight months of work and the exams are in two weeks and I can't do them, so now we're looking at other options like college."
Her 11-year-old sister Lamar Garad, who attends the local primary school in Tayport, described her first day back at school as "perfect".
"Everyone gave me hugs, I got a card, it was really nice," said Lamar.
Her older sister Rahaf added: "It feels so good. It feels like a huge weight has been lifted off me."
Hanan will soon return to her job as a teacher, however after their bruising visa battle, the family fear they may suffer further issues with future applications
But, for now, they're enjoying being together again in the place they've made home, where they have received a warm welcome back.
"This small street took about 20 minutes to walk because everybody stopped us and welcomed us back," said Dr Garad.
"They (the local community) wanted to help but also didn't know what to do, so it was really relieving and emotional and helped to overcome the pain we had over the last few months."