A fleet of electric vehicles is taking part in a rally across Scotland.
Stopping off at one of Dundee's newest charging points before heading to Aviemore on Thursday, the tour is intended to showcase the country's electric charging infrastructure.
Rolling into one of Dundee's many charging points, the 'EV rally of Scotland' arrived at 'Scotland's electric capital – earning its nickname due to the vast amount of charging points available.
Travelling 600 miles across the country, the fleet have to check in at different hubs along the way.
The aim of the rally to showcase the benefits of electric vehicles.
Colin Boyton, rally organiser said: "There's a massive misconception still about the capability of electric vehicle technology and the range, there's a lot of misinformation about the charging infrastructure out there.
"But if there is one thing that Scotland has done right it's the public charging infrastructure. The investment has been amazing and the infrastructure is there and it will only get better."
Ten teams made up of Scottish businesses with a net zero target are behind the wheel of each vehicle for the journey.
Ursula Perry, team coordinator said: "Everybody has to work together in order to make this whole EV activation work well.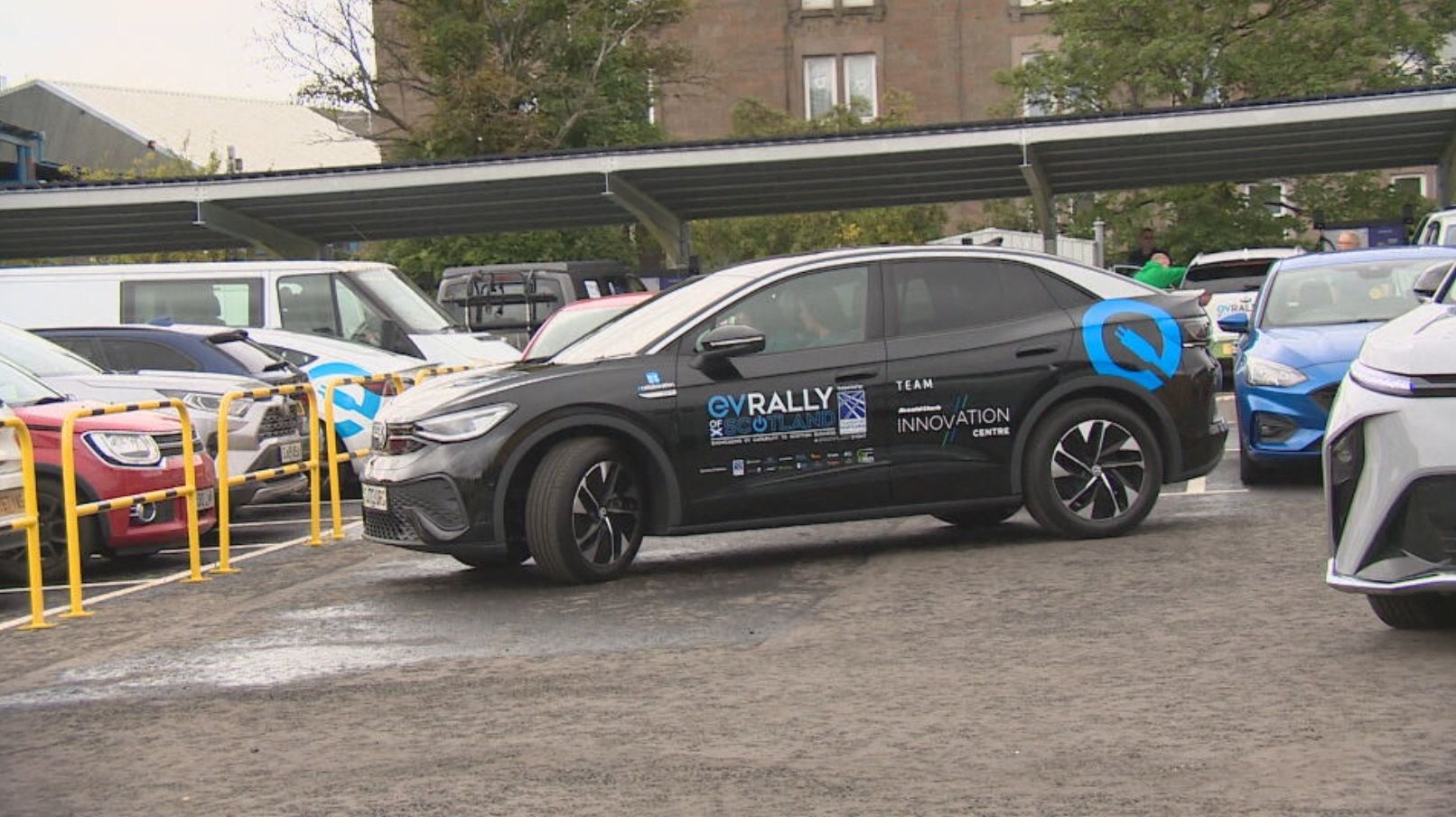 "We work with Charge Place Scotland, Transport Scotland and various different corporate teams who want to get that message out there that working together is an important thing.
"We're not going to get to this net zero target without us all working together."
However, the view on electric vehicles may not be changing as fast.
Government targets for EV sales in 2024 call for each car manufacturer to hit 22% electric vehicle sales or face a fine – but electric car registrations accounted for only around 16% of the market in the first seven months of of this year.
There are also some who believe that electric vehicles are too costly with energy costs continuing to rise.
John Curtis, media correspondent from EV Rally of Scotland said: "There are many different ways that you can come in where you don't have to spend £100,000 on a car.
"But yes energy has gone up, because of the cost of living crisis and maybe the issue with Russia, so it's about the same as running a petrol or diesel car.
"But the massive benefit is that we're not killing people by generating renewable energy as we are here, storing it on-site and using it for electric vehicles."