A dozen care home workers are spending 32 nights on lockdown alongside elderly residents in a desperate bid to prevent coronavirus.
St David's Care Home owner Ivan Cornford, 58, decided the best way to protect residents was by blocking access to the outside world.
It was only possible thanks to 11 of his employees volunteering to live in the home — and sacrificing contact with their own families for the entire time.
The 'St David's 12' moved in on March 19 — a week before the UK-wide lockdown — and will stay until April 20.
Mr Cornford told STV News: "There wasn't any clear guidance, so we decided that by sealing off the home and not letting anyone in we should keep the virus out.
"We got 11 volunteers to come and join us, they all said 'yes' without any hesitation. The families have been overwhelmed by the dedication of the staff. Their selflessness and dedication has been incredible."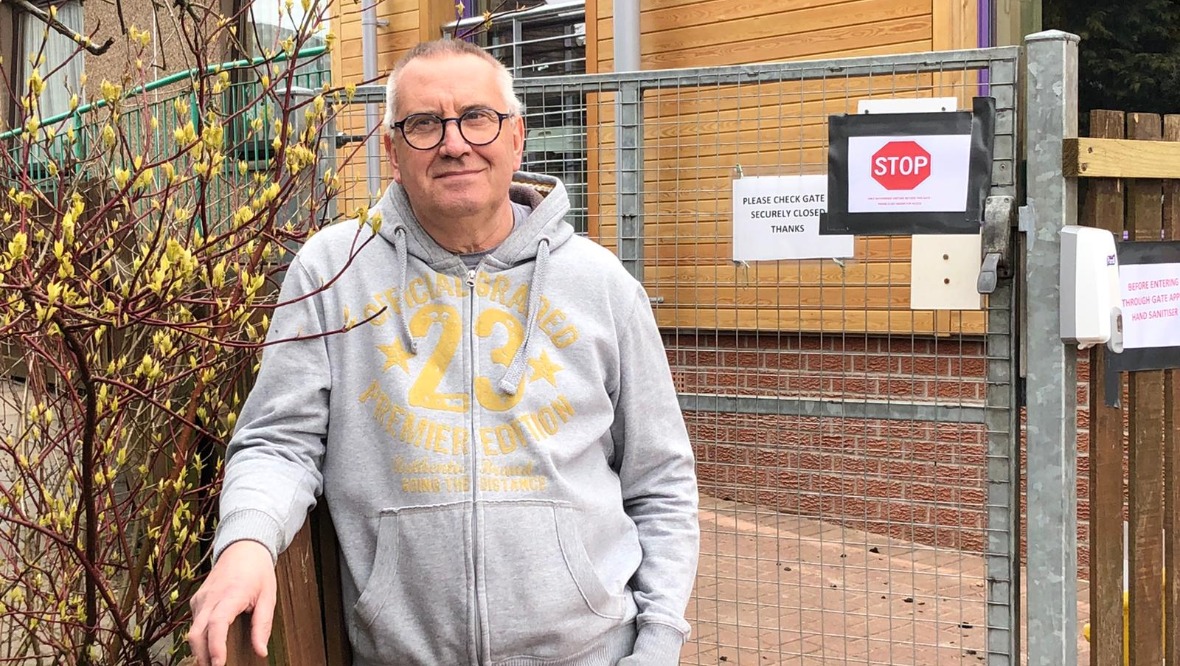 St David's in Forfar, Angus, is home to 22 residents who hope the self-imposed isolation will keep them safe from Covid-19, which poses a greater threat to the elderly.
In the past week, two Scottish homes have suffered suspected outbreaks. Sixteen residents died at Glasgow's Burlington Court, while eight lives were lost at Castle View Care Home in Dumbarton.
Other care workers have complained that a lack of adequate personal protective equipment is increasing the risks to those they are looking after.
Care workers Izzy Pringle and Lynn Morrison are sharing a makeshift bedroom at St David's which they've named the 'Shangri-la suite', after the mythical paradise.
Izzy, 58, from Colliston, Angus, did not hesitate when asked if she would move in, adding: "It's been amazing, really good, and the residents are enjoying having us here full-time. No one is bringing in the virus.
"I've been FaceTiming my husband and my two daughters and grand-daughter every night so I can keep in touch that way. Coming out of here is going to be emotional, we've all become so close."
Lynn, 54, from Forfar said: "It was a case of whatever is better for the residents. If their wellbeing is better with us here, then that's where I'll be.
"It does feel a bit like we're living in a bubble though. When I watch the news it's hard to believe what's going on."
During the evening, staff and residents can unwind and enjoy a takeaway treat on Saturday nights.
Christine Macrae is one of two resident cooks. The 53-year-old, from Forfar, said: "In the evenings we get to have a bit of social time, and a few beverages – just a few though.
"A lot of the residents like to come and sit with us and join in the banter and they're really enjoying that. We're getting more involved with their life stories as we have more time to sit with them, they're telling us things that they wouldn't normally have told us.
"Sealing off the home was definitely the right thing to do. The residents are very vulnerable and if we can protect them by doing this then we can go to bed at night and sleep easy."
Care worker Karen Black, 57, also from Forfar, said: "When they asked for volunteers to do this I thought there are people at home with young kids, and I have a son of 21, so I'm able to do it.
"It's not the same as being at home but it's as close as you can get. I love working here anyway, it's a lovely home, a great place to work."
Staff and residents can speak to visitors from the home's balcony. Families can book visiting slots online and must stand in a designated safe space in the car park.
Mr Cornford maintains regular contact with other staff who are self isolating at home in preparation for their month-long stay.
He said: "The main aim for us is that the four weeks of isolation gives us a grace period, and the chance to plan ahead for the next round of staff coming in.
"They have all been following strict social distancing and calling in every day to report how they are.
"What we're doing at the moment, sealing off, for most care homes this isn't an option, and I get that. We have the bed space, we have staffing able and willing to do it and for us it is working.
"This is a care business, but you build up relationships with the people you look after, you get to know them, they're part of your family, and you wouldn't want family members to be ill."
Dr Donald Macaskill of Scottish Care, which represents most independent care homes, said: "During these unprecedented times, I would like to commend everybody working in the frontline of the health and social care sector, who are trying their utmost to provide care and support to those who need it.
"This includes a thanks to all of the care staff who have made the decision to reside in the care homes they are working in, putting others before themselves by selflessly looking after residents day and night.
"These individuals are a shining light of the sector but by no means alone."