A young dad who spent months in hospital waiting for a heart transplant got home just in time to see his son arrive into the world.
Ross Peters was too sick to leave the Golden Jubilee in Glasgow as he waited for a donor – while his pregnant wife Shauni was preparing to give birth for the first time.
After eight weeks in hospital, he was woken by a nurse who gave him the life-saving news that a suitable heart had been found.
That meant 27-year-old Ross – telling his story to mark Organ Donation Week – could be at his wife's side when their first child, Louis, was born.
'Motivation to keeping going'
"Everything worked out perfectly, timing wise," he told STV News. "It couldn't have been timed any better.
"I was absolutely terrified I was going to miss the birth, it was a motivation to keep going and make sure I stayed as physically fit as I could for the operation, so I would recover quickly.
"But there was a part of me that genuinely didn't think I would be there [at the birth]. I was told I could watch it through a webcam, but I said that wasn't happening."
No other cure
Ross, from Dundee, was just 21-years-old when he suddenly felt unwell while out with friends, and the next morning found himself struggling to catch his breath.
After being taken by ambulance to Ninewells Hospital, he was soon transferred to the Scottish National Adult Heart Failure Service at NHS Golden Jubilee, where he was diagnosed with cardiomyopathy, a disease that affects the heart's ability to pump blood around the body.
Ross was fitted with a defibrillator but was told there was no cure – other than a heart transplant.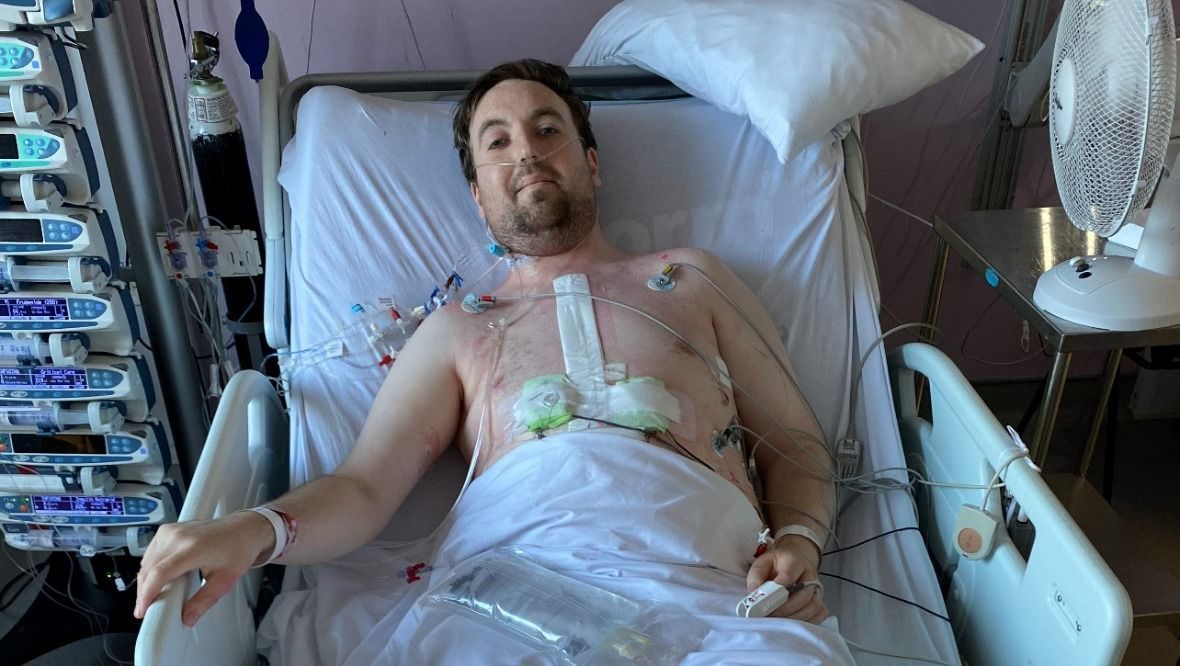 In January 2020, the heart-starting device activated twice, and by the summer, Ross's health had deteriorated so much that he was placed on the urgent transplant list and told he was too sick to leave hospital.
Over the next two months, coronavirus restricted the amount of time he could spend with his family, including his pregnant wife.
He said: "I went into the Golden Jubilee thinking it wouldn't be that bad and was then told I was so ill I couldn't leave the hospital and actually needed a heart transplant.
"It was during lockdown, my wife was pregnant, it was awful and all I could think about was being well enough to be at my wife's side at the birth of our son."
Ross is now at home and loving life with his young son Louis and wants others to discuss organ donation with their families.
"I take 15 tablets every day, but I roll out of bed – I can do anything I want," he said. "Nothing stops me.
"I can raise my son and none of that would have been possible without a heart transplant. I'm so grateful and so lucky."
'We all celebrated'
For staff at the Golden Jubilee – who have performed 36 heart transplants since the start of the pandemic – getting Ross home in time to see Louis being born was a special moment.
Consultant transplant cardiologist Dr Jane Cannon told STV News: "With Ross, I know his partner was pregnant and we all felt part of that journey.
"So for him to get home and see the birth of his son – we all celebrated in that."
'So many people waiting'
Organ Donation Week – which runs from Monday, September 20 – aims to encourage people to speak with their families about their wishes once they die.
Scotland has moved to an opt-out system, which means it's assumed organs will be donated unless people state otherwise or are in an "excluded group" – under 16s, adults who lack capacity and those who have lived here less than a year.
Dr Cannon said: "Organ Donation Week is an opportunity to raise awareness about the importance of organ donation and transplant in general.
"This is an important topic which may not come up in everyday conversation, but it's important to discuss with family and friends so your wishes are known.
"Despite best efforts, there are so many people waiting for a life-saving operation."