The Prince of Wales showed "genuine concern" for those impacted by Storm Arwen during a visit to Aberdeenshire.
Charles, also known as the Duke of Rothesay in Scotland, was meeting residents as he toured the Haddo Estate, which lost hundreds of thousands of trees due to the storm in November.
The visit came less than 24 hours after his younger brother Andrew was stripped of his honorary military titles and gave up his HRH style.
Buckingham Palace announced the Duke of York's military affiliations and royal patronages have been returned to the Queen on Thursday following a judge's decision to throw out a motion to dismiss a civil sexual assault case against him.
The judge in America ruled the case, in which Andrew is accused of sexually assaulting a teenage girl, could go to trial.
It is not known if Charles made any mention of his brother or the fact the Prime Minister's former director of communications issued an apology over a No 10 party held the night before the Duke of Edinburgh's funeral.
Charles did however meet some of the people involved in clearing up the aftermath of Storm Arwen.
Between 500,000 and one million trees were uprooted on the Haddo Estate in as winds of up to 100mph hit the area and efforts to clear the once-dense woodlands of fallen trees ahead of replanting have only just begun.
Charles spoke to locals affected by the storm with one man describing his "frightening" experience of being caught up in it.
Haddo resident Malcolm Munro was caught up in the storm as it was reaching its peak and was left with no electricity for days.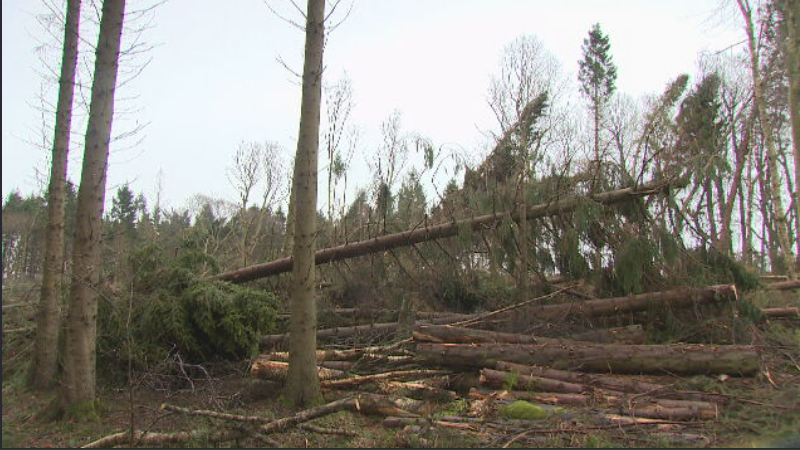 He said: "The school had shut early so we had another child with us as their parents were finishing work and we realised quickly that trees were falling down and closing access as we were taking them home. So it was quite frightening getting back when it was getting dark and there was electrical flashes happening.
"We kept the children down stair because of the trees near to us, in case they fell on to the roof or anything like that.
"And I just remember getting up the next day and my son running outside and saying 'the forest is gone'.
"We thought he was exaggerating, thinking maybe a couple of trees are down or something like that, but we went outside and couldn't believe what we were seeing.
"It was utter devastation, it looked like a bomb had gone off and we were in the centre of it."
Charles spoke in length to Malcolm about his time in the Royal Navy and asking him about the community's response.
He also met landscape manager Oliver Deeming and head of visitor services Susanna Atkinson as he walked the "Scots Mile" road towards the National Trust for Scotland property at the centre of the estate, Haddo House.
At the house, he met representatives from Aberdeenshire Council, the police and power provider SSEN to hear about the impact of Arwen and the state of recovery efforts.
The country park is currently closed to visitors for safety reasons due to the storm damage.
Jim Savage, chief executive of Aberdeenshire Council, said: "I think it is really remarkable when we are travelling around Aberdeenshire and going to see the scale of the impact of so many parts of our area it is really startling, certainly here at Haddo, to see the extent of damage to landscape and number of trees down, it is remarkable.
"I think the simple way to put it is 'awful' and it is going to take many months for the clean-up to be complete.
"Talking to the estate owners here they are talking decades really to fully back up and running in terms of all the re-planting but in terms of public access we want to do that as quickly as we can do, so I think we still have a number of months ahead of us to get some of the dangerous areas sorted out.
"Charles had two areas of focus really, one is clearly the landscape and the impact there has been in terms of the amazing facilities we have here, but the secondary focus, and I think it is really an important one for him and really heartfelt, is the pride and interest in the local community in terms of how they have responded and looked after each other through the storm and its aftermath.
"He is genuinely concerned for the estate and the community here."