A cancer survivor who lost her sister to the disease is planning to swim in as many lochs as possible to raise money for charity.
Donna McGuire was heartbroken after breast cancer claimed the life of her sister Gwen Angus aged 50.
Donna, who carries the faulty BRCA2 gene known to increase the risk of breast and ovarian cancer, has encouraged friends Kelly McIntyre and Lynne Morgan to join her with her Swimathon challenge.
The women, who are members of Perthshire Wild Doukers swimming club, will swim in as many lochs as possible in one weekend to raise money for Cancer Research UK and Marie Curie.
The 56-year-old from Blairgowrie said: "I'll do everything I can to make the lives of people with cancer better and to protect future generations.
"We swim outside in the loch at 6.30am every morning, even through the winter. Sometimes it feels not so much like swimming but ice breaking then submerging in freezing water.
"But I always feel amazing afterwards. The friendships I've made and the conversations I've had are unforgettable.
"It can feel a bit cold at times when you first go into the water but once you get over that it's brilliant. I've seen ospreys soar across the sky, deer in the fields. It's wonderful."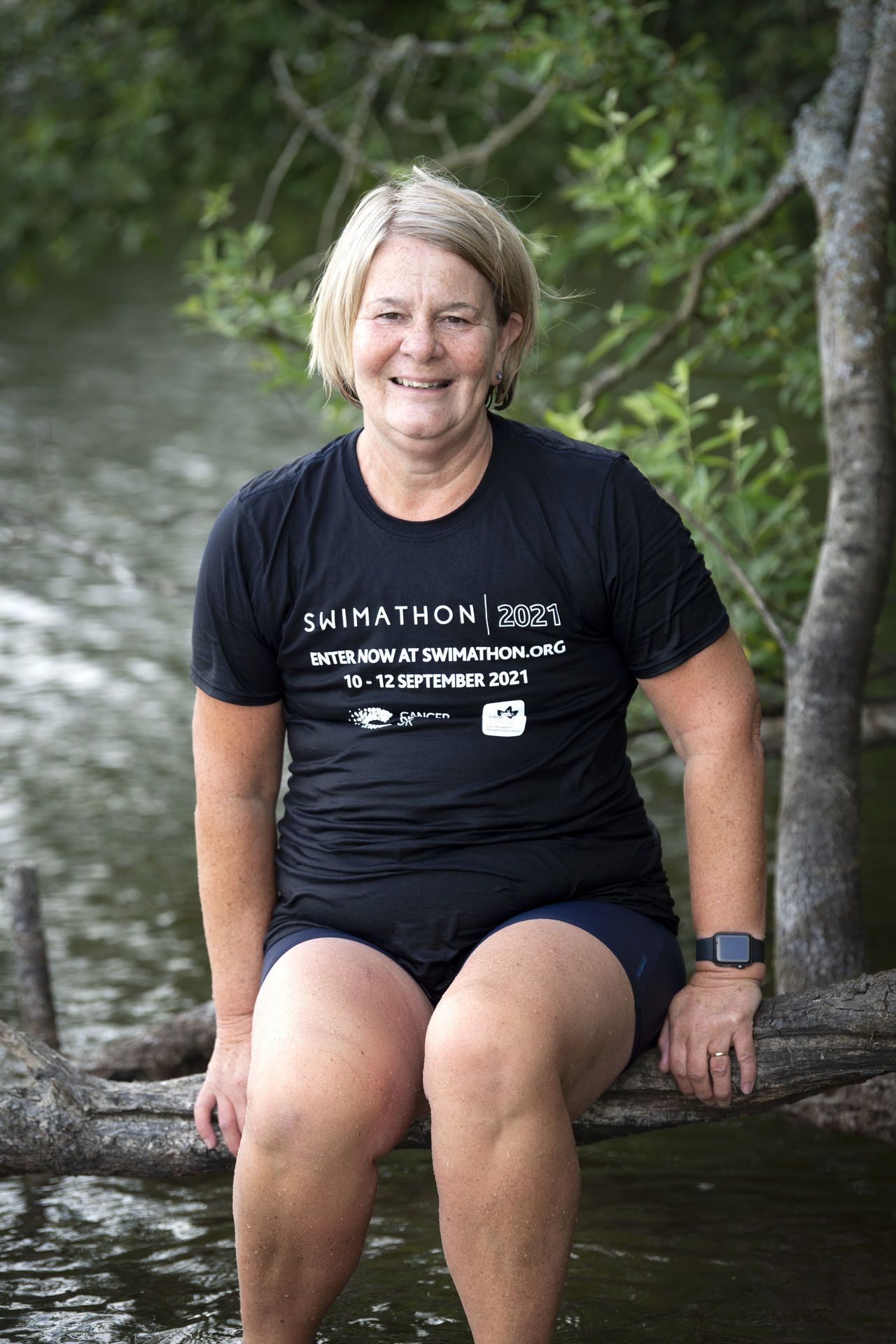 When Donna was diagnosed with breast cancer, it was the fifth time the disease had struck her family.
Her gran and two of her aunties had also had the disease as well as her sister Gwen, who was the first person in their family to be tested for the faulty gene after being diagnosed with breast cancer in 2003.
After Gwen tested positive for the BRCA2 gene, Donna discovered she also carried the gene and had preventative surgery to remove her ovaries aged 42. She also started annual mammograms and MRI scans to check for cancer.
The scans came back clear for almost a decade until May 2016 when tests showed Donna had cancer in her right breast. She had surgery at Ninewells Hospital in Dundee to remove both breasts followed by 15 sessions of radiotherapy.
Donna said: "It was an incredibly hard few months.
"My mum died from dementia on the Friday before I was due to have cancer surgery. I went to mum's funeral a few days after getting out of hospital.
"I didn't think of myself as being strong. I just thought, I've got to do this, for my children, for Gwen's children and for my husband Andrew. I thought, 'I've got a lot of living still to do."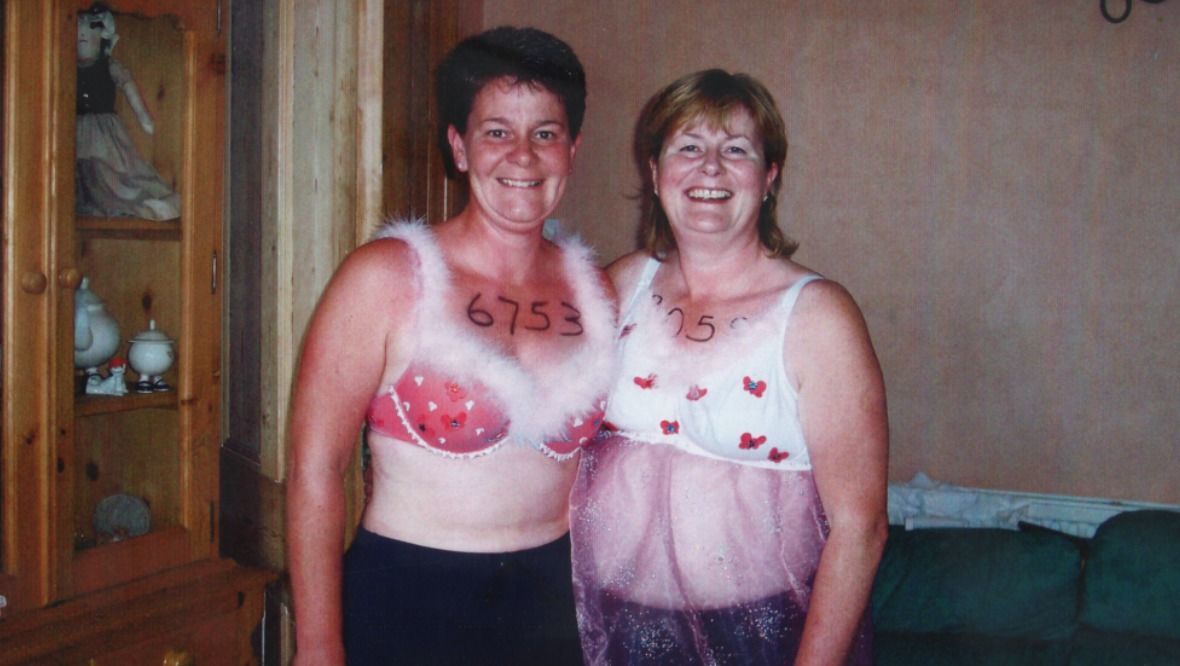 Donna's sister Gwen died on March 23, 2011 at Roxburghe House in Aberdeen, eight years after being diagnosed with cancer.
Donna said: "I miss my sister all the time.
"Gwen dying left a huge hole in our family. I'm still here. I was fortunate they caught the cancer in time.
"The more we talk about cancer and the more we fundraise, the more lives will be saved in the future.
"I'm proud to support Swimathon for Gwen, for her daughters, my daughters and in honour of everyone whose lives have been affected by cancer."
According to Cancer Research UK, eight in ten women diagnosed with breast cancer survive the disease beyond ten years.
The charity helped fund research which discovered the BRCA1 and BRCA2 genes, which can help women like Donna find out if they are at an increased risk and potentially take steps to prevent breast cancer.
The Swimathon Festival will take place from September 10 to 12 and offers a variety of distances for swimmers to tackle, from 400m up to a triple 5k and a new 30.9k option.
Fundraisers can also sign up to MySwimathon, which takes place from September 3 to 19 and allows swimmers to take on a challenge at a time that suits them.
Swimathon has raised more than £55m for charities since it began in 1986 and this year, the Swimathon Foundation will donate £2.50 from every entry fee to help protect Swimathon pools and venues for the future, following the impact of the pandemic.
Lisa Adams, Cancer Research UK spokeswoman for Scotland, said: "The Swimathon Festival offers a challenge for all open water or pool swimmers whether they're early divers or evening dippers, fast lane speedsters or leisurely lappers.
"There are lots of great benefits to taking part, not least the chance to enjoy the water while raising money for causes which are close to the hearts of so many.
"So, we hope everyone will grab their caps and costumes and sign up now to help us keep making transformative steps in the prevention, diagnosis and treatment of cancer. One in two of us will get cancer in our lifetime. All of us can support the research that will beat it."
Mark Winton, head of community fundraising at Marie Curie, said: "We're so excited that pools have reopened and people can once again take the plunge and make a splash while helping raise vital donations for Marie Curie.
"At Marie Curie, we rely on the support of the amazing public to ensure our nurses can keep caring for people at the end of their lives and that grieving people in the UK can get the care and support they need. Every penny raised helps us make a difference to the end of life care people in the UK receive."
STV News is now on WhatsApp
Get all the latest news from around the country
Follow STV News
Follow STV News on WhatsApp
Scan the QR code on your mobile device for all the latest news from around the country