A mum was about to be married in a "magical" Elvis themed wedding in Las Vegas' Little White Chapel when she received a voicemail from her doctor calling her in for an urgent appointment.
Lynne Morgan was a 35-year-old single mum to her five-year-old daughter Ruby Cunningham when she was first diagnosed with breast cancer in 2011.
"…I thought I was going to die," she said.
"And even if I didn't die, I would go bald. I thought cancer meant I now had no chance of meeting someone new to share my life with. It was a frightening time."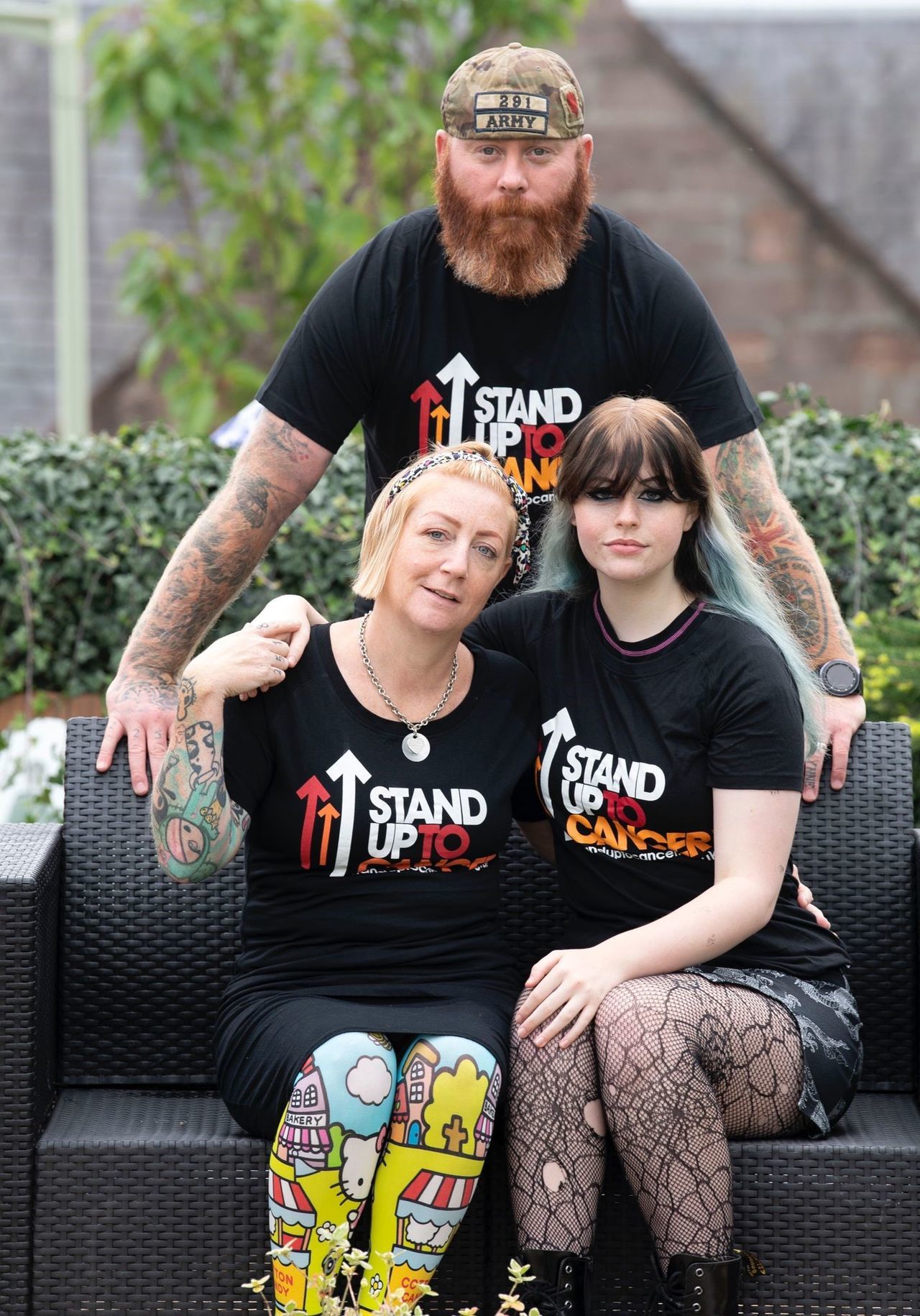 Lynne had surgery to remove the cancer and breast reconstruction at Ninewells Hospital in Dundee. Then she underwent six sessions of chemotherapy over five months followed by 15 radiotherapy sessions.
Her recovery was slow, but once she was able to Lynn was fundraising for Cancer Research. It was at a Relay for Life event in a muddy Blairgowrie field that she met Sam.
A former Black Watch soldier, the 39-year-old had lost his right leg in Afghanistan when an armoured vehicle he was driving hit an explosive in May 2009.
'Love pulled me through the toughest of times.'

Lynne Morgan
"Sam got my attention from the word go," Lynne said.
"It was one of those moments. I think we were just meant to meet that night. We've both seen big challenges in life.
"Sam coped with so much in Afghanistan and afterwards had much to adjust to coming home too. I hope I've done everything I can to support him.
"And Sam has been there for me to lean on in those days when cancer feels overwhelming."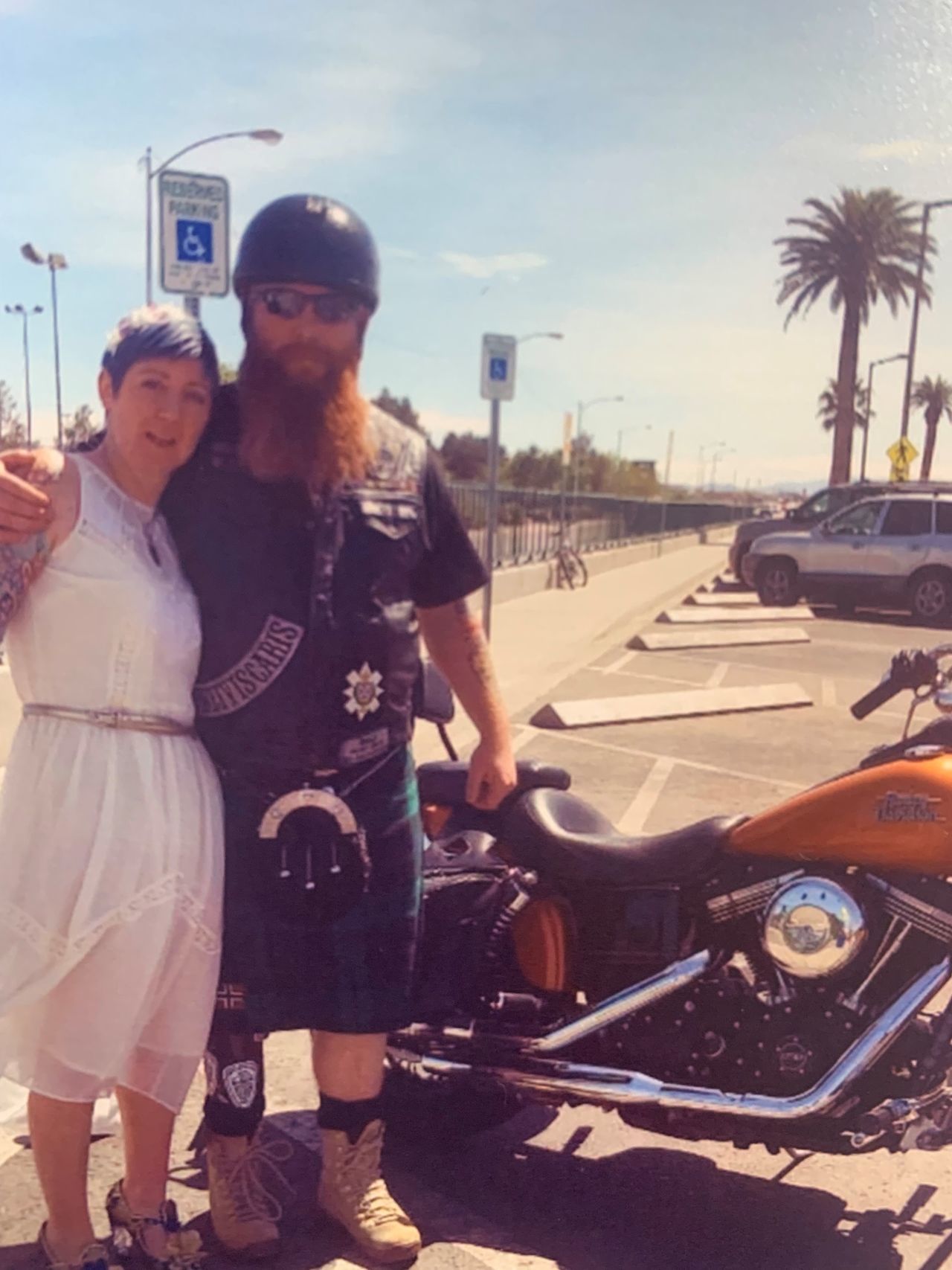 On April 4, 2017, six years after being diagnosed and hours before she was due to be married in Las Vegas, Lynne listened to a voicemail that had come through on her mobile.
It was her doctor back in Scotland asking her to come in for an urgent hospital appointment.
Lynne and Sam arrived at the Little White Chapel on a Harley Davidson and were married by an Elvis impersonator.
'I want to show that you can live well with cancer. It's thanks to research and advances in treatment that I'm still standing.'

Lynne Morgan
"Love pulled me through the toughest of times," she said.
"Even though I knew in my heart that cancer was back, the day we got married was still absolutely brilliant. It was magical.
"I felt so proud to marry this giant of a man who had been a rock for me."
Just days later after flying home, Lynne had her fears confirmed – the cancer was back and it had spread.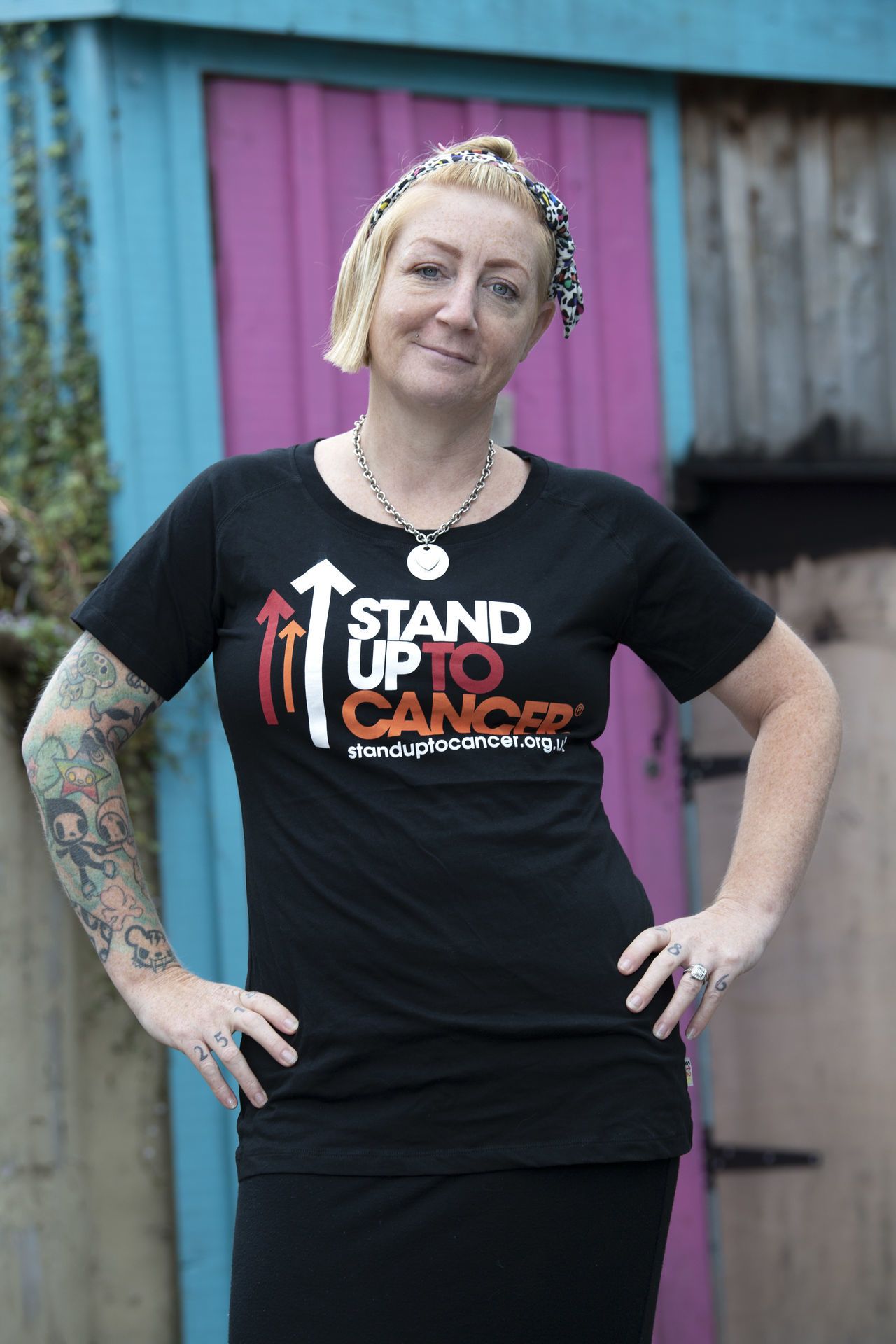 Lynne's lungs and bones had been affected. Doctors at Ninewells explained her test results and started treatment again – with her receiving the chemotherapy drug Eribulin every three weeks.
Her daughter Ruby, now 15-years-old, was too young to know what cancer meant the first time round.
"But the second time I was diagnosed, she understood and has been amazing," Lynne said.
"She wrote an essay for school on what it's been like growing up with a mum who has cancer and her words were insightful.
"They made me cry but I'm proud of her. I'm touched that she's joining us to Stand Up to Cancer this autumn."
Lynne has been chosen to launch the joint fundraising campaign from Cancer Research UK and Channel 4 to raise money to accelerate life-saving research.
On October 15, Scots across the country will be asking for sponsors as they raise money by staying on their feet all day or for as long as they can.
"Not everyone has the chance to meet the love of their life and I'm fortunate to have found mine," Lynne said.
"We're there for each other. I want to show that you can live well with cancer. It's thanks to research and advances in treatment that I'm still standing.
"I feel pretty good. I hope Scots will get on their feet and stand up everyone affected by this devastating disease."
In Scotland, around 32,400 people are diagnosed with cancer every year.
SNP MSP Christina McKelvie thanked the NHS as she revealed she had completed treatment for breast cancer last week.
A special report on Scotland Tonight highlighted the devastating impact of brain tumours, which kill more people under the age of 40 than any other cancer in the UK.
It comes after warnings of a crisis in staffing with hundreds of cancer nurses needed to be trained in the next nine years, according to Macmillan Cancer Support.
Stand Up To Cancer has raised more than £84m, funding 59 clinical trials and projects involving more than 19,000 cancer patients across the country in its nine years in the UK.
To find out more about the fundraiser visit here.