By Kevin Scott and Kirstin Tait
Brian Wood was enjoying a leisurely cup of morning tea in bed on Wednesday morning when he was jolted by the sound of a huge explosion.
He quickly got dressed and raced out into the woods behind his house to see what had happened and was confronted by flames and smoke rising in the distance.
The blast had come from the nearby Braemar Lodge Hotel, a popular venue in the heart of Royal Deeside, which has sustained significant damage after fire ripped through it.
Mr Wood, chairman of Braemar Community Council, said: "I got up about half past seven this morning, I was sitting in bed having a cup of tea and I heard this loud explosion.
"Now, we're about quarter-of-a-mile away and I thought it was in the wood just immediately to the back of the house, so I got dressed quickly and went out into the wood to see what had happened.
"There was nothing there but I could see flames and plumes of smoke coming from quite far off, so I walked through the village, a lot of people were gathering, we ended up here at Braemar Lodge and an outhouse at the back of the hotel was well alight.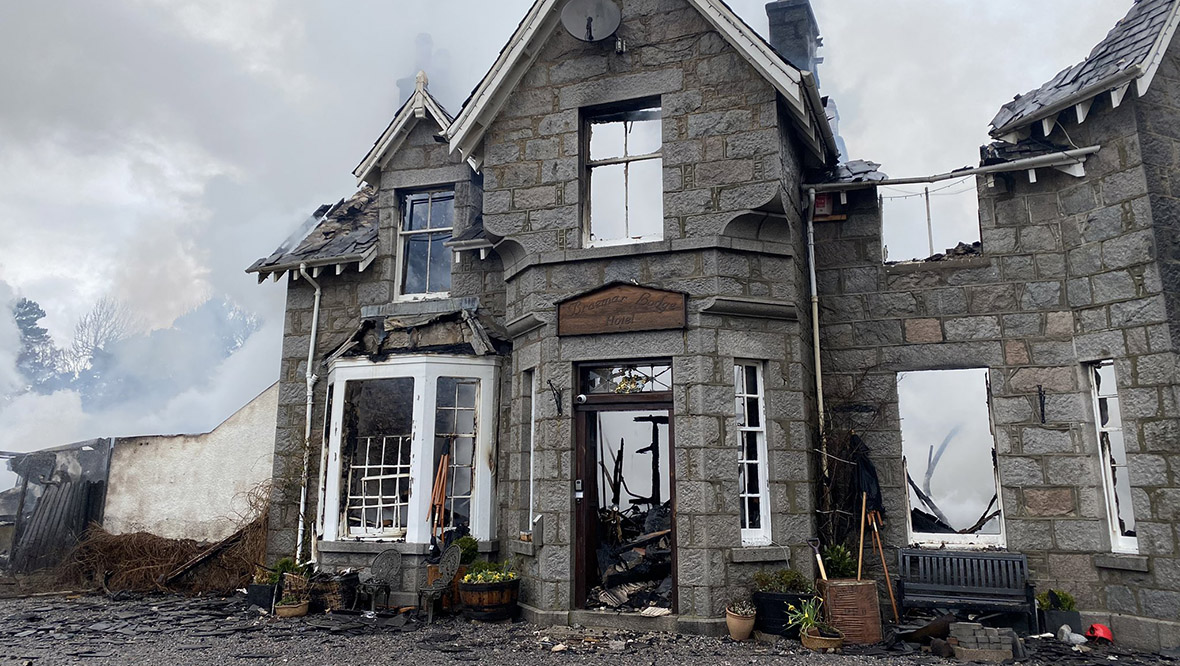 "There were fire crews here already, they were doing a great job trying to keep things cooled down. But eventually the rest of the hotel caught fire as well and, as you can see, it's totally gutted now."
Mr Wood says the damage to the hotel will be devastating for the local community in the Aberdeenshire village.
He said: "It will be terrible, this is a very popular venue – both with local residents and with tourists; great eating place, well-patronised and people will be devastated that this has happened.
"But fortunately, no reports of any injuries or anybody being hurt at all, despite the fact there was this loud explosion and there were bits of granite rock flying about all over the place apparently – if you look at the bowling green next door it's littered with pieces of rock that have come from the explosion."
The hotel was engulfed in flames with six fire crews called to the Glenshee Road building.
Emergency services were called at 7.37am, with nearby residents sharing images online of smoke billowing out of the building, and some reporting they heard an "explosion".
Onlookers said it appeared as if the roof of the building had collapsed, with flames seen throughout the hotel.
The blaze is thought to have started in a shed, the Scottish Fire and Rescue Service said, before it spread to the hotel.
Geva Blackett, who lives next to the hotel, had to evacuate her home quickly on Wednesday morning following the explosion.
She told STV News: "At about twenty to eight, I became aware from my husband that there was a a fire and that we had to evacuate the house, I came outside and it was just unbelievable.
"The flames were up and the noise was going 'whoosh, whoosh, whoosh' and it was just shocking. I then went down away from the house and then suddenly there was a huge explosion, with bits of – I suppose – building flying everywhere.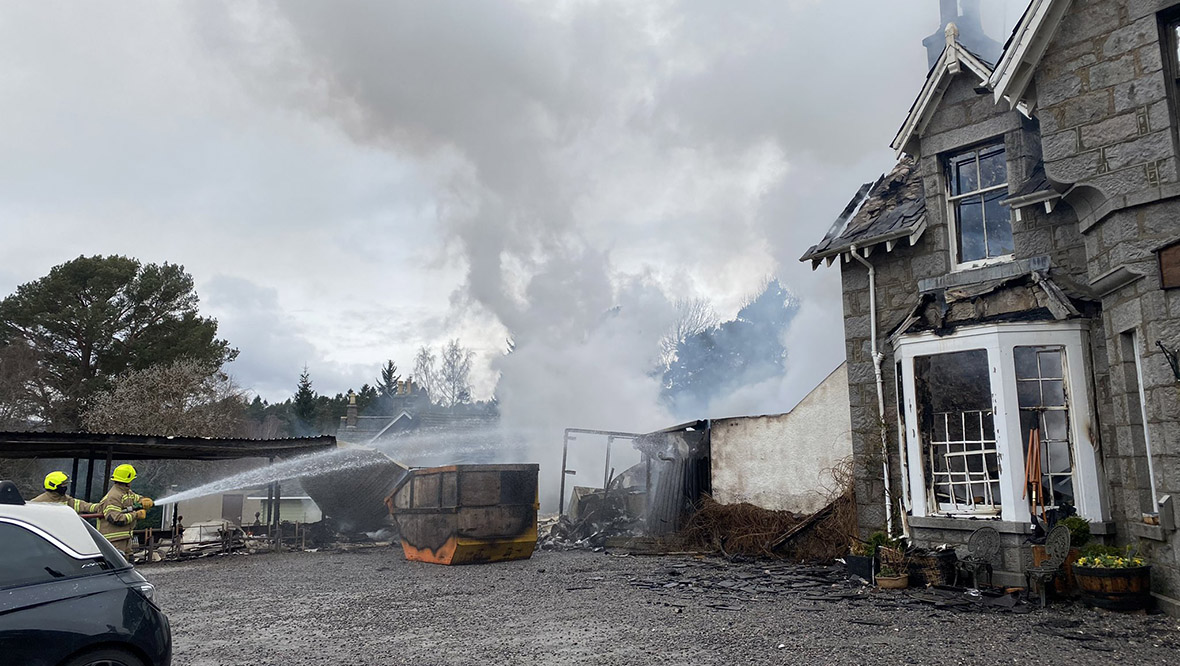 "I think it was a lot more terrifying for my poor next-door neighbour, who was right up against it, but yeah it was shocking – I mean I've never been so close to a fire and I think until you have you can't understand actually what it's like, it's terrifying.
"I think it's deeply shocking (for the community) and it's so sad that we've lost a very popular little hotel – it's not very sleepy in Braemar, we're quite a vibrant community and we will recovery but it's a shock and it's horrible but nobody has died."
Braemar Primary School, which is located near to the hotel, has moved to online learning for Wednesday and local road diversions were put in place.
Rab Middlemiss, area commander with the Scottish Fire and Rescue Service, said the blaze started in outbuildings and proved to be a "very complex and challenging incident".
He said: "It's too early to say what the cause of the fire was – obviously the incident is ongoing, our fire investigation team have been on the scene gathering initial details and it will be subject to a full investigation.
"We are aware of an LPG cylinder that has exploded and it probably shows the seriousness and sometimes the hazardous nature of fires within buildings."
Andrew Bowie, the MP for West Aberdeenshire and Kincardine, said on Twitter: "Shocked to hear of an explosion at Braemar Lodge this morning.
"Massive thanks to @fire_scot and @Scotambservice who are on scene and thoughts with everyone affected."