Oil giant BP has been fined £650,000 after health and safety failings resulted the death of a man almost nine years ago.
Sean Anderson fell through an open grating on BP's Unity platform in 2014 whilst he was working as part of a contracted maintenance team, employed by Cape Industrial Services.
Following a two-week trial at Aberdeen's Sheriff Court, a jury found BP guilty of a breach in safety rules.
On sentencing the oil giant to the £650,000 fine, Sheriff Graham Buchanan said that although the death of Sean Anderson had been "tragic and devastating" for his family, it had been an "isolated incident".
Sheriff Buchanan said BP had made "significant efforts" to address the risks involved with an open grating, but added: "They were inadequate on this occasion.
"It goes without saying that the level of harm caused by BP's breach was high and that has to be taken into account.
"I do accept the likelihood of harm arising in this case was low.
"The fact that a man has died as a result of the offence means the penalty imposed will be significantly higher than one with no loss of life.
"The fine imposed must have some economic impact. The company does have previous convictions for offences under the Health and Safety at Work Act, albeit none involving fatalities."
'Highly unusual case'
Mr Anderson had suffered serious head injuries and been found lying face down in the sea after falling from the Unity platform at around 4am on September 4, 2014.
The 43-year-old father-of-four had been due to fly home just one hour later.
Murdo McLeod, defence advocate for BP, said the company wanted to "convey the company's deepest condolences to the family of Sean Anderson".
He added: "This was a highly unusual case and it's not often that these matters proceed to trial.
"They are very rare, in particular where there are these powerful mitigating circumstances.
"First of all, there's an excellent safety culture spoken of by witnesses and BP has sought to improve matters by introducing a similar policy with regard to assessment of risk when gratings are not covered.
"With regard to the gratings, while there may be an expectation that gratings should be covered, whether this should be done is a matter of opinion and is not clear cut.
"This is a very unusual and isolated incident and BP takes this matter very seriously."
"There's no evidence that a desire to increase profits resulted in the company cutting corners in terms of safety."
Man overboard
The court had heard Mr Anderson, a multi-skilled scaffolder with rope access qualifications, would have known why the safety barrier had been erected and that it was safe-guarding an opening on the deck.
In the days running up to his death – Mr Anderson had been working as part of the team who had built the hard barrier protecting the fatal hole in the decking – through which he fell.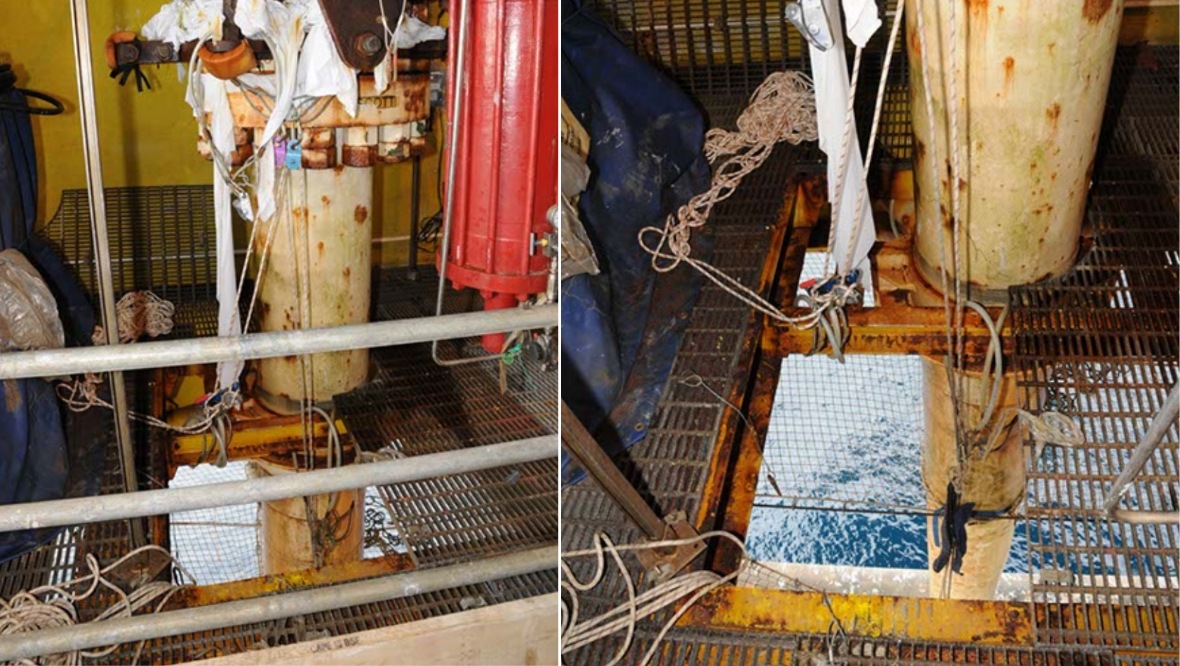 On the night he died, bad weather meant no work was carried out by the team after stopping for a break at midnight.
At around 3:30am Sean – a "keen" worker – had asked the installation manager if there was anything that could be done to "keep busy"; promptly rounding up three other men to carry out a tidy up of the lower deck.
What happened next is not clear, but at 4am, Tony Omar, who had been paired off with Sean to collect rubbish, remembers hearing three bangs and immediately raised the "man overboard" alarm.
The court was told the conditions that night had been foggy and dark and Mr Anderson had not been found wearing a life jacket, harness or survival suit.
He had been unconscious and was not breathing when pulled from the water.
A post-mortem later showed the cause of death was serious injuries to his head and chest sustained as a result of a "descent into the sea" from the oil installation. It was recorded that he had suffered very severe and "predictably immediately" fatal head injuries, with extensive fracturing of the skull.
Toxicology results showed no signs of alcohol, drugs or gas poisoning – and no signs of natural diseases that would have resulted in his death.
'Tragic incident'
BP owned the Unity rig, an unmanned pumping station in the Forties Field about 110 miles north-east of Aberdeen in 2014, but has since sold it to INEOS.
In a statement, BP said: "We acknowledge the outcome of the court proceedings. This was a tragic incident.
"While we know nothing can be said to change the pain felt by Sean Anderson's family and friends, our deepest condolences remain firmly with them to this day."
In her closing statement, fiscal Kristina Kelly told the jury that BP had a duty to ensure the contractors working on Unity were not exposed to risk, doing so in "so far as is reasonably practicable".
She said: "BP put those workers at risk for the eight days running up to the 4 September 2014; by not having suitable and sufficient control measures in respect of open gratings on Unity."
She said warning signs, or a cover on the grating could have been in place, adding:
"Sean Anderson's family fully expected him to come home safely."
The court was told by Ms Kelly that BP's procedures had now changed and any open gratings were now covered, she said these were "mistakes they have now learned from."
BP 'failed' its duty
A Health and Safety Executive spokesperson said: "BP failed in their duty to have suitable and sufficient control measures in place in respect to open gratings on the platform.
"Ultimately these failures resulted in Mr Anderson's death. Our thoughts remain with Mr Anderson's family and friends."
Debbie Carroll, who leads on health and safety investigations for the Crown Office, said:  "Sean Anderson's death was entirely foreseeable and could have been avoided if BP had taken all reasonably practicable precautions.
"His death and the risk of fatal injury to which others were exposed cannot be understated.
"There were serious deficiencies in the safety arrangements adopted around the management of open gratings which BP should have identified.
"BP Exploration Operating Company Limited could have done more to address the risks which is shown by the post-incident changes in procedures.
"Our thoughts are with Mr Anderson's family at this time."