An artist who painted personal tributes to NHS staff has had her work put on display in the hospital where she was treated.
Created during the second wave of the coronavirus pandemic by artist Gilly McLaren, the paintings portray the staff who worked tirelessly to help others.
During her treatment at Ninewells Hospital in Dundee for advanced ovarian cancer, Gilly formed many relationships with the team caring for her, from cleaners to consultants.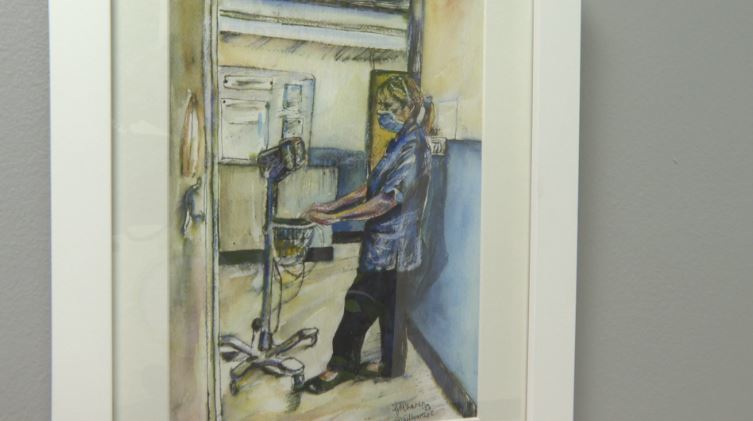 Gilly told STV News: "I was lying in my bed in the hospital bay one day and I was just really moved in that moment with the whirl of people all around me, moving at such a pace, and so focused and dedicated on their job.
"I think it was the self-sacrifice they each made to come to work that day and be there for me, their patient, and be there for us.
"I just really wanted to immortalise that moment, I wanted to capture that moment in time and highlight how each of these staff are humans, they're individuals."
For the staff, their patient's artistic flare brightened up a demanding and difficult time.
Consultant surgeon Dorin Ziyaie said: "At a personal level, it's very humbling and, at a much wider aspect, I suppose it's gratitude.
"We are very grateful for her warm heart, talented hands and endless generosity that she has shown towards us and all the staff here at NHS Tayside for the brief period we had the privilege of looking after her."
During the official unveiling ceremony, Gilly, now in remission, thanked family and friends for their care and support, and the hospital staff who not only saved her life through treatment.
Cheryl Gill, a charge nurse at Ninewells Hospital, said: "I feel like it has been quite an honour for her to take the time to do this for us.
"I think it's lovely that it's helped her through, to be used as a coping mechanism, and I think it's nice that we've been recognised, that the whole NHS has worked really hard as a team to provide patient care."
Photo frames now line the wall of one of Ninewells' busiest corridors after 'Portraits and Tales from a Hospital bed' went on display.
Beth Hamilton, from the NHS Tayside Health Fund, said: "I think it's great that it's something that brings back the memories of what it was really like.
"I think as time moves on, we're very quickly forgetting what people went through and the struggles that we all had during the pandemic.
"I think this is so open, it's inclusive, we've got staff from all aspects of delivery of services, and I just think it's a living reminder of what we all went through and a very poignant reminder."