An army of volunteers have assembled across Scotland to help plug a personal protective equipment (PPE) shortage in the care sector.
Tens of thousands of masks have arrived in the country destined for care workers.
Volunteers from Dundee Weavers work to keep the city's traditional industry alive, but now they are protecting the very fabric of the area's care homes against coronavirus.
They have set up Masks for Tayside and are one of a number of growing individuals and groups across Scotland delivering vital PPE equipment to frontline carers.
Orchar Care Home in Broughty Ferry received one of the first consignments of masks and protective visors.
Nurse Hannah Anthony said: "I want to cry because it does mean a lot when people are kind and show their appreciation for what we do, so we're very grateful.
"It's absolutely vital because a lot of staff are frightened that they're going to catch the virus so it's very vital."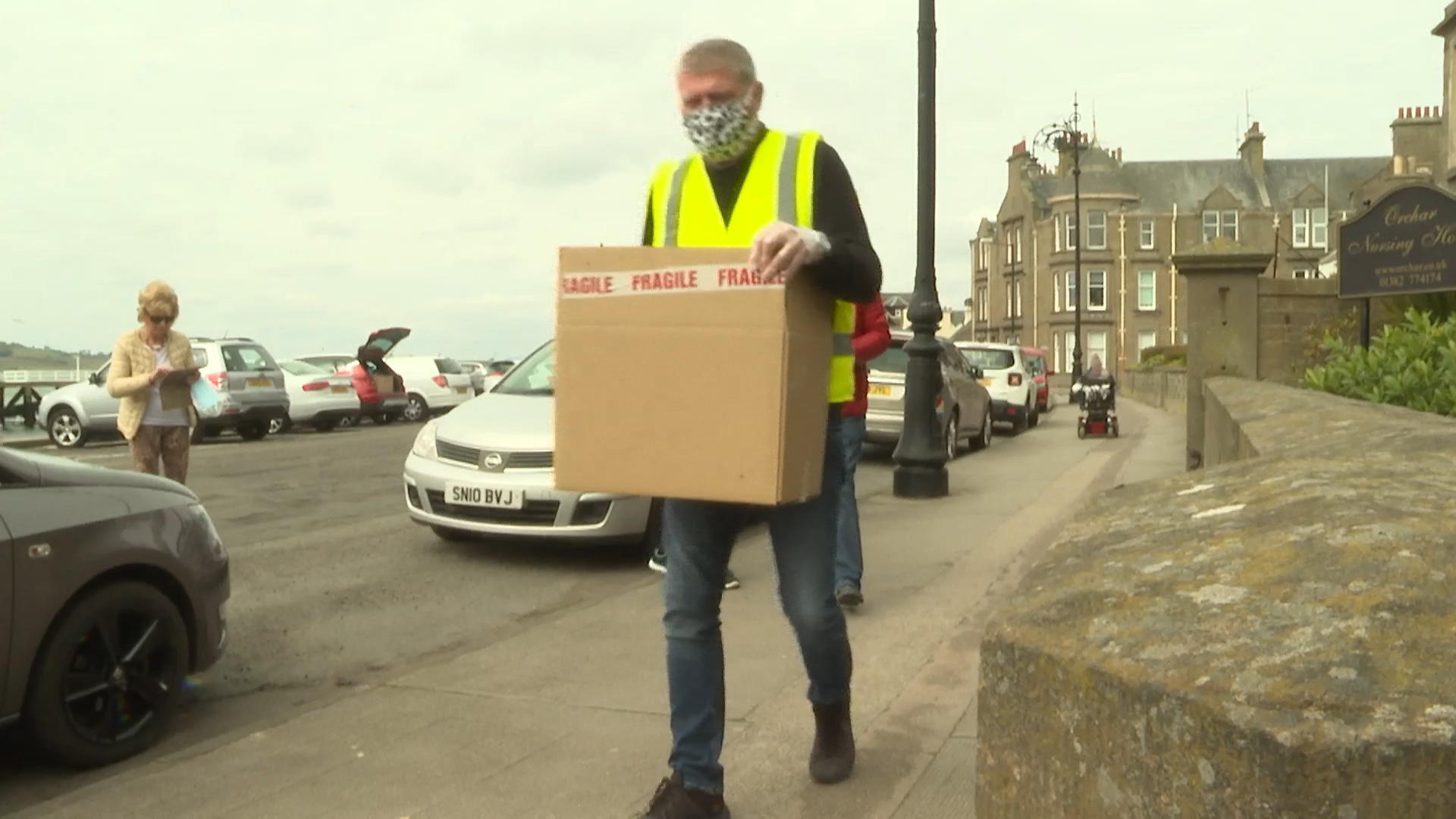 The care home, which overlooks the River Tay, hasn't run out of PPE but it will always need more and orders have been slow to arrive.
Nurse Anthony added: "You don't know how many weeks you're going to need it for and we use a lot in a day.
"There's a lot of staff and you need to change your mask when it gets moist and every time you go to a different room you change your mask so you need a lot.
"I think the managers had orders in to a lot of different companies but orders are slow. They're a bit like hen's teeth but it's the same across the country. They're hard to come by."
The consignment arrived in Dundee from China, where Bob Low helped set up a textiles factory in 2007.
He used his contacts in the country to order 10,000 masks with another 20,000 due to arrive within weeks.
But Mr Low was left frustrated that his offer to source supplies for the Scottish Government wasn't taken up.
He said: "I sent a note into the NHS in Scotland to see if they were needing supplies because I had his connection to China and it was very difficult to supply to the NHS with all the bureaucracy.
"They have to tick all the right boxes I suppose. It's frustrating but understandable as that's how the big systems work..
Mr Low, who made his living in the textiles industry in Tayside, added: "Care homes is part of the community that has been a bit forgotten, coming second to the NHS which is understandable, but carers are doing pretty amazing work and risking their lives and that wasn't what any of them signed up to do."
The group has set up a Masks for Tayside JustGiving page to fund future deliveries of vital PPE.
Any donations from care homes will go towards rebuilding a new community centre in the Mill O'Mains area of the city after it was destroyed by a fire.
Former firefighter Jim Malone is one of the volunteers.
He said: "In the UK we had such little PPE. We were hearing such horror stories of plastic bags being used as aprons, lack of face masks and lack of protection for frontline workers.
"I think there's a bureaucratic issue and it means there's an awful lot of form filling. There's a lot of red tape that is standing in the way but there's also a lack of preparedness.
"What the Dundee Weavers have done is use their contacts really efficiently.
"They've went straight to the source, the factories that produce the goods and ordered them right away.
"There was an offer to provide PPE through the Dundee Weavers procurement process to the Scottish Government. Why that wasn't taken up is really for the Scottish Government to answer."
Highland Home Carers received 100,000 masks, donated by the Cluny Estate.
They will help protect 500 staff caring for people in their own home for up to a month.
Edward Mountain MSP said: "I am extremely grateful to Cluny Estate for donating these face masks to Highland Home Carers, who are desperately in need of PPE to carry out their home visits across the Highlands.
"It is incredibly generous and shows their support for the local community and specifically the Highlands."
Campbell Mair, managing director of Highland Home Carers, added: "We are so grateful for this support from Cluny Estate, along with our local MSP Edward Mountain.
"This directly strengthens our ability to care for and support the most vulnerable people across the Highlands, and will be of immediate benefit.
"I am immensely proud of our precious workforce, who are showing an unswerving commitment to their roles and to people; each and all are an absolute credit to themselves, the organisation, the sector, and our communities."
The Ferry House Residential Home in Broughty Ferry is also grateful to receive PPE.
Susan French, from the home, said: "It's been so difficult accessing masks and visors and things and it's so important for the girls to be protected so any contribution is gratefully received."
However, the First Minister said homes should not need handouts.
"No member of staff in a care home should rely on donations," said Nicola Sturgeon.
"The principal responsibility to provide protection for staff is on the care home provider and the Government's responsibility, as we have been undertaking, is to top up where required these PPE supplies and we've been working hard to do that to make sure distribution routes are as effective as they can be."