A student has turned cancer into a laughing matter after using his battle with illness to inspire stand-up material.
Aiden Cowie, from Aberdeen, underwent 33 hours of life-saving surgery after being diagnosed when he was 18.
Having always wanted to be a comedian, 23-year-old Aiden decided to take to the stage after losing his right eye to a cancer so rare that his chances of getting it were one in a million.
He has since performed alongside the likes of Fred MacAulay, Lee Ridley (aka Lost Voice Guy) and Justin Moorhouse, and has been described as a "natural talent".
Aiden told STV News how his life was turned upside down in 2017 when he was diagnosed with cancer after failing to shake off what he thought was a cold.
"Had I not had surgery, I would have had a life expectancy of between six months to a year," he said.
"I had seven months of chemotherapy and six-and-a-half months of radiotherapy."
His sense of humour helped him cope with his darkest moments after undergoing surgery at the Queen Elizabeth University Hospital in Glasgow.
"A big part of what got me through my treatment was my sense of humour," Aiden said. "I'd always be joking with the nurses, the doctors and my family.
"I'd be trying to get a laugh out of them and it's what got me through it.
"Stand-up comedy always appealed to me, but had I not got the cancer, I doubt I would have taken it further."
Six months after losing his eye, Aiden took to the stage for the first time at Aberdeen's Breakneck Comedy Club.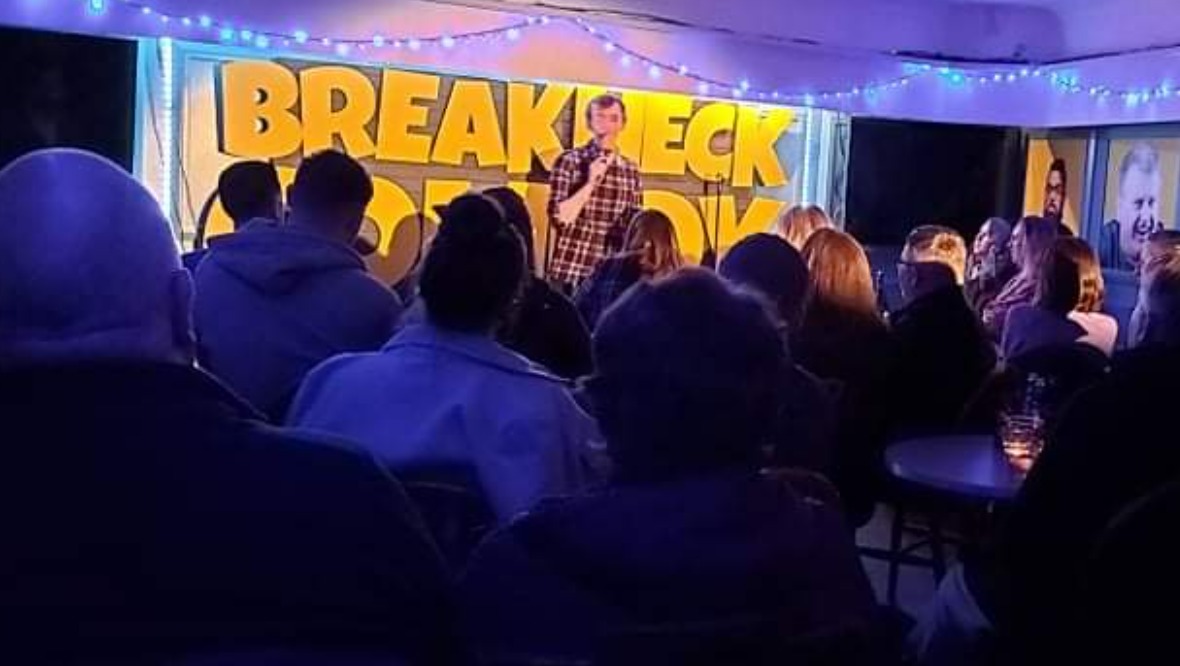 "I had always dreamt of trying it, it seemed a really cool thing to do, and I just loved watching it as a kid," he said.
"After my surgery in Glasgow, I thought to myself 'well, you came through this, what is the worst that can come from trying?'.
"It was terrifying, I am not going to lie. I didn't tell my parents. I only told a close friend and they came along, so someone was rooting for me at least.
"I told the first few jokes and they went down really well. It was like an out-of-body experience, almost like 'am I really doing this?'.
"After that, all the positive feedback from the audience and other comedians has just been insane.
"I look different and I know people can be a bit taken aback, but at the same time I'm trying to show people I'm still the same person and I don't need any special treatment."
Naz Hussain, who runs the Breakneck Comedy Club, believes Aiden has the potential to be a star.
"The audience all raved about him after the show," he said. "He potentially has a great future in comedy.
"It's not a case of people going to laugh because they feel sorry for him, they genuinely like his jokes."
STV News is now on WhatsApp
Get all the latest news from around the country
Follow STV News
Follow STV News on WhatsApp
Scan the QR code on your mobile device for all the latest news from around the country