A charity came to the aid of a family after learning it had "turned everything off" to avoid soaring bills.
AberNecessities was told the family hadn't showered in two weeks because the mum was too worried about energy costs.
Their eldest child had stopped going to school because he was being bullied about his personal hygiene.
And with no access to basic toiletries, they were sharing one towel for having a cold wash in the sink.
Healthcare officials referred the family to AberNecessities in a letter reading: "The family are experiencing extreme anxiety around the cost of fuel to the point that they've turned everything off."
Shocked volunteers at the Aberdeen charity put together a pack including slippers, pyjamas, blankets, toiletries, warm jackets and even teddy bears.
As the cost of living continues to soar, they said the family was far from an isolated case. AberNecessities helps around 300 children a month, and that number is increasing.
"Over the period of lockdown we saw a 900% increase (in referrals)," co-founder Danni Flecher-Horn told STV News.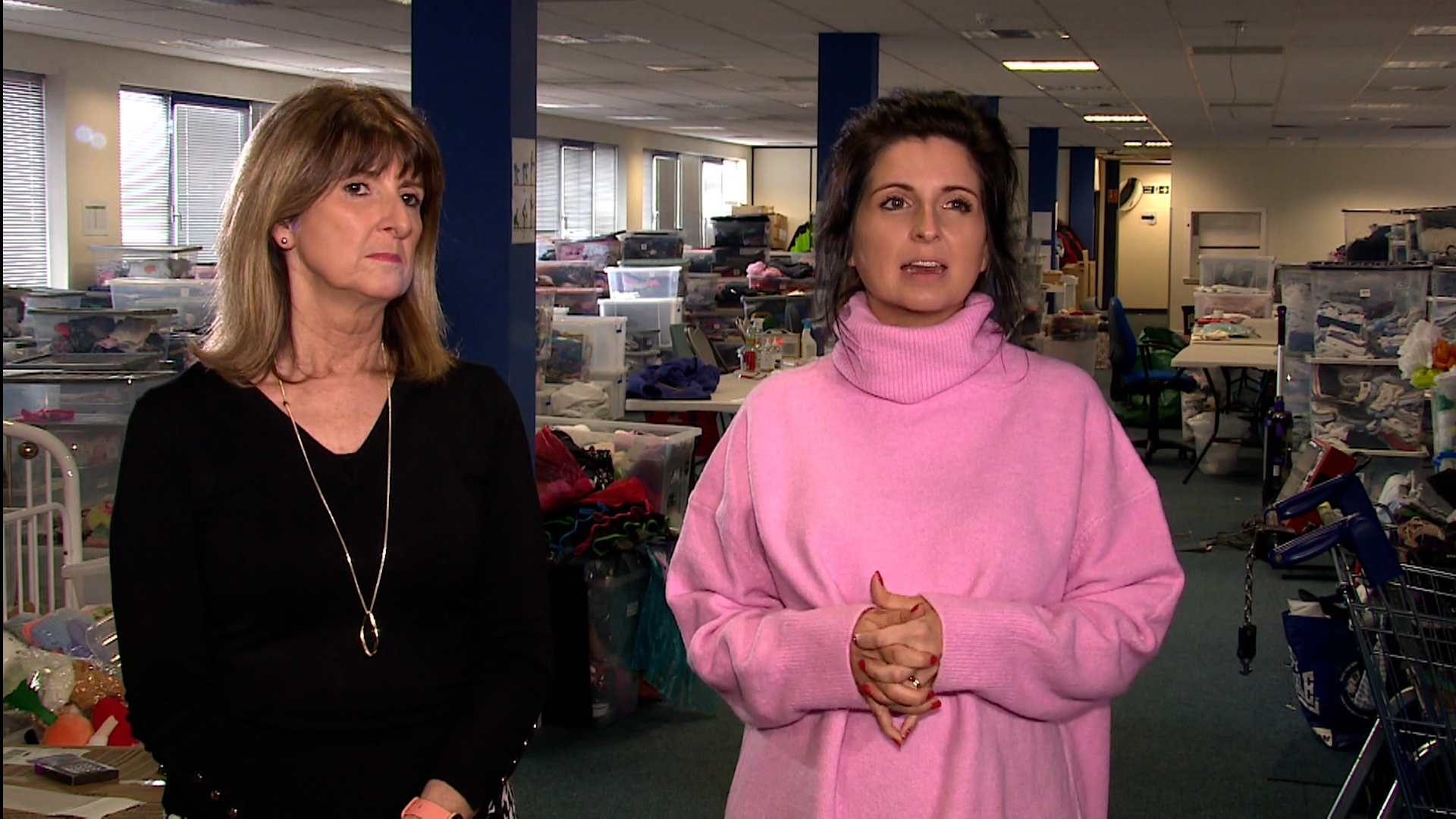 "We thought that after the restrictions lifted, things would calm down a bit, but in fact it's been the complete opposite and the need has just increased.
"We're seeing more and more requests for assistance with gas and electricity and things like blankets and hot water bottles to help people stay warmer longer – that was something we didn't really see before.
"It can also be about beds. A lot of children don't have beds and they are sleeping in cold conditions anyway and they might be on a mattress on the floor with a sheet over them."
'Don't be embarrassed'
Charities across the country are being inundated with requests for help with the rising cost of living.
Research by The Trussell Trust found that a third of Scots on Universal Credit fell into debt over winter because they couldn't afford their bills.
And there are warnings things could get worse, with families set to spend an extra £1100 a year on food and energy.
Despite the increase in workload, AberNecessities don't want people to stop asking for help if they need it.
Danni's mother, and fellow co-founder, Michelle Herd said: "We've had families who have come to us and said 'we've never had to ask for help before and we are so embarrassed about it'.
"We reassure them 'please don't be embarrassed, we're here to help you', but there has been a massive change I think."
Laila Kesson benefited from AberNecessities' help when she found herself struggling to get everything she needed for the arrival of her son.
"My family nurse told me about them when I was struggling for money before my son was born and they helped me out a lot," she said.
"Last year, I was struggling again, asked for some clothes and I got two bags with two different sizes."
Laila fears the rising cost of living will put her under pressure again.
"I have no money to do anything, because of how much my shopping and bills cost," she said. "I am left with barely anything to take my son out or anything like that.
"It's good knowing if it gets to a point where I'm really struggling, I can get in touch with my family nurse and they will help me."
Another charity, Babes in the Wood, offers similar care packages in Stirling and works alongside Women's Aid, social workers and health visitors.
"A lot of these referrals are families where there are two parents working," said its director Linda Barrack.
"But with the sharp rises we're seeing, they're just needing a wee bit of help for clothes, toys or equipment."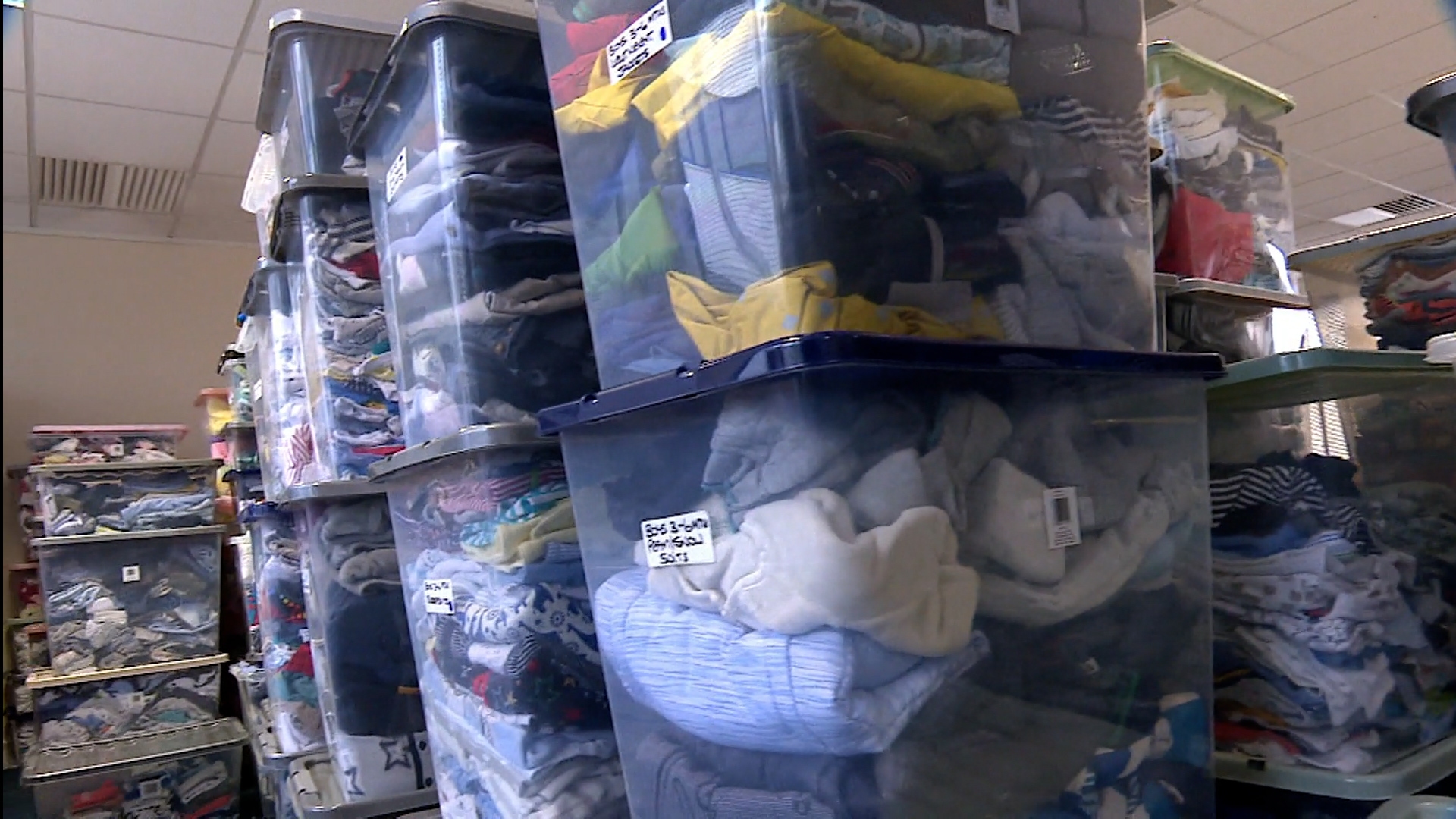 Babes in the Wood, which also has a branch in Bishopbriggs, also has a shop selling pre-loved toys and clothes.
Profits go back into helping the charity buy new items such as underwear and pyjamas.
"We're certainly seeing a higher footfall there," said Linda. "We're seeing some new faces. Potentially, it's families who haven't needed to shop pre-loved before, but are now looking to meet the needs of their families in a more financially viable way."
One regular customer is Elaine Blair, who visits with her six-month-old daughter Orla.
"I think everybody can benefit from here, whether you're in a time of hardship or not," she said. "There's something for absolutely everyone."
'Funds for people in need'
The Scottish Government said it understood the cost-of-living crisis and the pressure it was putting on budgets.
Social justice secretary Shona Robison said hundreds of millions of pounds were being made available to help.
She added: "The charities and third-sector organisations are doing a really important job on the frontline and the Scottish Government works with a lot of them to make sure that the funds we provide get to people in need."
Find out more about the work of AberNecessities here and Babes in the Wood here.
STV News is now on WhatsApp
Get all the latest news from around the country
Follow STV News
Follow STV News on WhatsApp
Scan the QR code on your mobile device for all the latest news from around the country