The first time Callum Christie saw a police drug raid, he was just four years old.
Born to drug addict parents, he has vivid memories of feeling frozen to the spot as he watched the door being smashed down by police or looking on helplessly in fear as his mum was hit by a stranger.
For several years, Callum has been living with his great-grandparents, a move he says "saved him".
It was there, in a safer environment, that he began dabbling in the world of YouTube.
Headphones on and immersed in this world, Callum started making comedy sketches and gaming videos.
A passion began to form in his creative young mind and his hobby has taken his life in a new direction.
"We'd see things like drug dealers coming in," Callum says, speaking of his younger years living with his parents.
"That was my life, what I would wake up to – go into the living room and people that I have never seen before in my life just sitting there doing heroin.
"I walked into the bathroom and there was someone sitting there with a needle in their arm sitting on the bath."
He adds: "I'm so, so grateful that I got removed when I did. I have witnessed my mum being mugged countless times.
"Getting brought here where I am now with my great-grandparents is probably the best thing that ever happened to me."
Now aged 17, Callum has been video blogging (vlogging) about everyday life around Dundee in the last two years, an experience that has made him grow to love his city and the cultural scene within it.
He has also recently started his own clothing brand, Pausitive Apparel, and is busy working on a new podcast – all while studying at college.
Despite his packed schedule, Callum now wants to start a free collective for people in Scotland to share their creative skills.
"When I started this, I had nobody helping me and nobody took me seriously," he says.
"I tried to message people and get help from others but no one would take this kid with the camera seriously.
"I want to start a thing called the Exspires Movement where creative people from Scotland can work together and help each other because if you persevere through it you're going to get somewhere."
Recently, Callum has put an even greater focus on his home city of Dundee.
"I have friends that do YouTube," he says. "I am pretty sure every single one of them wants to move out and don't like Dundee.
"I have come from a really rough part of Dundee but I can see everything that Dundee has got. I want to be one of the people who stay and try to make it better."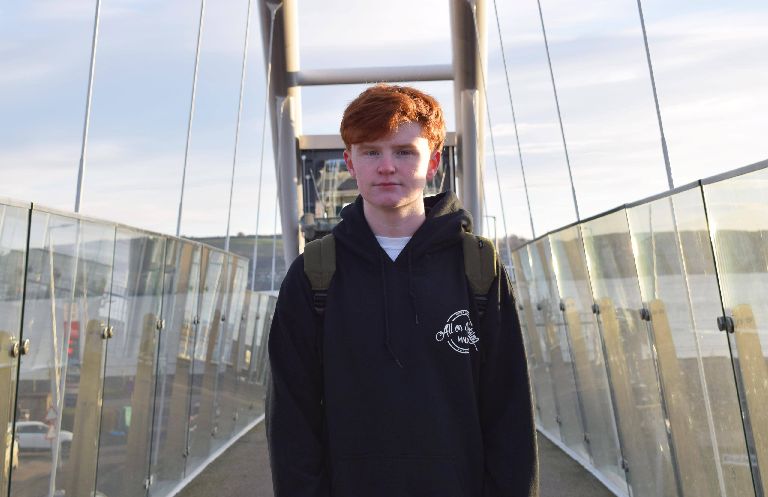 In Scotland's Year of Young People, Callum dreams of one day becoming a name associated with his home city.
He says it is important for him to share his story and inspire other young people that you can achieve anything you set your mind to, no matter what start you have had in life.
"You don't have to go down the road your parents have because when I was in school and living with my parents I was getting in trouble," Callum says.
"I was misbehaving all the time and it wasn't until I got removed that my strict great-grandparents said 'you're not behaving like that'.
"They brought me up to be more behaved. It's not up to your parents what you're going to be like."
He adds: "Make sure you surround yourself with the right people because growing up I definitely didn't have the right people growing up around me.
"If you persevere through it, you're going to get somewhere and you put in the work also, you'll get there eventually."
To nominate a young person to feature on STV during the Year of Young People, email [email protected], contact us on Facebook at STV News or on Twitter via @stvnews.