A teacher who suffered a brain aneurysm in Thailand has flown home to Scotland.
Owen Auskerry was taken to a private hospital in Bangkok after a series of seizures on January 13.
The 24-year-old spent several weeks under close observation before being cleared to fly back to Orkney this week.
Despite his recovery, the part-time DJ has suffered memory loss and struggles to speak, read or write.
In their latest update, his family said: "Owen, his mother and a nurse who was flown out to Thailand from the UK to accompany them home all arrived safely in Kirkwall on Thursday morning.
"After a pretty arduous journey from Bangkok via a layover at Heathrow and two more flights to Orkney via Aberdeen they have finally made it home."
His family turned to crowdfunding website GoFundMe after concerns about his long-term care and potential problems with insurance.
Their campaign has raised more than £30,000, which they plan to use to pay for flights and accommodation. Nearly 900 people have contributed to the fund, including one anonymous donor who gave £5000.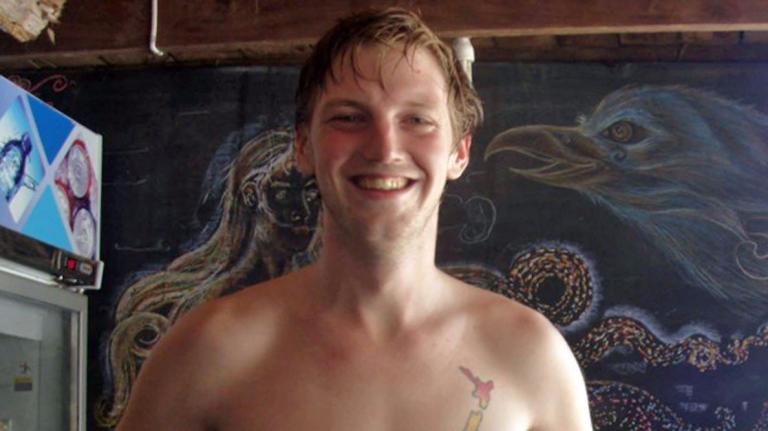 His family said: "The money raised by the fund will therefore be used to pay for the costs our family have incurred while we were all in Thailand looking after him such as flights and accommodation.
"In addition to that, we will use much of the money raised to pay for professional help here in the UK to help facilitate Owen's recovery.
"He lost his home and his job in Thailand as a result of the aneurysm and although his school only paid him until the end of January he still has had to pay for his flat until the end of March.
"The reality is Owen won't be able to get another job or move on with his career until he can read, write and speak properly again so he's going to need speech therapy as well as help with reading and writing to relearn what he's forgotten.
"We will leave the fund live until Sunday for those who still wish to contribute and then we will close it down. Thank you so so much for your kindness and generosity."
Mr Auskerry's girlfriend Janjira first raised the alarm after the English teacher became unwell. His symptoms, which began as a severe headache and nausea, quickly became more serious.
He was initially taken to an infirmary in Nakhon Si Thammarat before being flown 380 miles to hospital in Bangkok.
Mr Auskerry's parents flew out to Thailand and shortly afterwards he underwent three-and-a-half hour long brain surgery. He woke up two days later and spent several weeks in hospital.